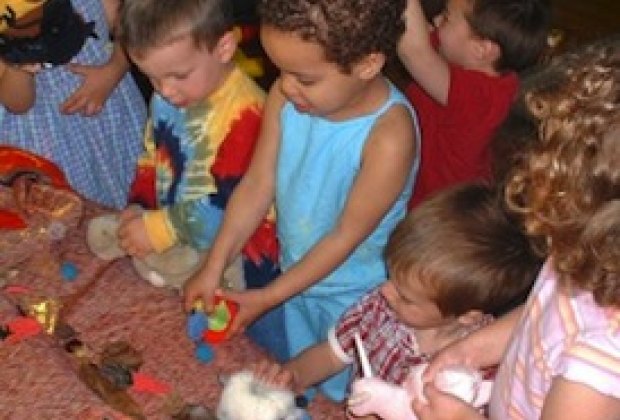 Playgroups for Little Ones in Greater Boston
Great, the big kids are all set for the school year, but what are you going to do with the little ones? Feeling like you need a little structure in your days with your bundle of joy and energy, but school is a long way off? We've rounded up a few nice playgroups for tiny tots. Read on for groups ranging from casual drop-in to structured, multiple-week commitments that get you out of the house and making new friends.
Want more? Check out Celeste's post for the 411 on Family Nurturing Center's free parent-child playgroups. And if you're looking for active indoor play to supplement your play group, take a look at my post highlighting drop-in indoor playspaces for babies, toddlers and preschoolers, too.
---
Countdown to Kindergarten Boston - Play to Learn Playgroups
Weekly two-hour playgroups where parents, children and an early childhood educator get together for educational play, snack time, sharing information about resources and activities, and utilizing ReadBoston's Reading Trail lending library.
Where: Various locations in the city's public schools in East Boston, Dorchester, Jamaica Plain, and Roxbury
When: various times
Ages: 1-3, with adult
Contact: Play to Learn Program Manager 
at (617) 635-9288 or playgroup@boston.k12.ma.us
Cost: Free
---
The Waldorf School of Lexington - Waldorf Park
Become indoctrinated in the ways of Waldorf at Waldorf Park, a weekly drop-in playgroup, led by a Waldorf Education Teacher. There is free play, snack time, songs, finger plays, and puppet shows for young children and their parents.
Where: Waldorf School of Lexington, 739 Massachusetts Ave, Lexington
When: Thursdays, 10 - 11:30 am
Ages: birth to age three
Contact: 781-863-1062, extension 551
Cost: suggested donation $
---
Uphams Corner Branch - Boston Public Library - Family Storytime
Family Storytime is for children who are not yet reading, with their adults. Together they enjoy stories, songs, and fingerplays, followed by a craft and open playtime.
Where: Uphams Corner Branch of the Boston Public Library, 500 Columbia Rd, Dorchester, MA 02125
When: Tuesdays 10:30-11:15 am
Ages: 3-6, with adult
Contact: 617-265-0139
Cost: Free
---
Mama & Me - Creative Playspace & Open Gym
At Mama & Me's Creative Playspace and Open Gym, parents and kids have the run of the movement studio, soft gym equipment, and main playspace, where you can play with the light tables, dress-up, puppets, and blocks – or exercise your imagination in the dramatic play areas.
Where: Mama & Me, Jamaica Plain Brewery Complex, 284 Amory Street, Jamaica Plain, MA 02130
When: Monday – Thursday 3:30-5pm
Ages: 6 months to 3.5 years
Contact: 617- 477-3432 or info@mymamaandme.com
Cost: $-$$
---
Arlington Recreation - Toddlers and Two's - NOW KID CARE PRESCHOOL, a drop-off program for age 2 years, 9 months through age 5
The Toddlers and Two's program at Gibbs Gym touts a kitchen area, library corner, riding toys, some gymnastics equipment, slides and climbing structures – but they had me at "bouncy house" when I first read the description of the program. If the bouncy house doesn't win you over, how about the other big draw for sleep-deprived parents; free coffee?
Where: Gibbs Gym, 41 Foster St., Arlington, MA 02474 (Arlington Recreation entrance is located on the Tufts St. side)
When: 9:30-11:30am every Wednesday & Friday, beginning late September (closed holidays and for inclement weather)
Ages: 15 – 36 months (with parents)
Contact: 781-316-3880
Cost: $$
---
Isis Parenting – CLOSED
Isis closed all of its locations in 2014.
Designed and led by early childhood education specialists, the "Scooters" Developmental Playgroups are for babies (5-8 months) and their adults. The group sings songs, learns a little American Sign Language during fingerplays, and interacts with really fun things like water mats, mirror toys, texture blocks, soft ball pits, bouncing toys, peek-a-boo tunnels, spinning tops and cause-and-effect toys. Adults have a chance to introduce relevant topics and share helpful ideas to try at home during short discussions, and the babies make their grand exits each time with a full bubble salute.
Where: The Shops at Prudential Center, 800 Boylston Street, Boston, MA 02199. (Classes also offered at Isis Arlington, Needham, and Merchants Row in Hanover.)
When: 10 weekly classes per session, check schedule for offerings
Ages: children 5 - 8 months at start, with parent or caregiver
Contact: 781- 429-1500
Cost: $$
---
Originally published September 2012. Updated August 2013, April 2014, and August 2014