8 Great Full Day or Extended Day Preschools in or Near Boston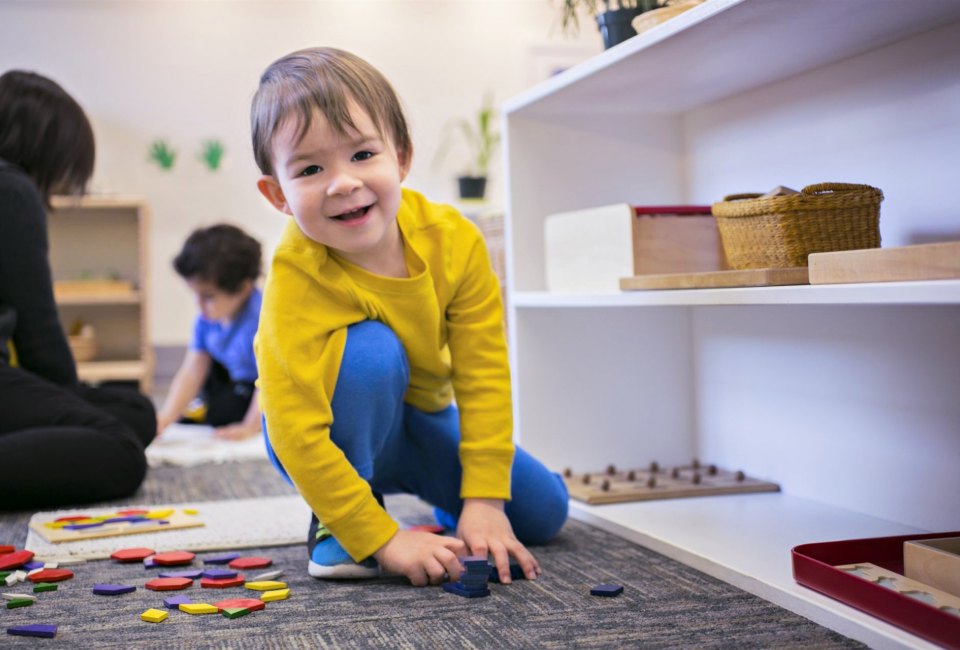 8/11/19
- By
Caitlin Dowling
Finding a preschool that fits your family is a huge undertaking: From Montessori programs to bilingual preschools, there are many nursery school and pre-K options in the Boston and greater Boston area. For many families, a key feature of a preschool is a full-day schedule. So we've rounded up some popular, parent-approved schools in the Boston area, from the city to Brookline, Cambridge, and Somerville, that have full-day programs or widely-used extended-day options. More time in a super school can mean peace of mind for busy parents, not to mention extra learning and social time for your budding student.
Preschools with Full-Day Programs or Extended-Day Options in Boston
South Boston Neighborhood Preschool—South Boston
This program is full-time, 7:30 pm to 5:30 pm, AND year-round for families that need it. The school focuses on behavioral and social skills for school readiness through peer interaction, a sophisticated educational program, and a healthy nutritional program. Run by the Department of Education & Early Care, this preschool starts out with very small class sizes, just 8 kids in the youngest rooms.
Pine Village Preschool—South End, Brighton, and Jamaica Plain (plus locations in Cambridge, Brookline, Newton, and Needham)
This Spanish immersion preschool is all about teaching students to be culturally diverse and bilingual. Pine Village has 10 locations around the Boston area where your kids can enjoy unstructured play and exploration while learning a language. This is a full-day preschool, running from 8am to either 3:30pm or 6pm.
RELATED: Bilingual or Language Immersion Preschools in Boston
Beacon Hill Nursery School—Beacon Hill
Along with great classroom space, this preschool also has an outdoor nature playscape that includes a butterfly garden and access to a gym for yoga, creative movement, and more. While preschooler days end at noon, there are two options for extended days. Parents can sign up their kids to stay until either 3:30pm or 5:45pm, and extended day does not turn into daycare at this school. Students will work on long-term projects in small or large groups with the extra time.
Old South Preschool—Back Bay
While this preschool may be located in a church, it is non-religious. Old South Preschool offers an emergent, play-based curriculum and breaks up students into three separate age-specific classes. Located in Copley Square, your kiddies will get lots of time to explore the city on mini field trips. Parents can opt for half days, full days (ending at 3 pm), or a combination of both.
Spruce Street Nursery Preschool—Downtown
Located right in Downtown, this preschool focuses on how kids learn through active exploration and play. The regular preschool program ends at 1pm, but parents have the option to sign up for extended day. During extended time, kids will work on special projects, as well as enjoy stories and playtime. If you don't want to commit to extended day the entire year, the school also offers special programs like swim and language throughout the year.
Preschools with Full-Day Programs or Extended-Day Options in Greater Boston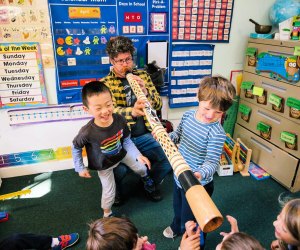 Apple Orchard School has multiple extended day options for students. Photo by David & Laura Salafia
Agassiz Preschool—Somerville
This school is a parent-staff cooperative that is known for being warm, caring, and relaxed. Agassiz has two options for half-day students, either AM or PM hours, but for those who need a full day of school, there is also a popular extended-day option Monday through Thursday. Parents note how flexible Agassiz is in working with parents that may need occasional extended days as well. Because this school is a co-op, you will need to be personally engaged in the school, but that doesn't mean you need to be available for school-time hours—crucial for working parents. There are many options to help with annual events, campaigns, and more.
Apple Orchard School—Brookline
If your kiddo is an animal lover, this is the school for them. Located in a renovated barn on a working farm, Apple Orchard is a play-based school for preschool-aged kids that features lots of outdoor time. This school offers a morning program, a morning program with three extended days (until 2:30pm), or the option to sign your little students up for the Sandwich Club as many days as needed. The Sandwich Club is a mixed-age after school program that keeps students until 4pm. Along with playtime, this program also offers "specials" like computer, music, and language.
Cambridge Montessori School—Cambridge
Following the Montessori philosophy, this branch strives to foster a love of learning while creating caring, socially responsible students. There is not a typical class for just preschoolers, but a mixed-age classroom for students ages 3 to 6 and a toddler program for younger kids. Their extended day program is designed to be a natural extension of the regular school day, which means kids will have choice times and activities as they do during regular school hours. Cambridge Montessori allows advanced registration for parents looking for daily extended day, as well as drop-in options when there is space.