5 Montessori Preschools in Boston for Little Learners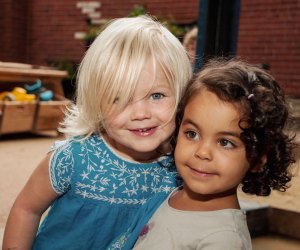 Deciding where to send your child to preschool isn't easy, but selecting a specific type of school can really help narrow down your options. We have written about bilingual and language immersion preschools throughout the Boston area, and now we're focusing on Montessori preschools in the city so you can see which one seems like a good fit for your child.
The Montessori method was developed by Dr. Maria Montessori about 100 years ago. Most Montessori schools place children in mixed-age classrooms, allow students to self-direct their activities, allow large blocks of uninterrupted time to work, focus on discovery rather than instruction and use specialized materials. There are five preschools in Boston that use the Montessori philosophy to help children learn and grow:
Bilingual Montessori School of Boston
Location: 61 Rockwood St., Jamaica Plain
Ages: Infants to 6 years old
Sessions: Half- and full-day, five days a week
About: The Bilingual Montessori School of Boston offers a preschool program that combines bilingual French instruction with a Montessori classroom. In the Primary Program or Grand Jardin, preschoolers learn by doing in subjects from practical life skills to reading and math. The students also receive French instruction to encourage the acquisition of a second language at a time when children are most receptive to it.
Children's House Montessori
Location: 120 Corey St., West Roxbury
Ages: 2.9 to 5 years old
Sessions: Half-day mornings, five days a week
About: Students at Children's House Montessori participate in programs in a variety of subjects, from science and sensory to language and the arts. The school works to create a peaceful environment with a focus on curiosity, independence and community. Students are encouraged to learn at their own pace in a hands-on, noncompetitive environment.
Dante Alighieri Montessori School
Location: 37 Gove St., East Boston
Ages: 3 to 9 years old
Sessions: Full day, five days a week
About: Dante Alighieri is the first Montessori school in the Boston Public School system. Enrollment is based on a lottery, so you don't have to live in East Boston to attend, but you must live within the Boston school district. Classrooms are mixed age environments where children experience the typical subjects as well as special activities like gardening.
Kingsley Montessori School
Location: 30 Fairfield St. and 26 Exeter St., Boston
Ages: Toddler through elementary
Sessions: Half- and full-day, five days a week
About: The Kingsley Montessori School applies the classic Montessori method to its Early Childhood Program, which includes instruction for toddlers, preschoolers and kindergartners. Kingsley, located in the Back Bay, focuses on a student's individual level of development through hands-on learning. Each week, preschoolers have special classes on topics like art, music, movement and Spanish.
Torit Language Center Montessori
Location: 41 Bromfield St., Boston
Ages: Infants (2 months) through elementary
Sessions: Part- or full-day, five-days a week (three- or four-days per week available for younger students); year-round.
About: Torit Language Center Montessori offers a unique early education to children at its school near Downtown Crossing. The Torit program combines a Montessori philosophy with instruction in Mandarin, Arabic and Spanish. Students also learn about music, movement and art through an interdisciplinary approach.
---
Top image courtesy of Marianne Salza for Kingsley Montessori School.