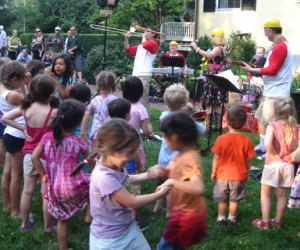 Free Summer Outdoor Concerts for Boston Families
Summertime is jam time, whether your genre of choice is kindie rock, roots, jazz, blues, world, or classical music. Boston neighborhoods and surrounding towns feature lots of popular local musicians in their summer outdoor music series, and some concerts are aimed specifically at kids. With our roundup of summer music series as your guide, you could take your kids to a community concert almost every day this season. Best of all, the performances are all free!
Editor's note: Be sure to check back often through June for updates, as concert dates are still being added and websites updated.
BOSTON
Each Tuesday starting July 11, families can catch a Motown show with AJ Smooth & Friends at the Elma Lewis Playhouse in the Park. Bring a lawn chair. The Playhouse is located between the Zoo & White Stadium in Franklin Park.
On Wednesday evenings, the courtyard of the Central Library in Copley Square is filled with music during free, one-hour Concerts in the Courtyard. Musical genres range from jazz to classical and from world to folk. The library also offers lunchtime Concerts in the Courtyard on Fridays. In inclement weather, concerts are moved inside to the Commonwealth Salon.
The Boston Landmarks Orchestra presents classical concerts at the Hatch Shell 2017 on the Esplanade Wednesday nights at 7 pm. The orchestra will also perform a special family concert in Jamaica Plain on August 6.
Boston Harbor Islands hosts lots of fun music performances for kids throughout the summer. Exact dates and performance information were still being worked out at press time, but highlights include Rock the Fort shows on George's Island on Saturday afternoons and Jazz on the Porch on Sunday afternoons on Spectacle Island.
The Lawn on D presents Lunch Break on D 2017 for visitors to relax on swings, play a games, and take in the sounds of various musicians from Berklee College of Music performing for free.
Friday Concert in the Courtyard, Boston Public Library; Photo by Kip Wilson
---
ARLINGTON
The 2017 Robbins Library summer concert series includes a performance by Karen K. and the Jitterbugs on the Whittemore Robbins lawn on August 10. Bring a picnic, family and friends!
---
BROOKLINE
Brookline Summer 2017 Concert Series takes place at Cypress Park from 6 pm-8 pm on Wednesdays from July 5th through August 9th. Bring a picnic basket, lawn chair, and sit back and enjoy a variety of music including pop, folk, oldies, bluegrass, country and rock. Children can play on the equipment within the park as well as in the splash pad or dance along in front of the stage to the music. (As of press time, the schedule was still being updated: check here for updates).
---
LOWELL
As part of the bigger Lowell 2017 Summer Series, a special Free Fun for Kids performance series takes place on Wednesdays and Thursdays and includes make-and-take art at 10 am, a performance at 11 am, and natural and organic snacks for the kids. Musica highlights of the 2017 lineup include Stacey Peasley and Ben Rudnick and Friends.
---
MEDFORD
Medford Family Network's 2017 Summer Concert Series includes sing-a-longs, free books, art activities, and musical performances by some of the area's favorite kindie rockers, from Matt Heaton to Vanessa Trien. The concerts are held on Tuesday evenings, at Wright's Pond in July and at the Condon Shell in August. Pack a picnic supper!
---
NEWTON
Newton Community Pride presents Children's Concerts on three Tuesdays in July from 1 to 2 pm on the Newton Centre Green. This season, enjoy Stacey Peasley, Karen K and the Jitterbugs, and Ethan Rossiter and the Jamberries.
---
SOMERVILLE
Assembly Row offers live music in 2017 on Thursdays in the Amphitheater sponsored by Berklee College of Music. Bring your chairs and a picnic and enjoy an evening of live entertainment with the family featuring a full band performance.
---
WEYMOUTH
Weymouth's 2017 Summer Concerts and Movies are on Thursday nights at the Ralph Talbot Amphitheatre next to Town Hall. Catch one of these family-friendly concerts or become part of the entertainment on Family Karaoke Night.
---
WINCHESTER
The Wright-Locke Farm Conservancy presents family farm nights 2017 with free musical entertainment outdoors or in the barn if raining.
Top photo courtesy of the Robbins Library; Post originally published June 2012; updated annually through 2017