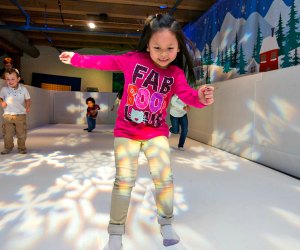 Review: Snowmazing at Boston Children's Museum
There are just so many things I love about ice skating: gliding across the slick ice rink, feeling like I am flying through a sea of other skaters, spinning and twirling until I'm dizzy and ready for a hot chocolate break. Then there are the things that I don't enjoy so much, like the freezing cold temps that necessitate a rink, the hard ice that is so painful to land on, the pinch of skates laced too tight...you get the idea. Luckily, the Boston Children's Museum has found a way to highlight the joys of skating (without all of the downsides) at their Snowmazing exhibit, now open to the public.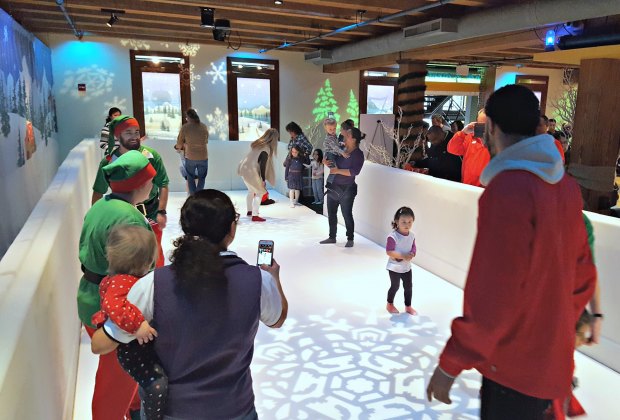 No skates required! Photo by Mommy Poppins
How can you possibly skate without biting temperatures and fear of falling on ice, you ask? By skating in your socks, of course! This winter-themed exhibit includes an indoor "skating rink," an enclosed oval-shaped area with a smooth, white floor perfect for sliding around in socks. There's festive music playing and snowflake lights dancing around the rink, not to mention a few museum staff members in elf attire encouraging and twirling with skaters on the rink.
There are also periodic extra activities in the Snowmazing! space, like "snow" fort building and other winter-themed brain-teasers. Our recommendation is to check the calendar on the museum's website for daily activities.
Perfect for skating newbies and veterans trying to escape the cold weather, this exhibit is fast becoming a winter staple in Boston. It is free with admission to the Children's Museum and open until January 28, so what are you waiting for? Don your skates—er, socks—and get out on the "ice!"