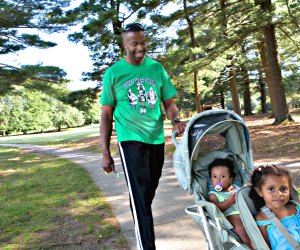 10 Stroller-Friendly Hikes In and Around Boston
There are so many amazing places in the Boston area to take your kids hiking, whether they're still riding in a carrier or trekking right alongside you. And believe it or not, there are even hikes where you can bring your stroller! You won't be scaling any mountains on these hikes, but you will be getting out of the city and into nature. There are so many beautiful landscapes to take in, from salt marshes and woodlands to wetlands and farms, you're sure to find a hike perfect for your family.
1) Appleton Farms — Ipswich and Hamilton
Visit one of the oldest continuously operating farms in the country when you take a trip to Appleton Farms. There are six miles of flat or gently rolling footpaths, bridle paths and farm roads on this Trustees of Reservations property that are just begging to be explored by stroller. You can also observe the afternoon milking or say hi to animals like sheep, goats and chickens while at the farm.
2) Beaver Brook Reservation — Belmont
The recently renovated Beaver Brook splash pad and playground are a popular summer destination for families. An accessible loop trail leading from the parking lot is another big draw for anyone pushing a stroller. Warm up on the three-quarters of a mile hike then splash in the water to cool down.
3) Belle Isle Marsh Reservation — East Boston
You don't have to travel far to discover the magic of Boston's last remaining salt marsh at Belle Isle Reservation. There's an accessible stone-dust trail that provides boardwalk access, so it's a piece of cake to push a stroller here. Stop on one of the stone benches to watch birds in their natural habitat and catch planes taking off and landing at Logan.
4) Breakheart Reservation — Saugus and Wakefield
The 652-acre Breakheart Reservation contains two freshwater lakes, a hardwood forest and scenic views of the Boston area. If you're pushing a stroller, we recommend that you take the gently sloping, one-mile paved path to Pearce Lake. It's nicely forested and the lake even allows swimming, so pack your suits if it's a hot day.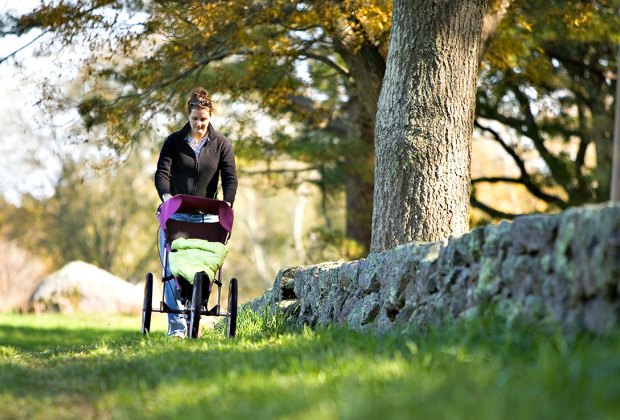 Get your workout in at the East Over Reservation. Photo by Tom Kates Photography courtesy of The Trustees
5) East Over Reservation — Rochester
While there's still some agricultural work going on at East Over Reservation, much of the land is now being left to the area's wildlife. Cart paths and flat fields and woodlands provide ample paths from which to take in the pastoral reservation, including its stunning stone walls. Also be on the lookout for a variety of bird species, rabbits and other native creatures at this Trustees property.
6) Francis William Bird Park — Walpole
The three miles of flat, tree-lined paths in Francis William Bird Park are perfect for strolling while pushing a carriage. Take in ducks swimming in ponds, grassy meadows, stone arches and peaceful streams on your walk. Then let the kids blow off some steam at the park's playground.
7) Spectacle Island — Boston
There aren't many places where you can take a boat to go on a hike, but Spectacle Island in the harbor is one of them. Bring the stroller to tackle the 1.5-mile perimeter trail, where you'll get to take in beautiful views of the water and city skyline. Make a day of it by bringing a picnic and swim suits to cool off on the beach after your walk.
8) Stevens-Coolidge Place — North Andover
You can literally stop and smell the flowers at the Stevens-Coolidge Place, which features gorgeous garden paths perfect for stroller strolling. Not only are the flowers available for smelling, they're also yours for the picking. That's right, the Trustees allows visitors to bring home some of the beauty of the estate during the summer when they open the cutting garden to the public.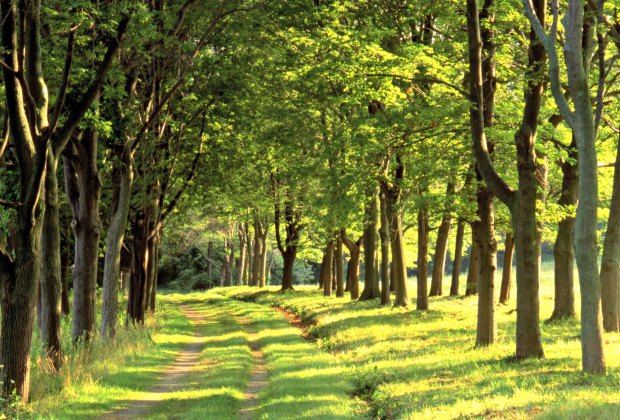 World's End trails formed along what used to be carriage roads. Photo by R.Cheek courtesy of The Trustees
9) Rocky Woods — Medfield
Explore footpaths and former logging roads in this 491-acre reservation that contains both woods and wetlands. There are a few trails at Rocky Woods that are particularly good for stroller hiking. The 0.75-mile loop around Chickering Pond is ideal. And the Bridle Trail and Loop Trail are short, flat paths that traverse the wetlands.
10) World's End — Hingham
Hike the century-old cart paths with your stroller to take in peaceful wooded areas, salt marshes and views of Boston. Designed by Frederick Law Olmsted, World's End was once a harbor island, but is now much more accessible. And at only 15 miles from Boston, it's an easy drive for a lovely escape from the city, especially in the summer.