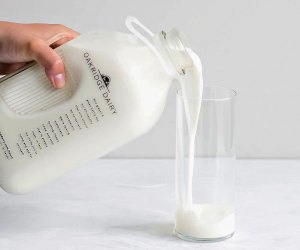 Connecticut Dairy Farms that Deliver Milk, Eggs, and More
Got milk? Sure, you can pick up a plastic jug at the supermarket, but for health and convenience reasons, farm-fresh local milk delivery is popular once again. Connecticut is known for its dairy farms, and many now deliver milk as well as other groceries (eggs, yogurt, and more) right to your doorstep.
When ice cream stands open again, you can sample more local dairy treats at these Connecticut farms with homemade ice cream and other activities for kids.
Oakridge Dairy will deliver milk, eggs, cheese, and more. Photo courtesy of The Modern Milkman
OUR LATEST VIDEOS
Delivering to Ellington, East Windsor, Enfield, Tolland, Stafford, Union, Somers, Manchester, South Windsor, and Vernon
The milk Oakridge Dairy provides is at your door within one day of being bottled—talk about fresh! Its delivery options feature different sized "shares," allowing families to customize boxes to fit their grocery needs, including milk (including chocolate), eggs, yogurt, and cheese. Going out of town? You can either opt out of your share for the week or donate it to a local family in need.
Delivering to Storrs (06268), Willington, Tolland, Coventry, Ashford, Brooklyn, Eastford, Chaplin, Hampton, Baltic/Sprague, Bolton, Bozrah, Franklin, Manchester, Mansfield (06250), Windham, Willimantic, Scotland, Canterbury, Andover, Colchester, Columbia, Glastonbury, Hebron, Lebanon, Marlborough, Ellington, and Vernon
This farm has been in the same family for 10 generations, so you have to believe it knows what it's doing when it comes to milk. Its online ordering system is straightforward and requires only a $10 minimum to have fresh milk, eggs, juice, or sausage delivered right to your doorstep.
Delivering to Enfield, Somers, Suffield, Windsor Locks, Longmeadow, and Ellington
With Smyth's Trinity Farm, you not only have the option of ordering delicious, grass-fed cow milk, but also a variety of products supplied from the very cows living on the farm (including yogurt, cream, and butter). It also offers eggs, honey, and even cookies.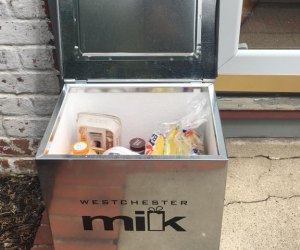 Westchester delivery personnel will stash cold items in an insulated doorstep box. Photo courtesy of Westchester Milk
Delivering in Fairfield County (up to Norwalk)
Westchester Farm is available for regular or as-needed deliveries. With the belief that "fresh tastes better," it provides a variety of food options cultivated from local farms. With everything from bacon to pancake mix to preserves, Westchester will deliver everything needed for a hearty meal.