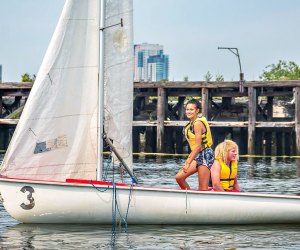 Free and Affordable Summer Camps for Boston Kids
Summer camp can be pricey, but not all fun and enriching programs have to cost a pretty penny. To round out our complete guide to Boston-area summer camps, we've put together a list of nearly a dozen inexpensive camps in the Boston area that can provide your child with everything from performing arts experience to sailing lessons.
Find a full list of local summer camps in our Camp Directory for Boston families.
Note that summer camp information for the 2020 season is changing daily. Please click the links to the individual camps below to see which ones are offering programs this year.
Many of the local Boston-area Boys and Girls Clubs offer summer camps for children ages six to 12 that include arts and crafts activities, science and technology projects, field trips, swimming, and sports. Each club has its own summer program application process and fees, which are kept affordable from year to year.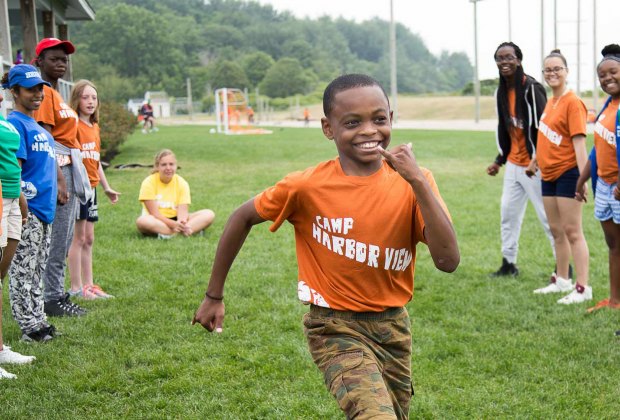 Developing leadership skills is a big focus at Harbor View. Photo courtesy of the camp
Put on in partnership with the Boys and Girls Club, Camp Harbor View takes place on Long Island in Boston Harbor for four weeks each summer. Campers must live in Boston and be entering sixth, seventh, eighth, or ninth grade in the Fall. The camp, which focuses on fun activities like swimming and sports as well as developing leadership skills, is free for families.
RELATED: Free Classes Around Boston for Kids
This unique, inclusive camp accepts campers ages 8 to 12 with and without disabilities, with the camp population split half and half, to participate in its summer sports programs at UMass Boston and Stonehill College. There is a $25 registration fee.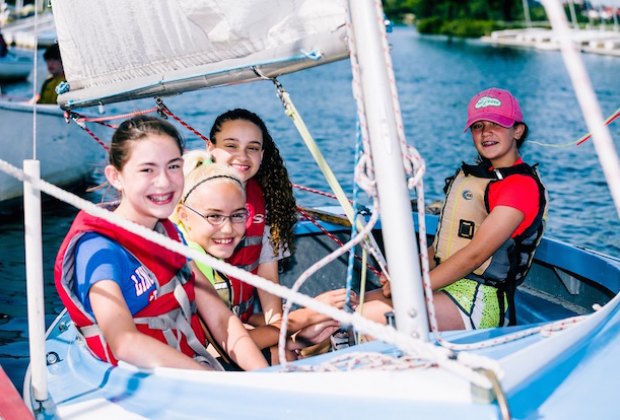 Hop aboard the summer sailing program on the Esplanade. Photo courtesy of Community Boating
Kids ages 10 to 17 can sign up for a full summer of boating classes and open sailing for as little as $1 at Community Boating, located on the Esplanade near the Longfellow Bridge. Along with sailing, they also offer STEM programs and other activities. This is also not strictly a camp, participants can come and go and use the facilities as much as they like from June-August. Fees are based on a sliding scale that ranges from $1 to $375.
This summer residential program near Tanglewood provides Massachusetts fifth, sixth, and seventh graders the opportunity to be immersed in theater, dance, visual arts, and music for one of eight week-long sessions during the summer. There is a fee associated with the program, but scholarships are available and no student is turned away based on an inability to pay.
Everyone from rising seventh graders to students entering their first year of college are welcome to attend MIT's Summer HSSP program. It takes place in seven-week sessions on the weekends and covers a range of subjects both academic and non-academic. The program costs $40 and financial assistance is available.
This six-week summer program is open to Boston-area students who have completed their junior year of high school and are interested in participating in a hands-on science and engineering experience. There is a $150 commitment fee.
RELATED: Free STEM Summer Camps for Teen Girls from Girls Who Code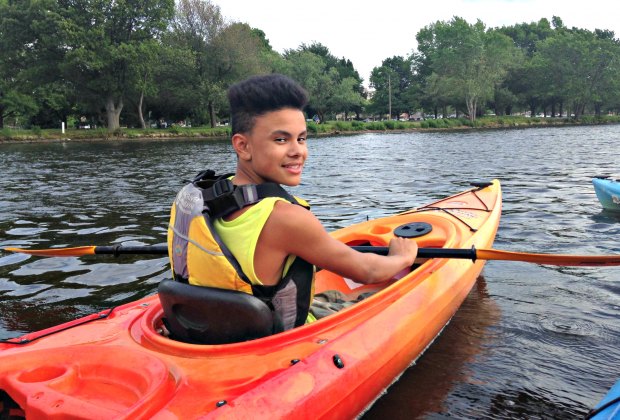 Photo courtesy of Youth Enrichment Services
The Harbor Explorers program is a full-day camp that teaches kids, ages six to nine, about marine life through hands-on experiences. Campers will trap lobsters and crabs, observe jellyfish, take pictures with underwater cameras, fish off the dock, and more. Or for kids ages 10 to 18, you can sign up for the Science of Sailing program. There are multiple levels ranging from beginner to expert, and progress is tracked so kids can pick up where they left off the year before. The program fees are based on neighborhoods. Campers from East Boston pay $25, while campers from Boston/Chelsea/Revere/Winthrop pay $125. Residents from all other Massachusetts cities are charged $350.
Serving kids ages seven to 18, Youth Enrichment Services in Boston offers two one-week programs, Outdoor Adventure Sessions and Outdoor Adventure Intensives, that aim to introduce Boston kids and teens to the great outdoors. Campers can attend for $250-$750 depending on income and dependents.
Have an aspiring activist in your home? YEA is a free three-week course offered to 150 income-eligible 13-year-olds, designed to help them become young leaders by studying government, discussing positive action and challenges, and considering financial wellness. Interested applicants should apply as early as possible.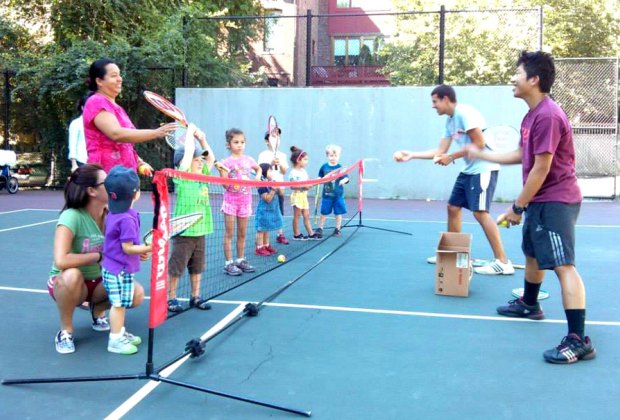 Tennis and literacy meet at this summer camp. Photo courtesy of Tenacity
To avoid the summer slide, Tenacity serves almost 5,000 Boston students with their Summer Tennis & Reading Program, found at 23 public parks around the city. Students aged six to 16 meet daily for free three-hour sessions split between fitness fun and literacy skills development.
Originally posted on 2/1/16; updated by Caitlin Dowling on 2/22/20