5 Kids' Farm Camps Near Boston for Little Plant and Animal Lovers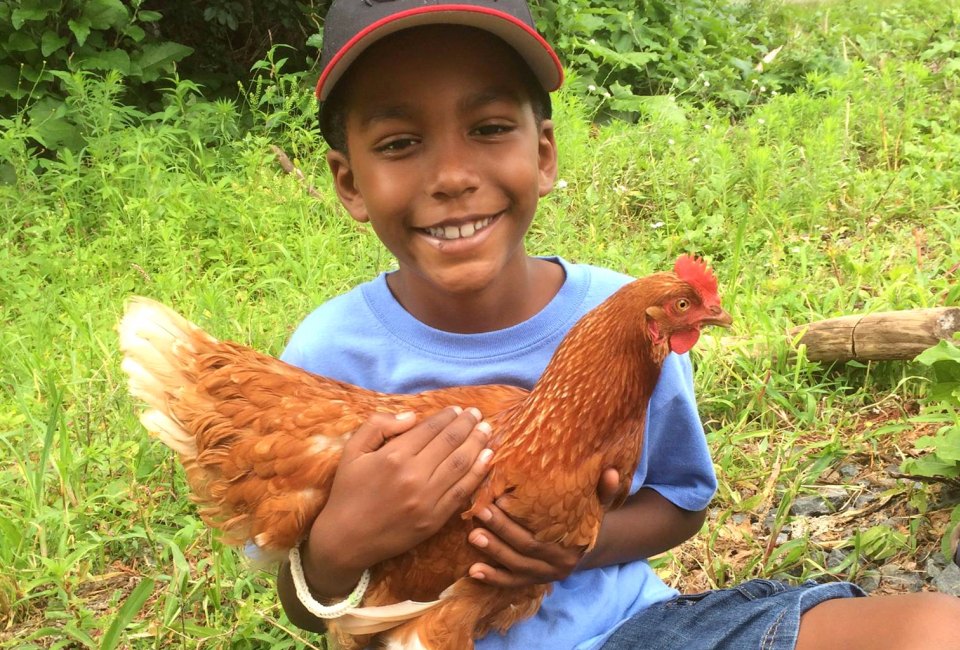 5/1/18
- By
Fiona Haley
If your Boston kid is enchanted by things that grow in the dirt, whether they're pea shoots or baby piglets, it might be time to consider farm camp. Trust me when I tell you your kids will love it—when else are children encouraged to get messy and play with farm animals? Hosting summer camp on the farm offers kids the chance to explore the countryside while still in close proximity to the city, and your kids will get to be outside, do a lot of learning about ecology and environmental science, and discover the wonders of vegetables.
Here are five summer farm camps within about a half hour of Boston in Newton, Waltham, Natick and more nearby cities and towns. Please check the websites or call for exact prices, which may fluctuate seasonally.
Find more great summer camp options for your Massachusetts kids in our Camp Guide and Directory of listings, which is searchable by interest, age, or location.
Newton Community Farm - Newton
One of the best hidden gems around Boston is Newton Community Farm, the place that taught my daughter to love snap peas. She went to their Little Diggers program for two years and could not have loved it more. Newton Community Farm offers four different programs: Farm Sprouts (preschool–K with a caregiver), Farm Explorers (late preschool–K), Little Diggers (entering grades 1–2), Farmers in Training (entering grades 3-5), and Young Farmers (entering grades 6–8). Farm Sprouts is a darling drop-in class for preschoolers aged 2.5 to 5 (with a caregiver), who begin to explore the farm, tend to the chickens, and taste different vegetables. Classes run daily from 10–11am. Farm Explorers tend to animals and the garden, prepare healthy snacks, do arts and crafts, and games. Weekly programs run from 8:30am to 4:30pm, with morning and afternoon or full-day options. Little Diggers spend the day digging, planting, weeding, harvesting produce, and setting up and managing a farm stand. Farmers-in-Training explore the entire farm—planting, weeding, and harvesting as well as cooking in the barn kitchen. Young Farmers consider the issues of food and climate justice, eating locally, and food production as they plant, weed, and harvest fresh produce at the farm.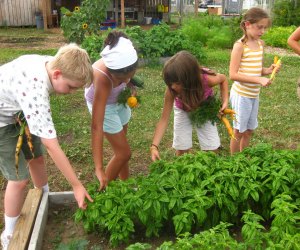 Campers gather salad ingredients and pick basil at the Waltham Fields Community Farm. Photo by Rebekah Carter
Natick Community Organic Farm - Natick
Natick Community Organic Farm offers 10 weeks of programming in morning and afternoon sessions. Forest Explorers are aged 3.5 to 5, and they spend their days discovering the woods through song, play, and storytelling. Sessions run Monday to Thursday, 9am to 12pm. Budding Farmers are 4- to 5-year-olds building their powers of observation while discovering the magic of the farm. Sessions run Monday to Thursdays, in morning and afternoon sessions of either 9am to 12pm or 1am to 4pm. Young Farmers are 6- to 7-year-olds who spend their week caring for animals and minding their own garden. Sessions run Monday to Thursday, in mornings and afternoons. Growing Farmers, ags 8 to 9, learn to help out on the farm by weeding fence lines and stacking wood. Morning and afternoon sessions are available. Junior Working Farmers (ages 10–11) work as carpenters, engineers, and farmers in morning afternoon sessions from Monday to Friday. Finally, Working Farmers are 12 to 14 year olds practice seeding, weeding, cultivating, harvesting, and selling alongside the expert growers. Sessions run Monday to Friday in either the morning or afternoon.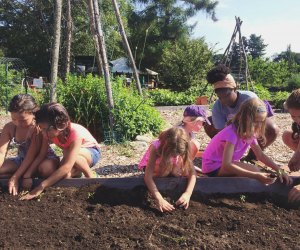 Children get their hands in the sweet smelling earth to plant seeds at Land's Sake Farm. Photo courtesy of the farm
Land's Sake Farm - Weston
At Weston's Land's Sake Farm, there is a variety of options for kids of all ages. Summer Discovery is for students entering grades K to 2. Children engage in garden-themed activities and help with chores on the farm. Session runs for four days in August from 9am to 1pm. The Farm & Forest program is for kids entering grades 1 to 4, who will learn useful gardening skills, spend time caring for chickens, rabbits, and other animals, play nature games, create seasonal crafts, read stories, and make snacks with produce from the farm. Each weekly session runs Monday to Friday from 8:30–3:30. Fifth to eighth graders will love the Green Power program, a local food immersion program that allows kids to experience planting, weeding, harvesting, and helping with farm livestock management. These middle schooler will also visit local urban farms to learn about small scale agriculture and more. Green Power sessions run Monday through Friday from 8:30–3:30.
Drumlin Farm Camp - Lincoln
Drumlin Farm Camp at Drumlin Farm Wildlife Sanctuary in Lincoln offers a variety of camp options, from three-day to two-week programs. In addition, Drumlin Farm offers three different camps: Nature Camp, Farm Camp, and Mini-Camp. All Drumlin Farm campers experience a working farm and wildlife sanctuary while they care for farm animals, practice sustainable farming, and observe native wildlife. Nature Camp is open to students entering Pre-K to Grade 12, as a two-week program offering farm-focused activities with scientific discovery and nature explorations. Activities include nature walks, gardening, farm chores, cooking, and more. Each age group has a different theme, with older kids taking five-day overnight trips across New England. Farm Camp (also PreK–Grade 12) is a one-week session in either June or August focused on farm life. Students will get a chance to interact with livestock and do farm chores. Mini-Camp is designed for second to fourth graders who want a closer look at specific topics, like The Power of Pollen, Caterpillars, or Life on the Pond. Mini-Camp sessions are three days per week, from 9–3:00. Half-day sessions are from 8:30 to 11:30aam or 12:15 to 3:15pm. Full-day sessions run from 9am to 3:30pm, with before camp or after camp options available.
Waltham Fields Community Farm - Waltham
Sprawled across acres in Waltham, Waltham Fields Community Farm is an ideal place for kids 5 to 13 to learn to farm. Waltham Fields' Summer Learning Garden is split into two programs: Garden Explorers and Farm Explorers. Garden Explorers are between the ages of 5 to 9, and they spend their time tending their own garden plot, caring for chickens, and learning about the natural environment. Farm Explorers are 10- to 13-year-olds who want to grow their own food as they learn about ecosystems and how to cook their vegetables. My daughter was a Garden Explorer last summer, and every day she came home covered in dirt and excited to tell me all about how her chard plot was growing and what the chickens did. All sessions run Monday to Friday from 8:30am to 2pm.
Click Here to Sign Up!