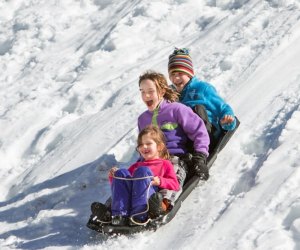 13 Free Things to Do with Boston Kids in January
While you may be celebrating that you made it through the holidays (and another year of parenting), you might feel a little less victorious about the state of the family budget. To save a few bucks after a spendy December and still keep the brood busy, check out these no-cost events and activities for January. From a day of art and theater to a complimentary afternoon at the zoo, these events are almost too good to be free!
For more low-cost family activity ideas, see our Boston winter fun guide.
1. Three Kings Day Parranda and Celebration at the Connolly Branch of the Boston Public Library—Boston
January 4
Join Hyde Square Task Force to celebrate Three Kings Day and decorate crowns, read a book about Three Kings Day, and learn a traditional parranda song. At noon, kiddos can show off their crowns as they parade and sing down Centre Street with Fabiola Mendez and her band. Refreshments will be provided and each child attending the event will receive a free book.
OUR LATEST VIDEOS
2. Light Up Sledding Lanes at Chestnut Hill Farm—Southborough
January 11, 18, & 25
What's better than going sledding? How about sledding at night?! Grab your sled and snowpants and head to this farm for an evening adrenaline rush.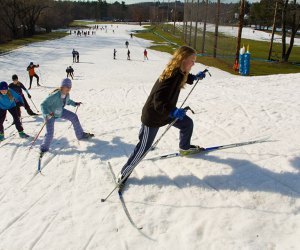 Families can learn to cross country ski or showshoe together at Winter Trails Day. Photo courtesy of Weston Ski Track/Paddle Boston
3. First Day at the Mosesian Center for the Arts—Watertown
January 1
Start the new year off with some culture at this free family friendly day. Kids can enjoy live performances as well as theater and art activities, dancing, and even puppetry.
4. Sledding and Hot Cocoa at Danehy Park—Cambridge
January 4
Make the most of the winter season with some free family sledding at Danehy Park. If it gets too chilly, kids can warm up with some hot cocoa (also free!).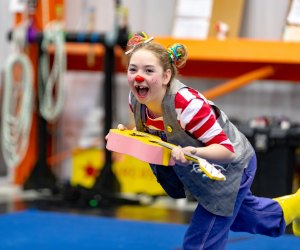 This Smirkus workshop is a no-cost way to clown around. Photo by Marvin Wang
5. Smirkus Clowning/Performance Workshop—Newton
January 11
Calling all gymnasts and theater geeks! This free workshop gives budding clowns and acrobats a taste of the circus life and is taught by seasoned circus professionals.
6. Snowflake Festival at the Brookline Arts Center—Brookline
January 19
Bring your budding artists to stroll through the studio spaces and try out exciting projects in mixed media, comic creation, jewelry making, 3D sculpture, and more. Warm up with some hot cocoa as you watch a live pottery demo, do a special activity with the Puppet Showplace Theater, and meet the teachers.
7. Malden Lunar New Year Celebration—Malden
January 18
2020 rings in the Year of the Mouse and families are invited to celebrate at this Lunar New Year party. There will be traditional lion dances, music, food, and more festive fun.
8. Benkadi Drum and Dance: African Freedom at the JFK Presidential Library and Museum—Boston
January 20
Find your rhythm at this performance by this multicultural Benkadi Drum and Dance group. They returns to perform new dances showcasing traditional West African rhythms and movements. With vivid costumes, interpretive dance, and audience participation, folktales come to life before your eyes.
9. Free Zoo Day at the Franklin Park Zoo & Stone Zoo—Boston & Stoneham
January 20
In honor of MLK Day, these zoos are offering free admission for you and your little monkeys. Visit with animals and make sure to swing by the Tropical Forest Pavilion to write a message (or drawing) of hope and peace on the communal mural.
10. Intro to 3D Modeling for Kids—Watertown
January 20
HATCH Makerspace is offering a free workshop for kids interested in learning more about 3D printing and modeling. Participants can learn how to make objects like high-tech jewelry or a model spaceship using a computer program, printer, and their imaginations!
11. Coop Kids Storytime—Cambridge
January 7, 11, 14, 18, 21, 25, 28
The Harvard Coop is not just for grown-ups- they now offer free storytimes twice a week. Tuesdays are for the preschool crowd and Saturdays (for eight and under) feature a craft after the story. Free snacks are provided too!
12. Ice Skate at Boston Common Frog Pond—Boston
Daily
While adults do have to pay $6, kiddos under 58" skate for free. Set in the heart of Boston Common, the Frog Pond is packed with energy and rimmed by trees and some of Boston's most iconic buildings. Skate rentals and sharpening are available. There's a café for snacking and hot cocoa is for sale at the rental station. Or, check out our roundup of rinks that are totally free for all.
13. Go Sledding!—Boston Area
Daily
Got a snow day on your hands? Grab your snow tube, saucer, or sleigh, and hit a sledding hill for some good ol' fashion winter fun. Whether you're looking for speed, a gentle slope, or a less crowded place to coast, this roundup of must-sled hills has what you're looking for. After you've got your snow fix, make sure to check out these delicious spots to warm up with a cup of hot chocolate.