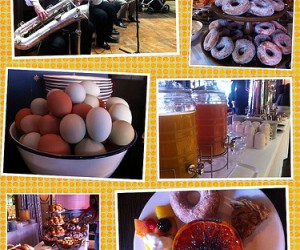 Best NYC Brunch Spots for Families? Try A Hotel
The wonderful thing about brunch is that it embodies a sense of luxury and decadence: Waking up late, lingering over indulgent breakfast foods, and sometimes even drinking before noon! But then there's brunch in NYC, which often includes waiting ages for a table at crowded and noisy restaurants. That may have been fine when you were childless, but now that you have kids, you're just happy if you can eat some eggs and get home without a meltdown. Hitting a trendy brunch spot and savoring a second cup of coffee is out of the question.

Personally, I'd given up on brunch long ago until a random and fortuitous thing happened. Last fall, I was forced to have breakfast in a hotel and something dawned on me. Hotels are great at breakfast, they are generally kid-friendly and, aside from a few of the famous ones, they never have lines for brunch.

To test my theory, I set out to look for the best hotel brunches with kids in NYC. Over the past six months, I've been brunching with my family at hotels all over Manhattan to find out if they really are the special secret I imagined them to be. After months of selfless brunch testing (see the sacrifices I make for you?), the results are in. I've discovered some truly off-the-radar brunch spots that you should definitely add to your list. After all, just because you have kids doesn't mean you can't enjoy the finer things in life—you just need to find the right place to do it.
There are a few famous hotel brunches that didn't make the cut: Norma's at Le Parker Meridien and the Waldorf Astoria. The latter got knocked off the list when I fell over looking at the price and didn't even bother to go. Norma's is also super-expensive and when I tried it, I honestly did not think the food was that great. Over-the-top, yes, but I felt like it was more about being decadent than good. We had better food at other hotels and I didn't like the fact that you can't just roll in without a reservation.

I also ate at the Mondrian in Soho, which is gorgeous, but outside of two low-slung banquettes, the rest of the seating is not great for children and the menu is not particularly kid-friendly: so trendsetters-1, families-0.

In terms of price, I think we can all agree that brunch is expensive everywhere. Overall, the hotel brunches seem like fairly good deals in terms of what you get for your money when compared to the legal extortion that is brunch in NYC. Moreover, I didn't wait for a table at any of my picks, which is worth a small premium in my book.

Here are my top hotel brunches in NYC, and therefore, four of the best brunches for families in the city.

David Burke Kitchen at the James Soho – Soho
23 Grand Street between Thompson Street and Sixth Avenue
Saturday and Sunday 11am-4pm
"If this food exists, nobody should ever eat anything else," my daughter exclaimed over her cinnamon waffle stuffed with Mascarpone and drizzled with maple syrup. David Burke Kitchen definitely served the best food of all the brunches we tried, and that's saying something because they were all good. But this was extraordinary and memorable—the kind of meal that you still muse over months later. There is no children's menu but the offerings are varied enough to please adults and kids alike regardless of preferences or mood. The prix-fixe brunch is $29 and includes two courses, but you can also order à la carte.

Sunday Brunch at the Roxy Hotel – Tribeca
2 Sixth Avenue between White and Walker Streets
Sunday 11am-4pm
If the James wins for food, the Roxy Hotel wins for experience. Whether you sit at one of the oversize booths or the low living room-style tables and couches, this popular family brunch is designed to make you so comfortable, you'll wish you could move right in. Brunch here is buffet-style and there's lots to love, from the omelet station and carvery, to the piles of pastries, salads and smoked fish. The food is all good, but the thing that makes this a favorite for families is the fun. Little ones are entertained by the friendly 1920s-style jazz band while older ones head to the swank Grand Screen room for free kid flicks. Meanwhile, parents can sit back and enjoy that elusive second cup of coffee. The Roxy Hotel recently made a change that makes the family brunch even better: lowered the price (what?!). It now costs just $35 for adults and $15 for kids. The decreased price means you now get just one mimosa or Bloody Mary, rather than the previous bottomless booze. That's a win-win in my book. Two cups of coffee is one thing; two drinks midday is more than this mama needs.

Tunes with Tina at Measure at Langham Place – Midtown East
400 Fifth Avenue between 36th and 37th Streets
Sundays through January 5 at 11am
Every fall, singer, songwriter and mom, Tina deVaron, does a run at this swanky hotel and belts out everything from The Beatles to Beauty and the Beast. She'll even get up and do the hokey-pokey, lets kids play a few keys on her piano and takes song requests. Singing along is encouraged. At $40 per person and $20 for children 3 and under, it's on the pricier side. While the food is solid, it won't wow you. But, if your children are young enough that they can't really sit through meals and you're willing to take a side of kiddie songs with your eggs, you might consider splurging on this seasonal silliness so you can get your brunch on.

Atrio at Conrad New York – Battery Park City
102 North End Avenue at Murray Street
Let's start with the view: The restaurant looks right out onto the Hudson, so make sure to ask for a table by the window so you can upgrade your brunch to star status. Prices here are comparable to other brunches, with entrees ranging from $9 for a local goat yogurt parfait to $22 for a bagel platter with smoked salmon and the works. Truth be told, there may be other hotels that serve brunch as well as Conrad New York, but this one certainly fits the bill with everything I love: high-end fare with no wait and no fuss, even if your kids do.

I hope you'll give these brunches a try and leave a comment below if you find other exceptional hotel brunch spots.

Hungry for more brunch ideas? Why not try breakfast with Santa, restaurants with entertainment for kids or look in our NYC Kids Restaurant Guide for more family-friendly eats.