Family Opportunities to Volunteer in Atlanta this Holiday Season
11/18/22
- By
Elsa Simcik
Looking for new ways to connect as a family this holiday season? Volunteer in Atlanta together and spark the joy of giving in children of all ages. The holidays are a great time to inspire your kids to give back and volunteer in Atlanta. When children and teens help with hands-on projects like making food, donating toys, or delivering items to those in need, they start to realize the holidays are more than just getting gifts.
This city has hundreds of worthy organizations that need our help, and many of them have opportunities for kids to volunteer in Atlanta alongside their parents or contribute with projects at home. Think about your child's talents and interests to determine which of these family-friendly volunteer opportunities are a good fit.
Find more ideas to keep the holidays bright, visit our Guide to Holiday and Christmas Events for Atlanta Families!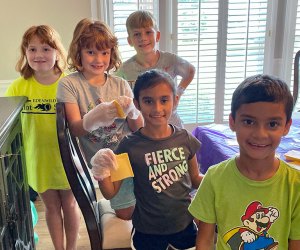 Make and deliver sandwiches for one of The Sandwich Project's locations. Photo by the author
Volunteer in Atlanta: Make and Donate Food
Dates: Christmas Meal Boxes due December 14
Pick up an empty box at North Gwinnett Co-op and fill it with the requested items. The organization asks for food such as canned corn and boxed mashed potatoes, plus a grocery store gift card so recipients can make a full holiday meal.
Dates: Every Wednesday
Families make sandwiches (as many or as few as they want) and deliver to one of TSP's Atlanta locations. The organization then distribtues the sandwiches to our city's homeless and food insecure. Since starting in April 2020, TSP has provided over a 560,000 sandwiches!
Dates: Every Sunday afternoon
Meals by Grace supports families in North Forsyth with weekly meal boxes. Volunteers in Atlanta first register, then show up at Midway United Methodist Church on Sundays at 12:30pm, ready to work. Younger children can make cards while older children can pack boxes of food and help in the kitchen. After the team of volunteers has packed up boxes, they drive around the area, delivering the meals to recipients.

Kids and families can volunteer this holiday season at Midwest Food Bank by sorting and packing food.
Dates: Upcoming Serve Together night November 28 and ongoing
Midwest Food Bank is a national organization, with an on-site location in Peachtree City, which encourages children to help through its program MFB Kids. Young people ages 4 and up can volunteer in Atlanta by sorting and packing donations, labeling items, and helping in the prep area. The food bank also hosts "Serve Together" nights, where families can sign up for an evening work project.
Dates: Thanksgiving food drive (through November 24); other ongoing food drives
Internet-savvy kids can create an online page, set a fundraising goal, and reach out to friends and family through Feeding America's virtual Thanksgiving food drive. For every $1 raised, the organization can provide 10 meals to a person in need. Feeding America supports several Georgia-based food pantries including Atlanta Community Food Bank.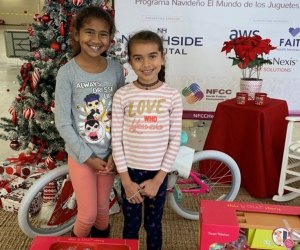 Volunteer in Atlanta as a family at North Fulton Community Charities' Toyland Shop.
Volunteer in Atlanta: Give and Deliver Toys and Gifts
Dates: Drop off toys December 12-14
Parents who qualify for North Fulton Community Charities services can actually choose unwrapped gifts for their children at the Toyland Shop. The best way for families to get involved is to let kids choose toys for the shop (using the donation request list) and drop them off. In 2021, more than 1,300 families benefited from the Toyland Shop!
Dates: November 29-December 16
Atlanta parents and kids can help support families who need to stay at the Ronald McDonald Houses during the holiday season. Print out a holiday light kit poster, which contains wish list items for babies, kids, teens, and caregivers. Kids decorate the light kit poster and, together, families purchase items (as few or as many as they want). Donors may drop off items at either location, but the hospitals encourage using Amazon and shipping gifts.
Dates: Ongoing throughout December 21
Children ages 12 and over (along with a parent or guardian) can help in one of MUST Ministries Toy Shops two locations (Cobb and Cherokee counties). Volunteers help parents shop for their kids and can also stock shelves, check-out customers, and wrap gifts. MUST offers a calendar for sign-up, and volunteers do not need to attend a training orientation.
Dates: November-December 24
While some organizations require families to register early to receive holiday help, Simple Needs GA "fills in the gaps" by offering assistance to those who need help in emergency sitautions. Families can sponsor a child or organize and deliver gifts with the Spirit of Christmas program. Throughout the year, families support SNGA's efforts with programs like My Birthday Matters, in which they provide books, toys, and clothing to children in need on their birthdays.
Dates: Donations due by December 2
If you are looking for an easy way to make an impact and volunteer in Atlanta, check out Angel Tree Atlanta. Families can choose a child, teen, or senior citizen to "adopt" and purchase gifts from their list. Donors can purchase the gifts online, too, and send them straight to Angel Tree Atlanta. Get kids involved—have them choose a recipient and shop online.

Volunteer to walk a dog, read to a cat, or organize adoption events at Furkids. Photo by the author
Volunteer in Atlanta: More Opportunities for Families
Furkids - Alpharetta, Cumming, and Peachtree Corners
Dates: Holiday opportunities throughout December and ongoing
Furkids allows kids to volunteer with their parents all year long—walking dogs (ages 13+), reading to cats, helping at adoption events, and more. During the holidays Furkids allows children, ages 9 and over, to help with fundraising (kids help stage animals and organize pictures for Furkids' Photos with Santa shelter events or gift wrap books at select Barnes and Noble stores).
Dates: December 1-4 for white paper gift bags; ongoing for reusable bags
The Children's Haven helps children impacted by abuse. In December, foster children "Shop for Your Grown Up(s)," which helps teach the joy of giving. Volunteers purchase white paper gift bags in assorted sizes and decorate them with holiday stamps so the children will have wrapped packages to give. Then, parents arrange a time to drop off or mail packages. During the year, Children's Haven needs resuable bags for their clients to use while shopping in their caregivers' closet.
Dates: Family volunteer days, first Saturday of each month
Parents and children over the age of five may sign up to help in the Together for Families Resource Center, which provides basic needs such as beds, clothes, hygiene products, and baby supplies for families involved in the child welfare system. Volunteers help process and sort clothes and replenish donated merchandise.
Dates: Ongoing
Kids good with their hands can knit or crochet one or more 7-inch or 9-inch sections of a blanket for Warm Up America. This is a fulfilling project that families can do together at home. The organization needs thousands of blankets, scarves, and afghans for people in need, especially as the weather gets colder.
Unless noted, photos courtesy of the organizations
Click Here to Sign Up!