Jackson, MS with Kids: 25 Best Things to Do in Jackson, Mississippi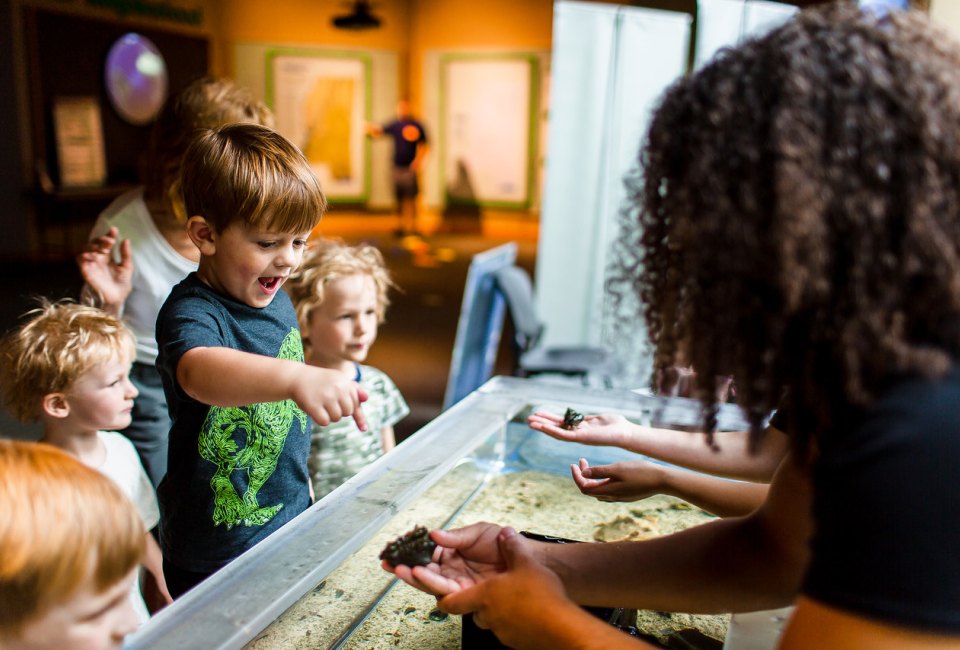 9/2/23
- By
Melanie Preis
Jackson, MS is a great city to visit in the southern US. This "City with Soul" serves as the capital of Mississippi and offers families a chance to explore the central region of the state, discovering the history and fun of the area. And what kid wouldn't want to visit a state with such an awesomely spelled name?
Every summer I drive my kids from Atlanta to central Mississippi for sleepaway camp, and sometimes we get to nearby Jackson a day early to do some fun sightseeing. (Note: The humidity of a southern summer can be jarring for out-of-towners, so tourists may want to visit Jackson in the cooler months.)
Regardless of when you visit, take a look at our favorite things to do in Jackson with kids, including some great museums, restaurants, and hotels in Jackson, MS. Our Southern States Vacation Guide covers more fun places to visit in the South, including fun cities like New Orleans and Charleston, SC.

There's lots for kids to explore at the Mississippi Children's Museum. Photo courtesy of the museum
Top Things to Do in Jackson, MS with Kids
Take kids to this fantastic children's museum for a day of fun, excitement, and discovery. Visitors can explore the museum through hands-on exhibits and programs focused on literacy, STEAM, and health and nutrition. The on-site eatery, Red Rocket Cafe, offers a full menu. While the museum's regular operating days are Tuesday through Sunday, it has special hours and programming on "Magic Mondays", so check the events calendar for updated operating info.
The Jackson Zoo features exotic animals like pygmy hippos, Asiatic bears, and monkeys, as well as multiple endangered species. Since Jackson, MS gets hot for humans and animals during sweltering summer afternoons, consider visiting during the cooler morning/opening hours. Note: As of press time, The Jackson Zoo is not at full operation due to continuing projects. Check the zoo's website and/or social media for current hours of operation.
RELATED: 12 Best Places to Visit in the South, USA with Kids

The playground at LeFleur's Bluff State Park is truly unique. Photo courtesy of the park
If you have an outdoorsy family, enjoy Mother Nature at LeFleur's Bluff State Park. The 305-acre park features camping, fishing, nature trails, a nine-hole golf course and driving range, disc golf, and an amazing playground. Consider bringing an RV or tent to camp at one of the overnight sites. The entrance fee is only a couple of dollars per person, and kids under 5 are free. While there, check out the Mississippi Museum of Natural Science located in the park (see below).
This beloved spot is dedicated to the preservation of the region's agricultural and historical roots. Sprawled across 39 acres, MS Ag Museum features the Heritage Center, the National Agricultural Aviation Museum, an entire crossroads town, a general store, Victory Garden, display gardens, Children's Barnyard (complete with Old McDonald's favorite animals), and much more. Visit during fall and December to enjoy special holiday events.
Travel to space without ever leaving the ground at the Russell C. Davis Planetarium, one of the South's largest and best-equipped planetariums. It includes a 60-foot-diameter projection dome and a modern 4K projection system. Rocket to space, dive into deep oceans, and even cavort with dinosaurs in these powerful shows. Note: As of press time, the regular show schedule is suspended while the planetarium completes upgrades.
RELATED: 100 Best Things To Do in Atlanta with Kids Before They Grow Up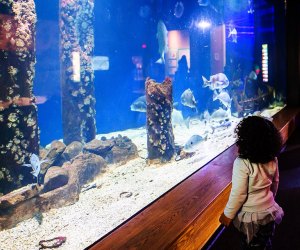 See over 200 species of marine life in the Mississippi Museum of Natural Science's aquarium. Photo courtesy of the museum
The Mississippi Museum of Natural Science showcases more than 200 living species in its massive aquarium network. There are also additional exhibits that include deer, birds, fossils, and more. Kids love exploring the Dinosaur Trail, a nature trail featuring six 3D dinosaur models along the way, and The Swamp, a 1,700-square-foot greenhouse. In September, the museum helps host the Mississippi Science Fest.
Enjoy a FREE tour of the state capitol and introduce older kids to civic engagement. Guided tours led by staff and volunteers take visitors through the Capitol building (current tours skip the House Chamber and rotunda due to renovations) and take place Monday through Friday at 9:30am, 11am, 1pm, and 2:30pm. Self-guided tours are available anytime between 8am and 5pm.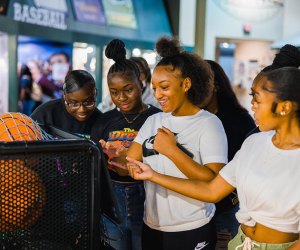 From sports history to interactive games, there's something for all ages at the Mississippi Sports Hall of Fame & Museum. Photo courtesy of the museum
Sports is life in the South, so celebrate a beloved pastime by taking sports-loving kids to the Mississippi Sports Hall of Fame & Museum. This Jackson, MS attraction celebrates the state's elite athletes and teams, promoting Mississippi's rich sports heritage. The museum is open Monday through Saturday and admission is cheap (plus, kids ages 5 and under get in free).
Kids and teens will love 601 Escape Rooms in Jackson, MS. Many of the themes are appropriate for any age, including Prison Break, Back to the '80s, and North Pole Meltdown (only during the holiday season). Work as a family to solve the clues, find important keys, and "escape" together.
Enjoy beautiful art and creative activities at the Mississippi Museum of Art (MMA). It features a constant stream of fantastic exhibits, with lots of attention spent on the youngest of art connoisseurs. Family programs include the Look and Learn monthly series (an art-making program for kids 5 and under), Family Day (a bi-yearly event with fun morning activities for children), Workshops and Art Lab (hands-on learning opportunities that teach art techniques and concepts based on MMA exhibits), and more.
RELATED: The Best Children's Museum in Every State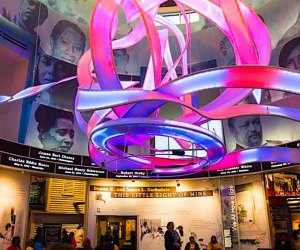 Learn about MS's role in the civil rights movement at the Mississippi Civil Rights Museum. Photo courtesy of the museum
Teach kids the importance of courage in the face of adversity at the moving Mississippi Civil Rights Museum. The state served as ground zero of the US civil rights movement, and this museum uses powerful exhibits to show the struggles of Black citizens and celebrate civil rights activists. The museum is part of Two Mississippi Museums, interconnected with the Museum of Mississippi History (see below). Both museums are free every Sunday.
Go back about 15,000(!) years and learn about the the region from its earliest history to its more recent background as a US state, including Mississippi's role in slavery, the Civil War, Reconstruction, the civil rights movement, cultural diversity, and its modern creative roots. This history museum is part of Two Mississippi Museums along with the Mississippi Civil Rights Museum (see above).
Any kid—or adult—who loves collecting unique designer toys, comics, alternative art, and apparel will love fun store. In addition to cool collectibles, locally owned OffBeat sells a ton of records in almost every musical genre.
RELATED: Columbia with Kids: 25 Best Things To Do in Columbia, SC

Save room for both pizza and ice cream at Sal & Mookie's. Photo by Andrew Welch
Family-Friendly Restaurants in Jackson, MS
Get a taste of New York in the deep South at Sal & Mookie's New York Pizza & Ice Cream Joint. It's hard to go wrong with pizza for any hungry family, and Sal & Mookie's has some of the greatest. Make sure to save room because the desserts are delish, especially the Cereal Box Milkshakes and sundaes.
Mayday serves real, homemade ice cream crafted with high-quality ingredients. The Florida-based ice cream chain serves flavors like Sunday Best Banana Pudding, Ice Box Lemon, Queen Salted Caramel, and more tasty creations at its Jackson, MS location.
Who doesn't want freshly baked pastries during a stroll through Jackson, MS? Broad Street Baking offers a breakfast, lunch, and dinner menu, as well as an extensive bakery menu full of delicious breads and sweet treats (we're looking at you, giant cookies and cake pops).
You can't visit Jackson, MS and not pig out on BBQ! The list is endless of mouthwatering classics, like barbecue ribs, smoked chicken, brisket, and more. Kids can order from the special "piglet plate" options, or families can order the family packs, which feature various smoked meats, a choice of two sides, and sauce.
RELATED: Asheville with Kids: 40 Best Things To Do in Asheville, NC

You'll feel like you've stepped back in time when you dine at Brent's Drugs. Photo courtesy of the restaurant
Don't let the name fool you—the only medication sold here comes in the form of delicious food. Fill up on that nostalgic vibe and amazing eats at this pharmacy-turned-restaurant. Enjoy classic American fare (including a kids' menu), as well as ice cream and sweet treats from the soda fountain. FYI, parents: The Apothecary at Brent's Drugs is a fantastic cocktail bar located in the back of Brent's.
Say yes to some of the best fried chicken and classic hamburgers in Jackson, MS by visiting Rooster's. This popular restaurant has been putting out delicious plates of spectacular food for Jackson families for years. Kids will especially love the sides, including mac and cheese, onion rings, cheese grits, and more.
Located on the Ross Barnett Reservoir, Shaggy's overlooks the water and features an island-style atmosphere and laid-back vibes. Families enjoy live music every weekend, and kids can choose from their own menu.
Is Highball Lanes a delicious southern restaurant with bowling, or is it a fun bowling alley with gourmet food?! However you want to classify it, Highball Lanes is a good time for everyone. Walk-ins are welcome, but reservations are also accepted up to 14 days in advance (restaurant reservations are separate from bowling lanes). Bowling lanes fit up to six people per lane and can be booked for an hour at a time.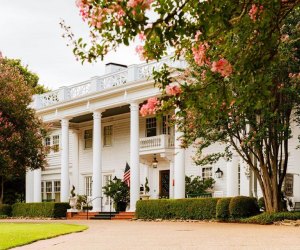 Experience unique lodging in a historic 1908 Colonial Revival mansion at Fairview Inn. Photo courtesy of the inn
Family-Friendly Hotels in Jackson, MS
This boutique hotel in Jackson, MS features 18 lovely guest rooms and suites, with large living areas, queen and king beds, and whirlpool tubs in select suites. Every room has a different theme (you can check them out online before booking). The picturesque property encapsulates the beauty of Jackson, MS.
Located within walking distance to Jackson's historic music and arts theater, the Russell C. Davis Planetarium, and more, the Westin Jackson is a great hotel in the heart of downtown. Suites and guest rooms are available for families of all sizes, and there's a full-service spa and an on-site restaurant.
Kids will love staying in the historic building that is the Hilton Garden Inn Jackson Downtown. The on-site King Edward Grille serves breakfast, lunch, and dinner, and families can use the indoor pool and gym. The hotel is about five miles from the Mississippi Agriculture and Forestry Museum and the Mississippi Children's Museum.
Old Capitol Inn is a full-service boutique hotel featuring three room types: whirlpool tub/honeymoon suites, one-bedroom suites, and standard guest rooms. The hotel has a storied history: It was originally built in 1952 as the YWCA lodging, then eventually converted into a bed and breakfast. Old Capitol Inn offers a complimentary Southern-style breakfast each morning, as well as a rooftop bar and a self-guided walking tour of historic Jackson.
Or, Rent a Whole House!
Jackson, MS has loads of beautiful neighborhoods, with homes for rent that will give you more space for the whole family for less money. This three-bedroom home on VRBO is a great one, as it sleeps eight, is baby-proofed, and has loads of space for kids to run around in the backyard. If it's booked when you visit, there are plenty more family-friendly options nearby.
Disclosure: We may earn a small commission if you click through our link and make a purchase. This revenue helps us maintain this site, so thank you for supporting us.
Click Here to Sign Up!
i