Cleveland with Kids: 30 Best Things to Do in Cleveland, Ohio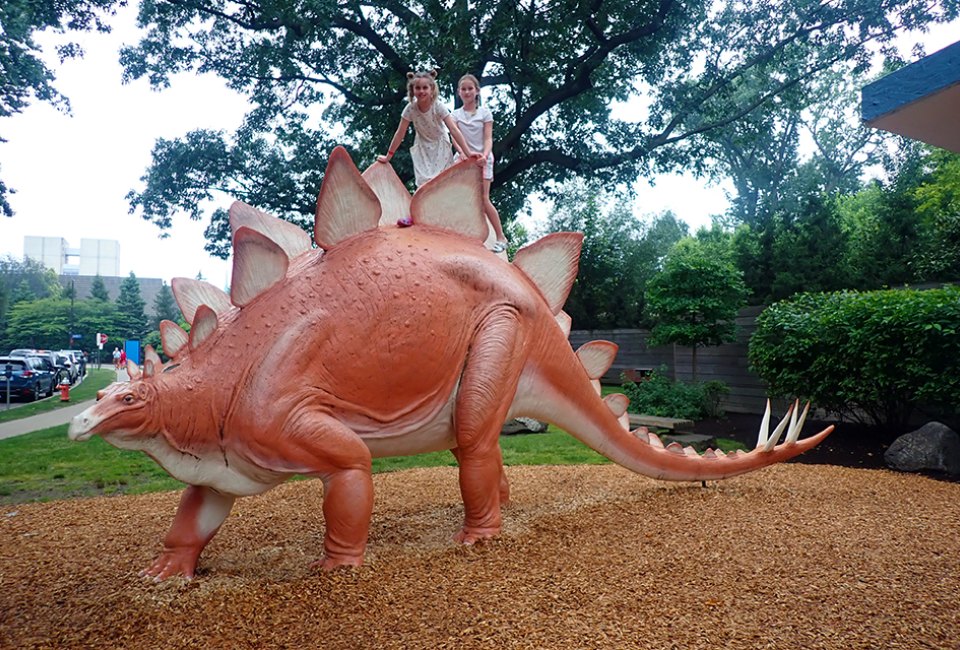 9/30/23
- By
Jackie Jones
Home to beloved sports teams and the Rock & Roll Hall of Fame, Cleveland, Ohio is a city with a bustling energy and an all-American spirit. There's so much for families to do in this town set on the beautiful shores of Lake Erie, including plenty of attractions that are really affordable or entirely free. And step aside, New York and Chicago: Cleveland is a foodie city too, with delicious restaurants that will please the whole family.
My family spent a week in Cleveland over the summer, and my daughters are already asking when they can go back. Here are our top 30 things to do in Cleveland with kids, including kid-friendly places to eat and great Cleveland hotels. For more Midwest vacation ideas, including our guides to Columbus and Cincinnati, Ohio, check out our Midwest Family Travel Guide

Celebrate the history and significance of rock music at the Rock & Roll Hall of Fame.
Top Cleveland Museums for Kids
An icon of Cleveland, this giant museum celebrating modern music is a must-see. There are so many cool items on display, from Katy Perry's stage outfits to Rolling Stones pinball machines to handwritten lyrics by Metallica. But you don't need to be a music nerd to enjoy yourself here. Even young kids can try the listening stations or jam out in a room full of instruments. And though a bit pricey, the museum gift shop has souvenirs you won't find anywhere else.
Just across from the art museum is this local gem where visitors can catch a 3D educational film, get to know the cosmos in the planetarium, or view a rare copy of Audubon's Birds of America. My daughters especially loved visiting the live animals in the outdoor wildlife center, as well as climbing on top of "Steggie," the eight-foot tall Stegosaurus sculpture that has greeted museumgoers since 1968. Note: Some galleries are currently closed as the museum undergoes a renovation. It's expected to be completed in 2024.
RELATED: 100 Best Things To Do in Chicago with Kids Before They Grow Up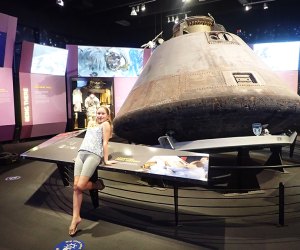 The Apollo Command Module, which traveled 26.5 million miles in space, now resides at the Great Lakes Science Center.
Spend all day at this three-floor science center that has tons of hands-on exhibits, an IMAX theater, and an immersive NASA section with artifacts like an Apollo module used in a real-life space mission. A BioMedTech gallery is perfect for kids with an interest in medicine, while toddlers can be entertained with soft mats and board books in a section made just for them. I actually had to rip my kids away from a room full of interactive displays like ball runs, pendulums, and mirrors.
Another museum that's entirely free to visit, the moCa has plenty of thought-provoking modern artwork on display. Kids especially love the seven-ton, 21-foot high "Judy's Hand" sculpture out in front of the building. It's an excellent place for a Cleveland photo op!
RELATED: The Best Children's Museums in the US

Kids can get creative in the art studio at the Children's Museum of Cleveland.
Set in an old Midtown mansion, this children's museum has unique exhibits that appeal to kids of all ages. The Meadow is a sensory-rich space for those 3 and under, while older kids can enjoy STEM experiments and giant water tables in the Wonder Lab. The museum also has a killer art studio with lots of materials and tinker stations, and my doll-loving daughters were inspired by the museum's collection of dollhouses in the Making Miniatures exhibit.

Marilyn x 100 by Andy Warhol is on view at the Cleveland Museum of Art.
Get inspired by the vast collection of artwork on display at this museum that offers free admission to all. From ancient pieces to pop images by Andy Warhol, the Cleveland Museum of Art features amazing art through the ages and from around the world. The building itself is like a work of art too, with a gorgeous atrium at its heart. Children love the ArtLens Studio, where they can play interactive games and make their own digital portraits.
This inspiring museum documents the achievements and contributions of women to the aviation industry, from Amelia Earhart to NASA astronaut Pam Melroy. There are photographs, letters, costumes, and model airplanes on display, and the museum is located next to the Burke Lakefront Airport, so you'll likely see an aircraft taking off or landing. Bonus: Admission is free.

See tigers up close at the Cleveland Metroparks Zoo.
Outdoor Things To Do in Cleveland with Kids
There are zoos and then there are zoos: the Cleveland Metroparks Zoo definitely falls into the latter category. Founded in 1882 and spanning 183 acres, it's huge, with a large diversity of animals from primates to big cats to exotic fish. The zoo also feels very spread out, so strollers are highly recommended for little ones. The African Elephant Crossing was a major highlight for my family, as was the Rainforest. The zoo's naturalistic settings, including 10,000 plants and a waterfall, really made us feel like we were in a jungle.
Enjoy the great outdoors at this botanical garden that's open year-round. A highlight for families is the Hershey Children's Garden, which truly looks like something out of a fairy tale. There are ponds and fountains, a veggie garden, a sandbox... even a rustic tree house. In fact, you're likely to spot a turtle or frog here. The garden's indoor glasshouse, another highlight, features exotic plants from Costa Rica and Madagascar as well as more than 50 species of butterflies.
A local landmark since 1952, this 11-ride amusement park appeals to little ones who can spend the day whirling around the merry-go-round, flying in the sky fighter rockets, or going for a miniature train ride. The attractions, which are all sweet and nostalgic, are designed for kids 50 inches and under. The park has a claim to fame, too: The Little Dipper roller coaster has been recognized as the oldest continuously functioning steel roller coaster in North America. Memphis Kiddie Park is also home to a mini golf course.
11. Outdoor Playgrounds
Cleveland has so many awesome playgrounds, it's hard to rank the best ones. If your kids are jonesing for some park time, here are two of the standouts. Locals love the HUGE playground and stunning views at Lakewood Park. From swings to ropes courses, it's a park that will entertain kids from toddlers to tweens. Meanwhile, Preston's HOPE in Beachwood is a fully accessible park that has cute make-believe houses and a giant sandbox area, as well as plenty of slides.
Located about a half hour outside Cleveland in Kirtland is this working farm and education center where visitors can watch cows being milked, check out big farm machinery, and go for a tractor-drawn wagon ride. Kids love visiting Farmpark's barnyard animals like pigs, sheep, chickens, and alpacas. Seasonal and weekend events include cheese making and maple sugaring.
13. Greater Cleveland Beaches
Make the most of Cleveland's short and sweet summer season by hitting one of Lake Erie's beaches. Locals love Huntington Beach in the suburb of Bay Village. Along with miles of gorgeous shoreline, Huntington Beach is home to the Lake Erie Nature & Science Center. Meanwhile, Edgewater Park features areas for swimming, boat ramps, and picnic areas with grills. And Euclid Beach was once home to an amusement park. Some of the remnants still remain, including a scenic 220-foot pier.
Experience Cleveland aboard the Goodtime III, the city's largest sightseeing ship. The two-hour narrated cruise along the Cuyahoga River and Lake Erie provides an in-depth look at Cleveland's history, as well as some spectacular views. There are four decks and 1,000 seats on the Goodtime III, so there's plenty of space to spread out and take it all in. The ship sails rain or shine. Kids 4 and under ride free.
RELATED: Fargo with Kids: Best Things To Do in Fargo, ND

Kids will get a kick out of holding the infamous leg lamp at A Christmas Story House.
More Top Attractions in Cleveland for Families
Here's an only-in-Cleveland attraction! Visit the home where the classic holiday movie ;A Christmas Story was filmed. The house is loaded with memorabilia, including props and behind-the-scenes photos. It's also a great place to take your own pics. My kids loved holding the infamous leg lamp and posing with Ralphie's eyeglasses. Plus, there are plenty of cool souvenirs (yes, including Christmas ornaments) at the giant gift shop.
There are 1,300 aquatic animals from around the world on display inside this aquarium that's divided into seven immersive galleries. Get friendly with three different species of stingrays in an 11,000-gallon touch tank. View sharks, eels, and plenty of colorful fish swimming above your head in the aquarium's underwater "seatube." There are also daily animal encounters and feedings, as well as discovery carts where kids can see fossils and other artifacts.
Playhouse Square is the country's largest performing arts center outside of New York, and its Children's Theater Series offers terrific programming for families such as interpretations of beloved kids' books like Giraffes Can't Dance and The Rainbow Fish. The theater also hosts ballet performances, classical concerts, and dramatic plays. The downtown building, first opened in the 1920s, is an architectural landmark too.
RELATED: Best Things To Do in Minneapolis, Minnesota with Kids

Take in a Cleveland Guardians baseball game or any number of other sports events.
18. Pro Sports
It's no secret that Cleveland is a sports-crazed city, home to pro basketball, football, and baseball teams. It's a blast to root for them with so much enthusiasm in the air. The Cleveland Guardians draw throngs of locals to their baseball games at Progressive Field in the heart of downtown. We went on a Kids Fun Day and there were so many family activities like face painting and balloon artists. Meanwhile, the Rocket Mortgage Fieldhouse, also downtown, is where the NBA's Cleveland Cavaliers play for energized crowds. And if your family loves football, consider attending a Cleveland Browns game at their 68,000-seat lakefront stadium.
19. Indoor Playgrounds
When the weather turns cold, take the playtime inside at one of Cleveland's indoor playgrounds. Make Believe Family Fun Center in Parma features an arcade, a climbing wall, and bumper cars, along with playgrounds for both toddlers and big kids. Play Day Cafe in Solon has a 20,000-foot multi-level playground with slides, tunnels, and obstacles to crawl around It also has a cafe so you can get your coffee fix while the kids play.
20. Trampoline Parks
A close cousin of the indoor playground is the trampoline park, and Cleveland offers several for families. Get Air in Middleburg Heights has a dodgeball court, a foam pit, and plenty of trampoline space so kids of all ages can get their wiggles out. Attractions at Urban Air Westlake include a Sky Rider zip line and an indoor go-kart track. Kids can also jump it out at Sky Zone Highland Heights or Sky Zone Westlake, both located in the greater Cleveland area.
RELATED: St. Louis with Kids: Best Things To Do in St. Louis, MO

Pepperoni Pie from Scorpacciata Pasta Co. topped the list of favorites at Van Aken Market Hall.
Family-Friendly Restaurants in Cleveland
In the Cleveland suburb of Shaker Heights is another awesome food hall. The 21,000-square-foot Van Aken Market Hall has vendors selling gourmet coffee, salads, sandwiches, pizzas, and craft beers among other fine foods. (My kids highly recommend the pepperoni pie from Scorpacciata Pasta Co.) The market also has a lovely outdoor eating space with picnic tables and yard games.
This historical landmark is also a great place to grab a bite to eat. The West Side Market, located downtown, is Cleveland's oldest public market and home to more than 100 food vendors. Shoppers can pick up meats, produce, baked goods, flowers, nuts, and ready-to-eat meals. The market is open year-round. It's closed on Tuesdays and Thursdays.

Treat yourself to freshly baked bread, pastries, and other delicious offerings at Leavened.
Is there anything better than freshly baked, delicious bread? This artisan bakery has some of the best bread I've truly ever tasted. It also serves great breakfast pastries, coffee, sandwiches, and its popular vegan charred tomato soup (I'm a big fan). Located in the Tremont neighborhood, Leavened is open daily except Mondays.
Owned by celebrity chef Michael Symon, this downtown barbecue joint is really delicious. The succulent meat, the crunchy homemade pickles... my mouth is watering just thinking about it. Cool and casual, Mabel's is also reasonably priced. There's no kids' menu, but plenty of offerings that young foodies may like including smoked turkey and kielbasa.

Don't leave Cleveland without swinging by a Geraci's Restaurant location.
This beloved local chain has been in the business of making great Italian food since the 1950s. Geraci's has several restaurants around the city, including two "slice shops" where pizza is the star. The downtown Geraci's has a fun retro vibe too, with a vintage soda machine and a wall-mounted payphone.
This sweet spot bills itself as the largest candy company in America, and when inside its 40,000 square-foot retail warehouse, it seems likely so. There are bins upon bins of candy, including nostalgic brands that you don't often see anymore. Plus, the shop has cute displays like a confection-packed toy train and giant M&M characters. Visiting with kids is a real treat—pun intended!
Family-Friendly Hotels in Cleveland
My family loved our stay at this downtown Kimpton property that has a cool, cosmopolitan vibe. My kids really enjoyed the playful decor, including the working record player in our room. My husband and I appreciated the complimentary gourmet coffee in the morning and the state-of-the-art workout room. Plus, the Schofield is within walking distance to many top landmarks, including Progressive Field.
Travelers note the spaciousness and beautiful sights at this high-rise hotel. In fact, all guestrooms feature floor-to-ceiling windows with a view of either Lake Erie or the Cleveland skyline. Traveling with pets? The Westin Downtown is dog-friendly; some suites even offer pet beds and other amenities.
This hotel is a great option if your family wants to be steps away from the Rock & Roll Hall of Fame (it's about a 10-minute walk). Other perks include a Starbucks in the lobby, a free shuttle to nearby locations, and those famous chocolate chip cookies upon check-in.
Set inside a historic Victorian-era shopping center, this hotel boasts stunning architecture and charm, most notably its vaulted glass skylight. Visitors also recognize the friendly staff and cleanliness of the guestrooms. The lower floors of the Arcade are still occupied by retailers and restaurants, which is another convenience when little tummies start rumbling.
Photos by the author
Disclosure: We may earn a small commission if you click through our links and make a purchase. This revenue helps us maintain this site, so thank you for supporting us.