5 Special Needs-Friendly Amusement Parks Near NYC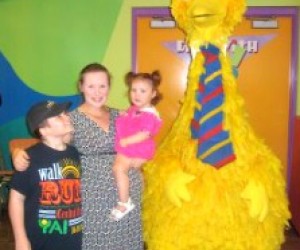 5/22/14
- By
Michaela
Most of my kids love amusement parks. For my three little ones, there is no ride too big, too scary or too fast (though the height restrictions sometimes say otherwise). As our family balloons to five children this year, amusement parks are becoming more of a luxury (all of those tickets add up). But what makes an amusement park outing even more challenging for us than money is our teen with special needs. Unlike his siblings, he's not a fan of rides, screaming children, roller coasters or that big bucket that dumps water on everyone's heads. So it takes a lot of planning to have a successful theme park experience with my brood.

Luckily, there are five wonderful theme parks near New York City that can accommodate my son with special needs while still delivering a thrilling time for the rest of my family. Most are within a two-hour drive of Manhattan (also good if your children with special needs hates being cooped up in a car, like mine). A few have park-wide special needs programs in place; the others host special needs-friendly days when the usual sensory triggers (all the screaming and loud music and lights) are kept to a minimum. Here are five special-needs friendly amusement parks near NYC.
Sesame Place – Langhorne, PA
100 Sesame Road
1-866-GO-4-ELMO
Since this park is located about 90 minutes from Manhattan by car, my family and I have visited many times. My teen with special needs enjoys the low-thrill rides as do my younger children. In the past, we have rented cabanas where the characters come in and visit instead of having to wait in line to see them. Cabanas seat six and provide the perfect place to leave your stuff (they're guarded), take a break or a nap, or eat lunch. They're also loaded with water and free towels. Sesame Place offers a Ride Accessibility Program (RAP) which allows guests with special needs to "wait" in a Virtual Queue with a scheduled boarding time so you don't actually need to stand on line. You can enroll in RAP at the Welcome Center at the park entrance. Sesame Place also offers a 50% physically limited discount, which my son and I have both taken advantage of (pregnant counts as physically limited). In addition to these ongoing programs, the park hosts an annual Sesame Place Day for Children with Autism, when kids on the spectrum, their caregivers and family members can all enjoy the park for FREE in a less chaotic atmosphere. We've been to this special day three times now and it's amazing. I highly recommend it as a first amusement park experience for any anxious child on the spectrum. Among the many accommodations made, there are special gluten/casein-free menus available, characters are instructed not to make first contact with the guests and the volume is muted throughout the park. And since it's FREE, if you end up leaving early because of a meltdown, at least you didn't waste money on tickets!

Sahara Sam's Oasis Indoor Water Park – West Berlin, NJ
535 North Route 73
856-767-7580
Once off-limits to my sensory-sensitive family, this year-round indoor water park now hosts four Special Evenings at Sam's (SEAS) annually. These fun, "judgment-free" events allow children and adults with special needs to enjoy Sahara Sam's with their family and friends. SEAS are offered at a reduced rate of $15 per ticket and only a limited number are sold to avoid overcrowding and excessive noise. In addition, the lights are dimmed, arcade games are turned off and a quiet room is available. Participants can also break the dress code and wear T-shirts and shorts if that makes them more comfortable. Guests are welcome to bring their own food with the exception of peanut products. Find upcoming SEAS dates on the website.

Hersheypark – Hershey, PA
100 West Hersheypark Drive
1-800-HERSHEY
It's worth the two-and-a-half-hour drive to enjoy this park's special needs accommodations. In addition to enjoying reduced admission, guests with special needs can enroll in the Attraction Accessibility Program at Hospitality Services just inside the main gate, where you complete an Attraction Accessibility Questionnaire. Based on your responses, you get a Boarding Pass with a personalized list of rides your child with special needs should be able to enjoy. Guests with special needs that qualify receive a special wristband that allows them to enter rides through the exit or accessible entrance. Tip: You can download the Attraction Accessibility Program and fill it out prior to arriving. A Rider Safety & Accessibility Guide is available at Hospitality Services or any Guest Services location. It explains the ride entry guidelines and procedures, provides specific information related to each attraction and includes the Boarding Pass, which is required for special access. The Guide is also helpful in determining how many additional riders can go on each ride—weirdly, it does vary from ride to ride. Wheelchairs and Electric Convenience Vehicles may be rented in Founders Way near the main entrance.

Knoebels Amusement Resort – Elysburg, PA
391 Knoebels Boulevard
1-800-487-4386
About three hours from Manhattan by car, Knoebels is located in a beautiful area and feels more peaceful than your typical amusement park, with a campground next door in case you want to make a weekend of it. Unlike the other places on this list, Knoebels doesn't charge admission. Instead, you pay for the day or buy individual tickets, which is great if you have a child with special needs like my son, since he doesn't like that many rides. Guests with special needs can get a Courtesy Pass which allows them to skip the lines and enter rides through the exit gates. You can bring your own food (great for those who suffer from allergies) and eat alfresco at the picnic pavilions. There's also a water park and pool on the grounds if you need to cool off.

Six Flags – Multiple locations
Visit the website for locations
Six Flags parks (there are locations across the country including Great Adventure in Jackson, NJ and Great Escape in Lake George, NY) has an Equal Access Pass intended to accommodate guests with mobility aides, service animals and other challenges that require alternative access to rides. However, at several Six Flags locations, guests on the autism spectrum can receive an immediate boarding special-access pass. Just make sure to check with the location nearest you before making the trip.

Find out about other great programs and resources for children with special needs in our Special Needs Guide.