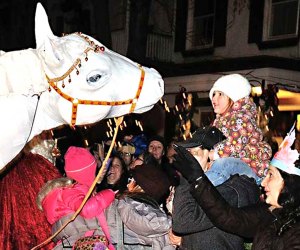 Things To Do in Westchester this Weekend: Sinterklaas Festival, Laurie Berkner, Holiday Train Show
With Thanksgiving so late this year, the holiday fun that would otherwise have been spread across two weekends is now jam-packed in the weekend ahead! There are Santa sightings, breakfasts with Santa, craft fairs, tree and menorah lightings, and a host of other seasonal attractions throughout Westchester and the Hudson Valley. How to optimize each weekend this month requires some strategy.
Many of the recurring holiday events we've previously listed are now supplemented with a fresh batch of festive fanfare, including the large-scale Sinterklaas Festival Day, Holiday on Huguenot Street (which takes place Friday, as well), and a Dutch celebration of St. Nicholas Day—all of which are FREE. Several holiday performances are scheduled, including Laurie Berkner's holiday concert and an interpretation of The Nutcracker performed by marionettes.
If you were hoping to catch the stage production of Peter Pan, both performances are sold-out.
Read on for all our top picks—then be sure to consult our Event Calendar for the full panoply of options (and there are many!), including alternatives to holiday-themed activities. Don't forget to check out our Holiday Fun Guide to plan the remaining days of the season and our December GoList for our top picks for the month.
Be sure to sign up for our newsletters to stay up to date on all kinds of fun!