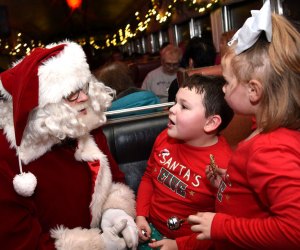 Things To Do in Westchester this Weekend: Thanksgiving Parade, Polar Express, Turkey Talk
Assorted fun is coming up this weekend for Westchester and Hudson Valley kids, including several ways to get a jumpstart on Thanksgiving festivities.
For starters, there's the Annual Valenti Thanksgiving Day Parade, one of the largest Thanksgiving parades in the state. In a similar vein, celebrate National Native American Heritage Month by creating wampum beads and viewing exhibits, or immerse your family in our early settlers' lifestyle at Living Off the Land. Families can also honor the bird of the month by learning more about it at Turkey Day. For a departure from the holiday, snag a seat at the performance by Arch 8, a multi-genre production with a message.
These are just a few of our top picks for the weekend; the rest can be found below, and there are even more fun and enriching opportunities on our Event Calendar. Consult our November GoList to plan ahead, and sign up for our weekly newsletters to stay current with all our great findings!