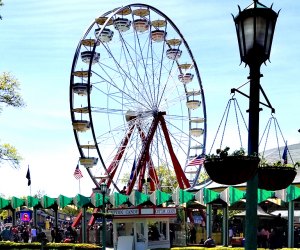 What's New at Rye Playland Amusement Park This Summer
A mainstay of Westchester summers is Rye Playland, whose rides, boardwalk, and other attractions have been drawing people from in and around the county for 91 years. Features have evolved over the decades, and this year brings new entertainment, new discount opportunities, a "floating" art installation, and the first new ride in a decade. Read on for the scoop!
Want to stay in the know about Playland and other happenings of interest to Westchester and Hudson Valley families? Monitor our Event Calendar for special events, and sign up for our newsletters to receive alerts in your inbox!
New Ride
The newest Playland ride, the "Dragonator," is debuting this month, the first new ride in more than a decade. The consists of a spinning disk that runs along a U-shaped track, with riders facing outwards around the periphery.
Expanded Entertainment Offerings
Playland has also been introduced new family entertainment that recurs throughout the season. This includes:
Funky Fairy Tales: Rapunzel – Puppet shows in Kiddyland, performed twice daily.
Katy the Kat's Comedy Show – Daily comedy show for younger audiences in Kiddyland.
Play it, DJ! – Get primed to do the Harlem Shake and Freeze Dance in Kiddyland.
Coaster's Country Jamboree – Nashville comes to Rye, with line dancing, backyard games, and other hoedown-themed fun.
Laser Light Show – Pop music and choreographed lighting effects bring entertainment to evening visitors, with twice-nightly shows. Held at the Music Tower Theater.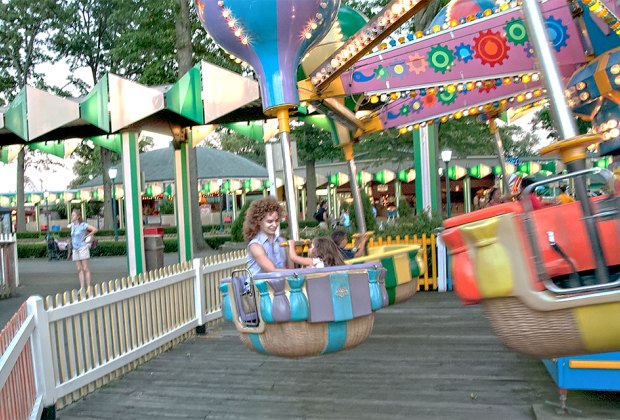 Too little (or squeamish) for the new spinning coaster? Stick with the gentle rides in Kiddyland. Photo courtesy of Karen Hessel via Twitter
Town Days
New this year, Playland is celebrating each town, village, and city in Westchester County with Playland "Town Days," when residents of those towns receive discount coupons valid for one free mini-golf entry, two-for-one ride admission, one free beach or pool admission, $1 off one food value meal, and a $5 discount for parking on a return visit. To obtain these perks, proof of residency required. Stop by the Fountain Plaza Administration Building upon arrival.
Remaining town days for the season are as follows:
Friday, July 19 - Larchmont Day
Tuesday, July 23 - Lewisboro Day
Wednesday, July 24 - Mamaroneck Day (Town/Village)
Thursday, July 25 - Mount Kisco Day
Friday, July 26 - Mount Pleasant Day
Tuesday, July 30 - Mount Vernon Day
Wednesday, July 31 - New Castle Day
Thursday, August 1 - New Rochelle Day
Friday, August 2 - North Castle Day
Tuesday, August 6 - North Salem Day
Wednesday, August 7 - Ossining Day (Town/Village)
Thursday, August 8 - Peekskill Day
Friday, August 9 - Pelham Day
Tuesday, August 13 - Port Chester Day
Wednesday, August 14 - Pound Ridge Day
Thursday, August 15 - Rye Day (City/Town)
Friday, August 16 - Rye Brook Day
Tuesday, August 20 - Scarsdale Day (Town/Village)
Wednesday, August 21 - Sleepy Hollow Day
Thursday, August 22 - Somers Day
Friday, August 23 - Tarrytown Day
Tuesday, August 27 - Tuckahoe Day
Wednesday, August 28 - White Plains Day
Thursday, August 29 - Yonkers Day
Friday, August 30 - Yorktown Day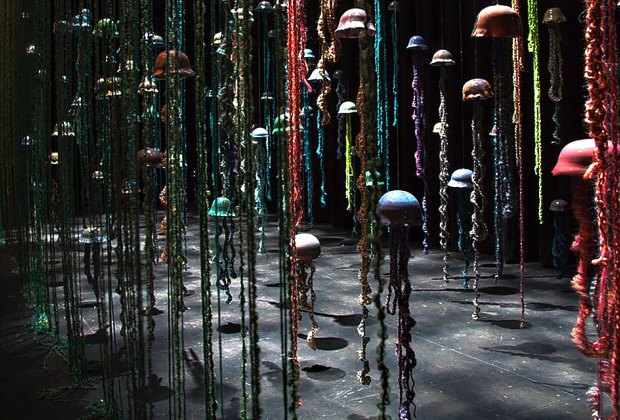 Floating Forest combines lighting effects and ceramic jellyfish for an oceanic experience.
Public Art Installation
"Floating Forest," the first public art installation on the boardwalk in more than fifty years, combines lighting effects and ceramic jellyfish suspended from the ceiling at varying heights to create a walk-through oceanic experience—fittingly, along the beach. Open Wednesday through Sunday, 11am to 6:30pm.
Playland Museum
Coming soon: A Playland museum is being developed to showcase the nine-decade history of Playland and its prominence in Westchester. Stay tuned for more.
What's Missing?
Of note, the Grand Carousel will remain closed throughout the 2019 season due to construction.
Remember, all this is merely what's new at Playland. There's lots more in store at the park, so brush up on its offerings.
Unless noted, photos courtesy of Rye Playland