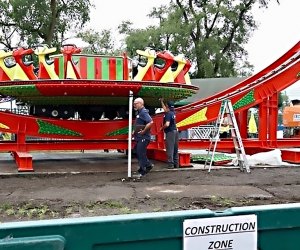 New Ride Coming To Playland Amusement Park this Summer
This summer, Westchester families can take a spin on Playland Park's brand-new ride—the park's first new addition in more than a decade. Described as part roller coaster and part spinning ride, the new amusement park attraction is expected to be ready to roll in July, according to Park officials.
Officially known as a "Disk'O 24," the ride is a large, spinning disk that runs on a U-shaped track. Riders are strapped in with back restraints, leaving arms and legs free, and the ride travels at speeds up to about 43 miles per hour.
"This is a special day; it is the first time in over a decade that Playland can boast a new ride," County Executive George Latimer said at the ride's unveiling last week. "This ride comes from the best of the best in amusement park attractions, and we are very happy to work with them."
The Disk'O 24 was manufactured by the Italian company Zamperla, the world's largest maker of amusement rides, and workers have been busy assembling it this month.
To celebrate the new attraction, the County is asking Westchester residents to help name the ride. Email your ideas to Communications@WestchesterGov.com now through Monday, July 1, and a Westchester County camp group will chose the winner.
"Any and all submissions will be considered," Latimer said. "This is our ride, it belongs to the whole County, and there is no better way to welcome the first new ride in 11 years than to have the people of the County name it."