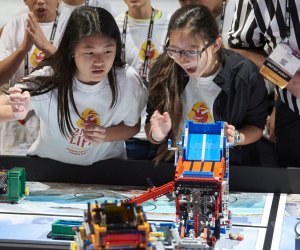 Lego Teams: How to Join the Hudson Valley FIRST Lego League
Have a Lego lover in the house and looking for a way to turn that passion into an activity? The Hudson Valley FIRST Lego League (HVFLL) is an amazing and supportive way for kids to use an interest in Legos in a fun and competitive setting.
We have what you need to know about the HVFLL and this year's tournament season. If you're looking for more activities in our area, STEM and otherwise, sign up for our newsletters and follow us on Facebook.
First, the nitty-gritty: The Hudson Valley FIRST Lego League is a volunteer-staffed organization that holds tournaments for FIRST Lego League (FLL) and Jr. FIRST Lego League (JRFLL) participants. FLL is for kids grades 4-8, while JRFLL is for ages 6-10. Each year, a new challenge is issued by the national FIRST organization, and kids work together to create solutions using Legos. JRFLL teams create a project and a poster, while FLL teams take it further with a poster, a presentation, and a tabletop competition using the Lego Mindstorms Kit.
Both groups have specific regulations, and all members are expected to follow FIRST's set of Core Values. In order to receive the full challenge materials—and participate in the tournaments—you must register with FIRST. Registering also provides a wealth of coaching advice and discounts on Lego Education sets.
About the tournaments: HVFLL holds annual winter tournaments where teams can compete and display their projects. JRFLL kids are quizzed on their presentations by a committee, while FLL kids are judged by a FIRST-provided rubric. All kids are honored with medals at a ceremony, while FLL teams compete for trophies and a chance to advance to the semifinals and championship.
We reached out to John Houston, HVFLL assistant director, to get his thoughts on what parents should know about having their kids join FIRST, and one of his top pieces of advice was for families to attend a tournament to see what goes on.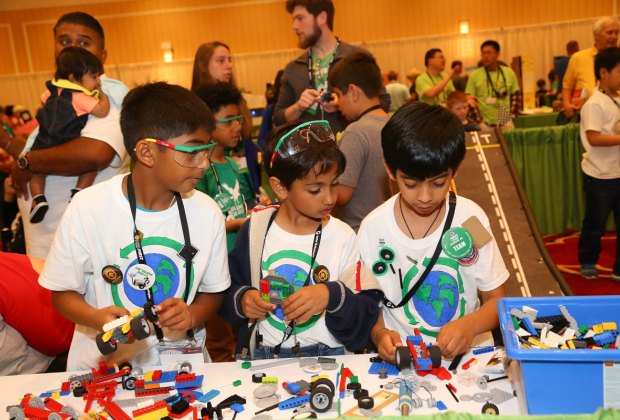 FIRST is a great way to bring teamwork into Lego building.
"My experience shows that people who actually attend an event to see what the program is about and talk with the teams, coaches and parents in attendance, become the most motivated to get teams supported the following year," he said.
This season's tournaments began in December, but there are still 10 more occurring in Westchester and the Hudson Valley:
January 14: Linden Ave Middle School - Red Hook
January 14: Amsterdam High School - Amsterdam
January 21: Bell Middle School - Chappaqua
January 21: LaGrange Middle School - LaGrangeville
January 28: Sanfordville Elementary School - Warwick
January 28: Sleepy Hollow High School - Sleepy Hollow
January 28: O'Rourke Middle School - Burnt Hills
February 11: Semifinal - Poughkeepsie Day School
February 11: Semifinal - NYSUT Headquarters - Latham
February 25: Championship - Dutchess Community College
So how do you find a team? That can, admittedly, be one of the more difficult parts. HVFLL is prohibited from matching kids with teams, but you're allowed to post requests directed toward other parents on its Facebook page. Other methods include communicating through school districts, libraries, scouting or local Facebook groups. JR FLL teams can have two through six kids, while FLL teams can have up to 10.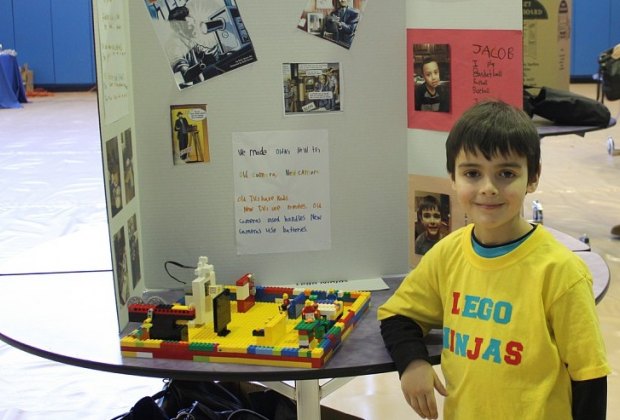 JRFLL is a great introductory program for younger kids interested in robotics. Photo taken by the author.
Some Tips for Participating in HVFLL
Challenges are released in early August, so use this time to attend a tournament, learn about FIRST and find a team.
Coach! It's easier to find team members than it is to find a spot on a team. Each team must have two coaches.
Keep teams small, especially JRFLL, and expect to meet more often as the tournament approaches.
Have realistic expectations—especially in FLL, said Houston. "Remember that this is a program for the kids," he noted. "The teams will do best if they are having fun while learning. It can become a bit contagious. Yes, sometimes they need guidance and direction, but the point is to develop the problem-solving and teamwork skills in the kids."
Tournament spots can often be limited and extremely high in demand. It's not uncommon for a location to fill up immediately on tournament registration day, so be sure to sign up for HVFLL emails and follow it on Facebook.
Teams have material requirements, and this includes a tabletop board and a Mindstorms set for FLL teams. Many older teams are looking to offload their materials (either for free or at a discount), so ask around. Some teams also fundraise or seek sponsorships to recoup costs.
All photos courtesy of FIRST unless otherwise indicated.