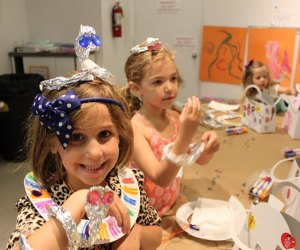 Summer Art Camps for Westchester Kids
Choosing a summer camp is no easy task, especially with the many options for day camps. While some Westchester summer camps include an art project as part of the day, several specialize in sparking creativity among budding Picassos and O'Keeffes. If your idea of art is finger-painting and pinch pots, think again; the programs below ooze creativity, even in their design, with such diverse offerings as metalsmithing, fused glass, cartooning, dollhouse design, fashion design, candle-making, photography, 3D printing—even making your own school supplies.
In 2020, summer plans are up in the air, with requirements for social distancing to be announced. Modifications may be required, such as reducing the number of allowable participants, staggering sessions, or adapting to virtual formats. Check directly with the camps to stay current.
Below, we've rounded up 10 summer art camps to help you explore your options—and your child's creativity. Dress for a mess and be glad the paint, glitter, and glue aren't all over your house!
Be sure to sign up for our newsletter to stay up to date on the latest events, camps, classes, news and more happening in Westchester.