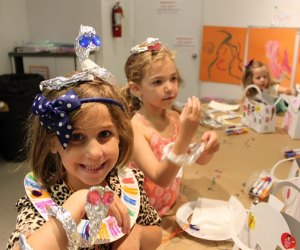 Summer Art Camps for Westchester Kids
Choosing a local summer camp is no small task, especially with the myriad options. While many Westchester camps include art projects as part of an all-purpose agenda, several specialize in sparking creativity among budding Picassos and O'Keeffes. If your idea of art is finger-painting and pinch pots, think again; these programs ooze creativity, even in their design, with such diverse offerings as silk screening, metalsmithing, fused glass, cartooning, dream-house design, fashion design, candle-making, puppet-making, graphic-novel development—even making your own art supplies. And that's not all.
Below, we've rounded up eight summer art camps to help you explore your options—and your child's creativity. Dress for a mess and be glad the paint, glitter and glue aren't all over your house!
Be sure to sign up for our FREE newsletters to stay up to date on the latest events, camps, classes, news and more happening in Westchester—and follow us on Facebook.
Katonah Art Center - Katonah
Ages 3.5 and up
Campers are grouped by age and interest at this summer program, which offers one-week sessions with half-, full- and extended-day options. Preschoolers attend Art & Imagination Camp, offering a general-purpose exposure to various art activities coupled with storytime, free play and general fun. Kids in grades 1-5 attend Kids Camp, with offerings in cartooning, drawing and painting, dream-house design, filmmaking, beading, pottery, candle- and soap-making, mosaics, photography and living art. Teen Camp offers electives in jewelry-making, pottery, stop-motion animation, drawing and painting, silk screening and batik, printmaking, fused glass and mosaics, manga and comic con, fashion design, metalsmithing, fiber arts, 3D printing and design and more. New to the center is the Young Adult Art Academy, bi-weekly sessions focusing on three different subjects. A clothed model will be provided for at least one day per week. On Fridays, campers and staff dress up in costume and get a visit from the ice cream truck.
Clay Art Center – Port Chester
Ages 6 and up
Who knew there could be so much diversity in the subject of clay art? At Clay Art Center camp, choose from a smorgasbord of fun topics with a variety of outcomes, with enticing titles like Sweet and Savory Camp, Wheel Throwing Boot Camp, Jurassic Camp and Clay Wearables Camp. In Spellbound Camp, campers make letters out of clay for use in plaques or monogramming; in Spies and Secrets Camp, participants form cunning designs like a hollow book or a compartment to hide a key; in Make an Illusion, use clay to simulate textures like bark, fur, scales or leaves. Full- and half-day programs are offered.
Oodle Monkey Art + Discovery Studio – Rye Brook
Ages: 3.5 – Grade 3
Multiple media are employed at this art camp, such as puppet-making, papier mache, collage, construction and more. For younger campers, this is supplemented by music and movement, sensory play and science, while older kids get to do collaborative art and dramatic play, in addition to science. A June program is scheduled for ages 3.5-6, and two weeks in July are for grades K-3.
Children's Creative Corner – Larchmont
Ages pre-K - 10
Different opportunities are offered for young art lovers: In June, younger kids can participate in weekly art programs that aim not only to foster creativity but also fine-motor skills and dexterity. Then in July, the center partners with Larchmont Music Academy to offer their joint Tri Arts program, combining art, music and dance, with campers being ushered between the two facilities. All three art forms interpret a given theme that changes each week. The art projects may include clay, painting and wood projects. Caregivers are invited every Thursday to observe the campers' output. In August, Children's Creative Corner will offer art workshops of one or two hours for kids aged 3-7.
Scribble Art Workshop – Dobbs Ferry
Grades K-3
This full-day camp draws on nature as a source of both inspiration and materials. Excursions are made along the aqueduct trail, and campers delve into a given topic each week, including traditional forms like clay and painting and less common forms like printmaking, toy design, wearable art, woodworking and earthworks. One session focuses on making your own art materials. Time is also allocated for lunch, snacks and playground fun. Older kids take weekly day trips to a 35-acre animal farm owned by Scribble's owner, about an hour from the Dobbs Ferry facility in Dutchess County. Kids will spend the day meandering the hiking trails, tending to the animals, harvesting fruits and vegetables and making art in both indoor and outdoor art studios. Parents should expect some herbs and eggs on Wednesday afternoons!
Pelham Art Center - Pelham
Ages 3 and up
Each week at Pelham Art Center features a different themed camp with a performance every Friday. For children aged 3-8, this includes painting and drawing, exploring color, engineering and architecture, "Art Around the World," clay and sculpture, and crafting and weaving. Other topics are Magical Adventures and TADA! Youth Theater. Each week there are also week-long classes for kids aged 7 and up, such as filmmaking, cartoons, pixel fun art and more. Pre-K mini camps are also offered in June. Both full- and half-day sessions are available.
Rye Arts Center - Rye
Ages: Pre-K - teen
Though not promoted as a camp, the Rye Arts Center offers three-hour workshops from 9am to 12pm in summer. The week-long immersion programs, which run from June 27 through August 5, allow kids to concentrate in a given topic of their choosing. Subjects include 3D printing and modeling, cartooning, plein air painting and drawing, digital photography, ceramics and more. Younger participants attend a more diverse exploration of various art forms. In addition to fine arts, instruction is also available for musical instruments, coding, Minecraft, musical theater and engineering, among others. Sessions in fine arts, STEAM, and musical theater are also offered.
Curious-on-Hudson – Dobbs Ferry
Grades 3-8
Though many of the workshops offered by Curious-on-Hudson fall under the STEM umbrella, a few provide the A (for arts) that turn STEM to STEAM. These include: Comic Book Camp; Lost Arts: Books and Paper-Making Camp; and Graphic Novel Development Class.
Photo credit: Pelham Art Center