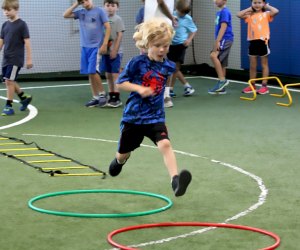 A Dozen Spring Break Mini-Camps for Westchester Kids
If you're not heading out of town for spring break, you may be wondering how to keep the kids busy during their time off. Spring break camps offer a great way to keep them active, learning, and engaged (not to mention out of your hair) while they're out of school.
Westchester offers many specialized programs, so there's sure to be a camp to please most interests. We've rounded up a dozen choices, including those focusing on nature, arts, and sports.
Be sure to check out our Event Calendar for more fun things to do during the break. And if you're looking ahead to the end of the school year, don't miss our Summer Camps Guide for Westchester Kids!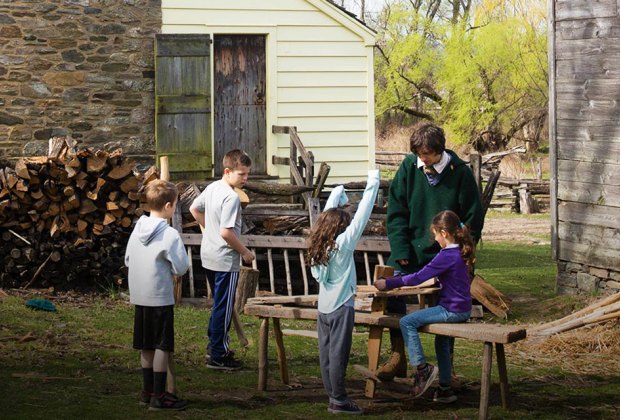 Colonial Survivor Camp is a hands-on, screen-free adventure that teleports kids back to the 18th century.
Living History Spring Break Camp
Colonial Survivor Camp – Sleepy Hollow
Monday, April 6 – Friday, April 10, 2020
Historic Hudson Valley asks, "Bored with the 21st-century?" Colonial Survivor camp invites kids aged 8-12 to time travel and test their ability to survive the colonial era. Geared toward ages 8-12, Colonial Survivor Camp challenges participants to transform the natural resources found at Philipsburg Manor into saleable goods, as would have been done in days of yore. This includes preserving food, churning butter, making cheese, transforming sheep fleece into useable fabric, and other farm activities. The five-day camp, which is held from 9am to 2:30pm, offers per diem registration priced at $50 per day ($45 per day for members).
RELATED: Daniel Tiger, Baby Shark, and More Kids Shows in and Near Westchester this Spring

Bake and decorate a bunny cake, peeps cookies, bunny cookie pops and chick cake pops at the spring break camp at Flowerbake Bake Shop.
Culinary, Media, and Performing Arts Spring Break Camps
Pelham
Wednesday, April 8-Friday, April 10, 2020
Flowerbake Bake Shop is underscoring the "spring" in "Spring Break Camp," by offering an agenda of spring-themed baking. Kids aged 6-13 can create a bunny cake, chick cake pops, Peeps cookies, and bunny cookie pops. Easter dessert solved! Lunch is included. Projects vary by day. Choose a single session for $100 each or all three days for $260. Camp hours are 11am – 2pm.
"On the Set" Camp at The Jacob Burns Film Center
Pleasantville
Monday, April 6 – Friday, April 10, 2020
Kids in grades 5-8 can spend Spring Break learning about media and filmmaking. Working collaboratively, participants create a short movie, learning the crafts of storyboarding, screenwriting, cinematography, lighting, sound, and editing using Adobe Premiere Pro. The camp run from 9am to 4pm and costs $375 (members save $25). Some scholarships available to those in financial need.
Mamaroneck
Monday, April 6 – Friday, April 10, 2020
The Emelin Theatre will be the site of Artistree Performing Arts' Spring Break camp. At this full-day acting camp, children in grades 4-9 rehearse and stage a performance of Moulin Rouge. Classes throughout the week include acting improv, hip-hop dance, singing, arts and crafts, and more. Camp is held 9:30am to 3pm daily, with the "big show" planned for Friday, April 10, at 2pm. Fee: $475.
RELATED: Indoor Swimming Pools with Day Passes for Westchester Families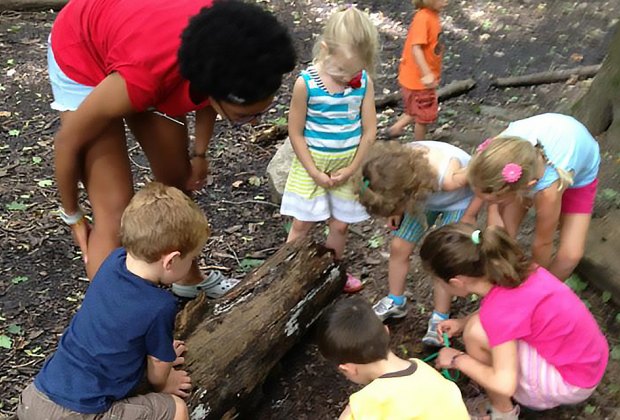 Sheldrake Environmental Center is offering two different weeks to accommodate different spring break schedules.
Nature Spring Break Camps
Larchmont
Monday, April 6-Friday, April 10, 2020
Monday, April 13-Friday, April 17, 2020
To accommodate the varying Spring Break schedules that area schools have, Sheldrake Environmental Center is offering two different weeks. For both the week of April 6 and the week of April 13, the five-day camp features a half-day agenda of outdoor exploration, nature crafts, games, and stories, all focused on connecting children with the natural world. Both are catered to ages 3-5. Member rate: $300/week; non-members: $325/week.
Mount Kisco
Tuesday, April 7 – Friday, April 10, 2020
This four-day camp is led by seasoned environmental educators who connect kids with the natural world and teach them about the importance of environmental stewardship. Groups are stratified by age: 7-9 (9am–12pm) and 10-16 (9am–3pm). Commit to all four days or register for individual days.
Ossining
Monday, April 6 – Friday, April 10, 2020
Teatown's Spring Fling Mini-Camp lets kids explore nature through a mix of outdoor explorations and age-appropriate activities, games, and crafts. Kids ages 4-5 attend from 9am to 12pm ($225 for the week), and 6- through 12-year-olds attend from 9am to 3pm ($400 for the week). Members save $25 per child. Registration may be done by day or for the full week.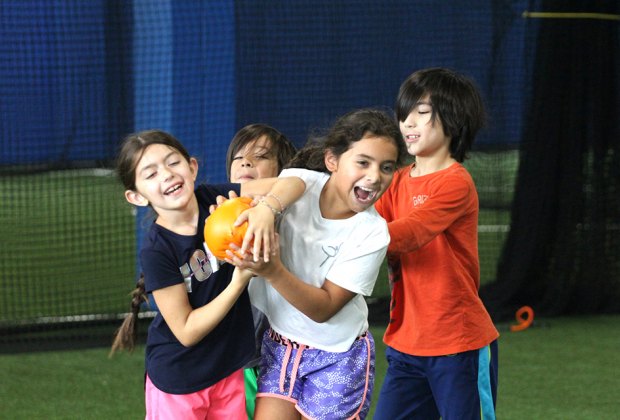 Kids will play a variety of sports, plus camp games, art & crafts, and more at A-Game Sports' spring break camp.
Sports and Play Spring Break Camps
New Rochelle
Monday, April 6 – Friday, April 10, 2020
A-Game offers multiple camp options with concentration in different sports. Each operates on a different schedule and targets kids of different ages. Basketball camp runs 9:00 am-3:00 pm and is geared toward kids between the ages of 6 and 13. Volleyball camp operates on the same schedule but is geared towards kids aged 8-15. Softball camp is for kids in kindergarten through 8th grade and runs a half day, though an extended-day option is available. A multi-sports camp is also available, grouped by age (3-5 and 6-12). For all camps, both daily and week-long registration are available. Register early to take advantage of an early-bird discount.
Scarsdale
Monday, April 6 – Friday, April 10, 2020
Monday, April 13 – Friday, April 17, 2020
This half-day mini-camp for kids aged 3-7 runs from 9am to 12:30pm, with an optional extended day till 2pm. The agenda includes a range of sports, arts and crafts, and other activities. Choose either of two weeks; tuition is $400.
Kids U
Pleasantville and Port Chester
Monday, April 6 – Friday, April 10, 2020
This indoor recreation space allows campers aged 3-9 to register for the full week or by day. In time for the 50th anniversary of Earth Day, the Spring Break theme is "Going Green." The half-day option runs 9:15 am–12:15pm and costs either $250 for the full week or $55/day. The full-day option runs 9:15am – 2:15 pm and costs either $350 for the full week or $75/day. A sibling discount of 10% is available.
My Gym
Dobbs Ferry, Larchmont, and Yorktown Heights
Dobbs Ferry: Monday, April 6 – Friday, April 10, 2020
Yorktown Heights: Tuesday, April 7 – Friday, April 10, 2020
Register by day for this multi-faceted camp option for campers as young as two years old (not potty trained? Not a problem). Offerings include sports, arts and crafts, rides, and more. The schedule, age range, and costs vary by location.
Elmsford
Monday, April 6 – Friday, April 10, 2020
Monday, April 13 – Friday, April 17, 2020
This flexibly designed program for ages 4-10 offers long days over two weeks, with a per diem registration model. Offered in partnership between The Play Place and the Academy of Dance Arts, campers can choose either a multi-sport or dance program, with offerings including tennis, soccer, field games, soccer, arts-and-crafts, ballet, hip-hop, and more. Drop in by 9am and pick up by 4:30pm. Tuition is $70 per day.
This post has been updated for 2020.
Photos courtesy of the shops/camps