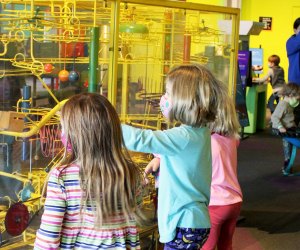 DC is Reopening: Indoor Attractions You Can Visit Right Now
With COVID-19 transmission rates starting to drop across the region, public indoor spaces are beginning to reopen.
Restrictions have eased across DC, Maryland, and Virginia, allowing some museums and indoor play spaces to reopen. If you and your kids are feeling cabin fever from winter months spent at home, consider a safe visit to one of these museums, historic homes, and indoor attractions.They remain some of our favorite winter break destinations.
Visitors must still wear masks and maintain social distancing of at least 6 feet at all of these locations.
As COVID circumstances unfold, check directly with a venue website for updates before heading out. Keep your family and others safe by wearing masks and maintaining social distancing measures. If an event appears too crowded, try using the "nearby" search feature on our event calendar to find other exciting options.
Still prefer to stay at home? Browse through Poppins@Home for new and exciting classes and workshops for children. Kids will enjoy Brick City building camp and DC and Marvel Superhero camp on the upcoming days off from school. Young ones will enjoy learning Spanish through Music and Movement while the entire family can cuddle up for storytime and crafts.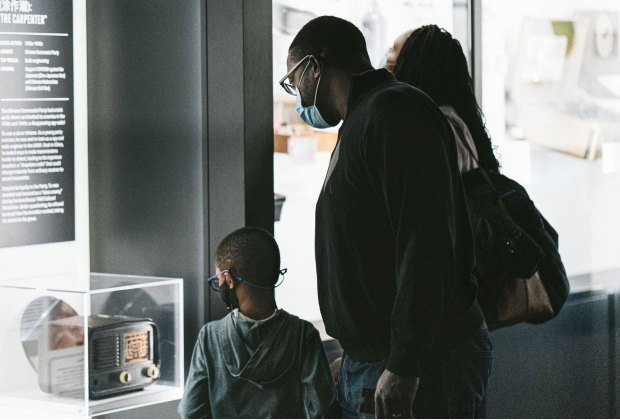 Unleash your inner sleuth at DC's International Spy Museum. Photo courtesy of the museum
Indoor Attractions Open Now in DC
The International Spy Museum is welcoming back visitors with the mission to help little spies stay safe and stealthy. Guests are invited to visit the museum's permanent exhibits and go on a special undercover mission. Spies of all ages, including babies, are welcome and the museum website has tips on how to have the best museum experience for the littlest spies under age 9. The museum is currently open on Fridays through Sundays and encourages purchase of timed tickets in advance online.
Take your kids on a trip back in time and experience what life was like in 19th-century Colonial America at Dumbarton House in Georgetown. The historic home is open for self-guided tours with reservations Fridays through Sundays, 10 am to 3 pm. Current exhibits include a look at how STEM disciplines are essential to preserving and interpreting historic homes. The beautiful gardens and grounds are open every day from dawn to dusk free of charge.
The Museum of the Bible invites guests on an immersive, interactive and personal experience with the history, narrative and of the Bible. From February 18 to May 2 and spanning Passover and Easter, the museum will have a special Stations of the Cross exhibit, an interactive and spiritual art experience. The museum is open Thursdays through Mondays from 10am to pm and tickets can be purchased in advance online.
President Lincoln's Cottage is a historic site and museum located on a 250-acre campus in Northwest Washington, D.C where Abraham Lincoln made some of his most nation-changing decisions and developed the Emancipation Proclamation. The cottage has reopened for self-guided tours with the purchase of timed tickets in advance from Wednesday through Monday, 9:30 am – 4:30 pm.
RELATED: DC's International Spy Museum is an Undercover Delight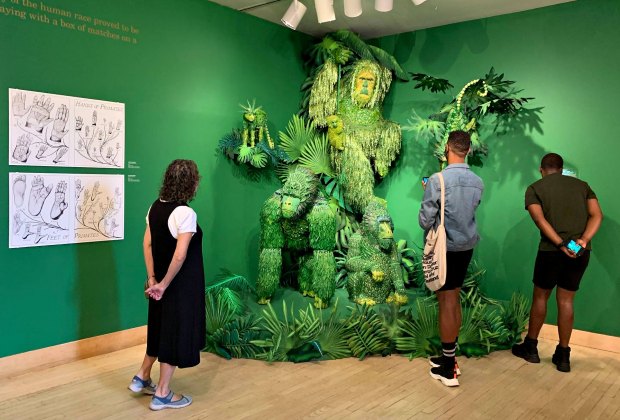 The American Visionary Art Museum features works from cutting-edge artists. Photo courtesy of the museum
Indoor Attractions Open Now in Maryland
Baltimore
The National Aquarium is an amazing experience, featuring more than 20,000 aquatic animals and dozens of different habitats to explore. For an additional charge, your family can watch a dolphin training session, have a private dolphin tour, a private reptile encounter, or tour the shark catwalk. The aquarium is currently open at 25% capacity and guests must reserve a timed entry ticket in advance. It is open daily.
Baltimore
The Maryland Science Center encourages natural curiosity and exploration of all different branches of science through hands-on exhibits and experiences. Exhibits include a kids room for young visitors to learn about science through play, a planetarium (currently open with additional capacity restrictions), and the SciLab, where junior scientists can conduct their own experiments. The museum is open on Fridays from 10am to 4pm and Saturdays and Sundays from 10am to 5pm.
Baltimore
Port Discovery Children's Museum is all about indoor play and learning for children from babies to age 10. It has modified some exhibits to ensure the safety of visitors and added some new activities, such as a puppet making station and a Shadow Puppet Theater. The museum is open on Saturdays from 10am to 3pm and Sundays from 11am to 4pm. Advance purchase of tickets is required.
Baltimore
This unique art museum featuring works from self-taught, intuitive and visionary artists, is excited to welcome back visitors. Most buildings and galleries are open Wednesdays through Sundays from 10am to 5pm with an advance purchase of a timed ticket.
RELATED: DC Museums That Are Free Every Day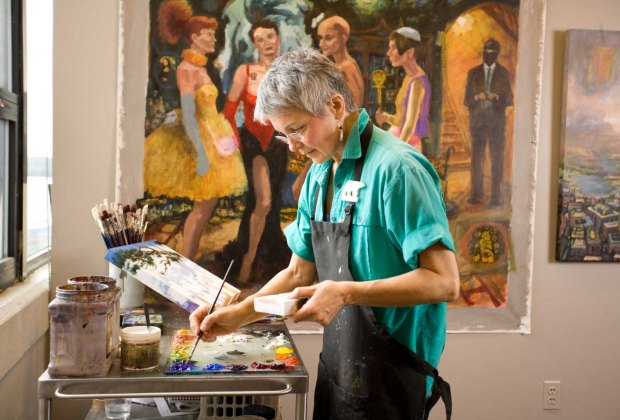 See artists at work at the Torpedo Factory Art Center. Photo courtesy of the center.
Indoor Attractions Open Now in Northern Virginia
Mount Vernon
George Washington's beautiful historic estate and gardens on the Potomac River are open for visitors. The entire estate includes the preserved mansion, museums, gardens and outbuildings, the tombs of the Washingtons, a pioneer farm demonstrating 18th-century farming techniques, shopping, and restaurants. Tours are available of the mansion's first floor only and require a timed tour ticket. Purchasing an admission ticket in advance online is recommended as capacity for tours is limited.
Alexandria
Carlyle House Historic Park, home to an 18th-century historic house museum in Old Town Alexandria, has reopened for small tours. The beautiful gardens are also open to the public. The house is open every day except Wednesdays, and tour tickets must be purchased at least three days in advance.
Alexandria
Founded in 1974 in an old munitions plant, the Torpedo Factory Art Center is home to the nation's largest collection of working artists' open studios under one roof. You and your kids can observe artists at work in a variety of mediums and purchase unique pieces for your own collection. The Torpedo Factory is open Wednesdays through Sundays from 10am to 6pm.
Lorton
Gunston Hall was the home of Founding Father George Mason and his family, and today the home and grounds are a museum and a working archeological site. For parents home-schooling children, Gunston Hall offers suggested activities appropriate to different grade levels. The mansion is open at reduced capacity for guided tours if you purchase a general admission ticket, and the grounds are open for self-guided exploration with purchase of a grounds pass. Gunston Hall is open every day from 9:30am-4:30pm.
Lorton
The Lucy Burns Museum tells the story of the Lorton Correctional Facility, where the Workhouse Arts Center is located, and the story of the suffragists who were imprisoned there in 1917 for picketing the White House for women's right to vote. The Workhouse Arts Center, home to nearly 100 regional artists who create or exhibit their art at the location, has select artist galleries open by appointment. The Lucy Burns Museum is open free of charge on Saturdays from noon to 5pm.