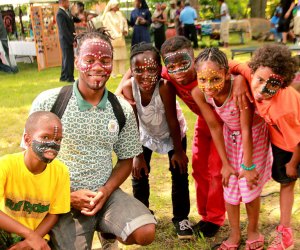 Top Things to do in Atlanta this Weekend: Father's Day, Juneteenth, Candytopia
Celebrate dad, explore a candy wonderland and commemorate the anniversary of the end to slavery with more Juneteenth celebrations in Atlanta than ever before.
Candytopia--the interactive, delicious candy experience--is back this summer in Atlanta after a successful stint in 2019. Families can show dads some love by taking them to places with free admission for fathers like the Chattahoochee Nature Center or the Cherokee County Aquatic Center. On June 19th, also known as Juneteenth, Atlanta families can celebrate freedom in several places around the city, with the biggest one in downtown (Juneteenth Atlanta Parade and Music Festival) that lasts all weekend. Atlanta also has lots of entertainment for kids this weekend in the form of live theater, concerts, puppet shows and outdoor movies.
With Atlanta heating up, families are flocking to water parks, local splash pads and pools but we also have access to awesome swimming lakes and beaches near Atlanta. Need kids to stay home and stay busy too? Check out our list of virtual camps and classes for toddlers through teenagers, which you can register for right here on Mommy Poppins! If kids ever utter the word "bored," then head right to our Summer Activities Guide with--seriously--hundreds of things to do from messy outdoor fun to movies to mocktails.
Remember to sign up for our free newsletters to receive posts like this right to your inbox!