SPONSORED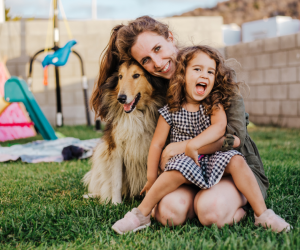 Pawp Offers Affordable 24/7 Online Vet Care with Emergency Coverage
If you have a pet in the family, you know the stress of your cat's mysterious middle-of-the-night tummy troubles or one of those panicked trips to the nearest emergency clinic following a freak sock incident with the dog. Well, the creators of Pawp clearly know that stress too, and they've created a new pet insurance alternative that gives pet parents access to online vet care while also helping to foot the bill if you find yourself in the midst of an emergency.
Of course, pet insurance can be pricey and it still doesn't cover all medical costs, so Pawp set out to eliminate the need for expensive veterinary visits due to issues that can be resolved at home. For $19 a month, the platform gives members instant and unlimited access to a team of on-demand online vets. These experienced cat and dog pros can answer questions about everything from diet woes to skin concerns, and help you determine what issues warrant emergency call-the-babysitter-for-the-kids care and what can probably be taken care of at home. Pawp also offers members a $3,000 emergency fund that can be used at any in-person clinic if the unexpected happens.
For pet-loving families, this one-of-a-kind platform is a game-changer, enabling you to talk to a veterinarian anytime about anything—plus, the perks don't stop there.
The Benefits of Virtual Vet Care with Emergency Coverage
All cats and dogs are welcome
Pawp has zero restrictions on a pet's breed, age, or location. And while pet insurance providers have different premiums based on these same factors, Pawp offers one flat fee for any cat or dog.
Preexisting condition? No problem
Pet insurance providers won't cover preexisting conditions—and often require a physical—but Pawp accepts all pets and even allows you to use the annual emergency fund to cover an emergency issue related to an underlying condition.
No deductibles, copays, or out-of-pocket costs
If your pet needs emergency treatment, you can use the emergency fund to cover up to $3000 in vet bills per year with no deductible or copay. And, Pawp pays veterinarians directly, which means you don't need to front any out-of-pocket expenses. All virtual visits are included in the monthly membership fee.
One plan, six pets
Usually, multiple pets mean multiple insurance plans. With Pawp, you can actually have up to 6 pets in a household on a single plan at no extra cost.
No appointments required
Pawp is the only veterinary telehealth platform that offers unlimited on-demand 24/7 care with no appointments required. You can connect by text or video chat within minutes!
Financial help with your fur babies
Pawp offers an affordable alternative to pet insurance, helping you know when you need to seek out in-person care and providing pet parents with a safety net for emergencies they may otherwise not be able to pay for. That's pretty invaluable...
Want to learn more? Ready to get signed up and talk to a vet, stat? For more information or to become a member, visit www.pawp.com.