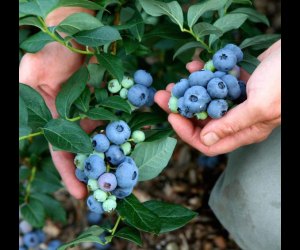 Pick Your Own Blueberries Near Philadelphia
When I was little, Blueberries for Sal was one of my all-time favorite stories. I still love reading it to my kids today, and it is certainly the inspiration behind that seasonal excitement I get when it is time to gather my own bucket and "kuplink kaplank kaplunk" berries for canning, for topping pancakes and pies, and for making delicious blueberry jam. Here in Philadelphia, we have access to a lot of wonderful pick-your-own farms. Here is a roundup of some of the best for blueberry season! Or, if you want to make a day trip out of it, check out some of the farms in nearby New Jersey, where the blueberry is the state fruit!
Brecknock Orchard—Mohnton
In addition to sweet blueberries, the farm offers a wide range of fruits and vegetables, and even herbs, ripe for the picking (as seasonably appropriate, of course). The best time for blueberry picking at the farm this year is June 24-August 20. They supply wagons for hauling anything from your children to your blueberry collection, and free bottled water for pickers. Brecknock Orchard is open Mondays, Tuesdays, and Thursdays 8 AM-7 PM, Wednesdays and Saturdays 8 AM-5 PM. Closed on Sundays.
County Line Orchard—Kempton
Blueberry season starts June 24 when the orchard opens to the public. This no-frills orchard is open Friday-Sunday from 10 AM-6 PM.
Indian Orchards Farm—Media
Stop by the farm stand to register and get baskets to hold your haul. There, a worker will let you know what's in season that day and where to go on the farm (if you want to try to collect more than just blueberries). July is peak blueberry season here. While you are there, be sure to check out the farm stand which carries a variety of locally sourced and organically-grown edibles. Indian Orchards is open daily, 10 AM-5 PM.
Shadybrook Farm—Yardley
When blueberry season officially opens on the farm, they celebrate with Blueberry Days, which includes a day festival of pillow jumping, inflatable attractions, wagon rides to the blueberry patch for blueberry picking, fun on the playground, Barnyard animals, SBF 500 Tryke Track, and more! Expect a nominal general admission cost in addition to the cost of berries by the pound. It is also worth checking out the farm market and sampling delicious ice cream, which is open daily.
Solebury Orchards—New Hope
Open rain or shine, blueberry season kicks off June 22 through August 5. Blueberry picking may be limited at first until the season hits its stride in July. This farm also offers a lovely little market that is well stocked with fruits and berries grown in the surrounding fields and orchards of the farm.
Tabora Farm—Chalfont
Offering a short blueberry picking season, July 1-July 10, Tabora Farm is still definitely worth the visit. The bakery is amazing, with a wide selection (160 fresh items made daily) including pies and cookies. They are also home to a winery and deli.
Weavers Orchard—Morgantown
This farm has a wide selection of fruits, including blueberries. Check the website for updates on when the season is open for blueberry picking, as well as tips on making the best of your picking experience. While you are there, check out the farm market for produce as well as bakery items and ice cream, take a tour, or check out the Read'n'Pick Storytime (for an additional cost), Mondays and Wednesdays from June 5 - August 30 at 9:30, 10:30, and 11:30 AM.
Linvilla Orchards—Media
Linvilla Orchards is one of the biggest pick-your-own destinations in the area, and when it comes to blueberries, they don't disappoint. While you're there, you can get some flowers and plants for your garden at the Garden Center, or check out the market for fresh butters and bakery items, including yummy apple cider donuts all year long. They also have a small petting zoo, a playground, and story time every Tuesday morning.
Photo courtesy of Solebury Orchards