Blueberry Picking Near Philadelphia: Favorite Farms for Picking Your Own Fruit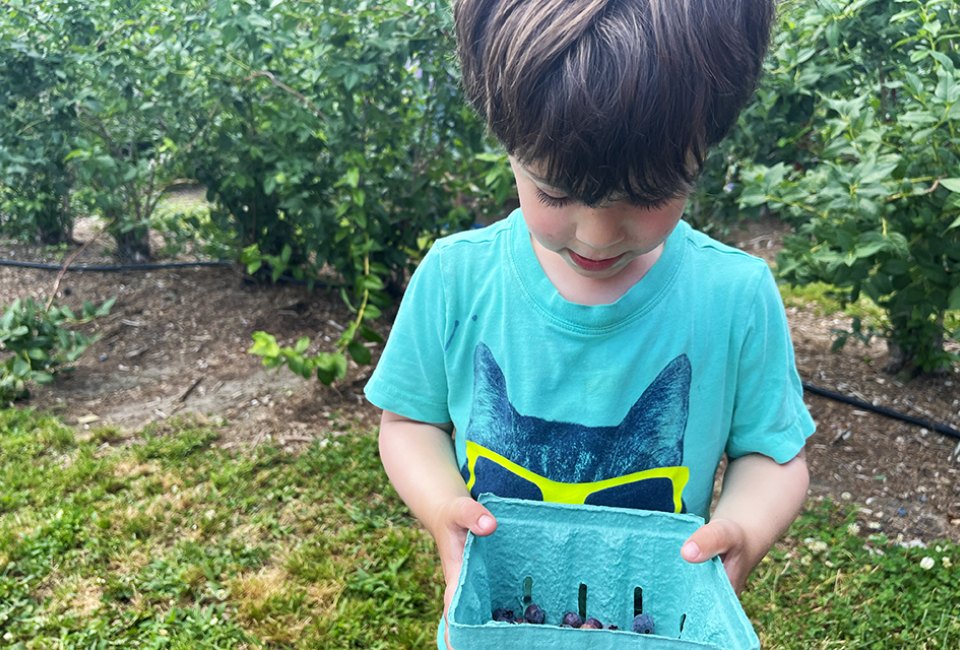 7/8/22
- By
Lindsay Li
Blueberries for Sal was one of my all-time favorite stories when I was little. I still love reading it to my kids today, and it is the inspiration behind the seasonal excitement I get when it's time to gather my own bucket and "kuplink kaplank kaplunk" berries for canning, topping pancakes and pies, and making delicious blueberry jam.
In the Philadelphia region, we have access to a number of wonderful pick-your-own farms. We've rounded up a list including some of the best for blueberry season. Or, if you want to make a day trip out of it, check out additional farms in nearby New Jersey, where the blueberry is the state fruit.
Be sure to browse our pick-your-own farm directory as well as our U-pick strawberry farms post, too!
In addition to sweet blueberries, the farm offers a wide range of fruits and vegetables, and even herbs, ripe for the picking (as seasonably appropriate, of course). The best time for blueberry picking at the farm is mid-June 24 through mid-August. The farm supplies wagons for hauling anything from your children to your blueberry collection, and free bottled water for pickers. Brecknock Orchard is open Mondays, Tuesdays, and Thursdays 8 a.m. to 7 p.m.; Wednesdays and Saturdays 8 a.m. to 5 p.m.; and is closed on Sundays.
Blueberry season starts in early July at County Line Orchard, which also offers apple picking in the fall. This no-frills orchard is open Friday and Saturday from 10 a.m. to 6 p.m.; and Sundays from 12 p.m. to 6 p.m. There is also a selection of fruit and fruit products in the market at this family-owned farm.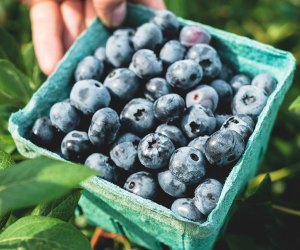 A bundle of blueberries at Highland Orchards in West Chester.
This spot offers plenty of crops to pick, including blueberries. The blueberry picking season is through most of July. There are two ways to get to the field for picking: drive yourself or on the open-air shuttle, where reservations are required. The cost is $5 in addition to purchasing a pint for guests over 5 years. The hours are Tuesday through Sunday, 9 a.m. to 4 p.m. A farm market and bakery are available on site.
Stop by the farm stand to register and get baskets to hold your haul. There, a worker will let you know what's in season that day and where to go on the farm (if you want to try to collect more than just blueberries). July is peak blueberry season here. While you are there, be sure to check out the farm stand, which carries a variety of locally sourced and organically grown edibles. Indian Orchards is open daily, 10 a.m. to 6 p.m. Admission is $3.50 per person, cash preferred.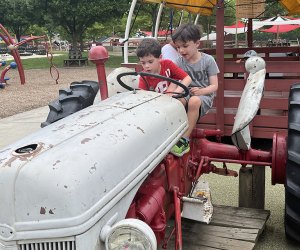 Visit the splash pad and playground, where you'll find this life-sized tractor, at Johnson's Corner Farm. Photo by Liz Baill @creativishmom
Reservations are needed to pick fruit at Johnson's Corner Farm, at $6 a person for everyone except children under 1, who are free. In addition, you'll pay the seasonal cost per pint. The PYO experience includes a hayride, and blueberry season lasts through July. In addition to picking blueberries, visitors can expect to see the barnyard animals and cool off at the farm's splash pad on hot days.
Linvilla Orchards is one of the biggest pick-your-own destinations in the area, and when it comes to blueberries, it doesn't disappoint. While there, you can get some flowers and plants at the garden center, or check out the market for fresh butters and bakery items, including yummy apple cider donuts all year long. It also has a small petting zoo and a playground. Admission is $9 online or $10 in person, plus $9 per pint.
The PYO fields are open from June 1 to September 29. In addition to picking blueberries, visitors can expect inflatable attractions, wagon rides to the blueberry patch for blueberry picking, fun on the playground, barnyard animals, SBF 500 Tryke Track, and more. The general admission cost for PYO is $5 per person, in addition to the cost of berries by the pound. Children under 23 months old are free. It is also worth checking out the farm market and sampling delicious ice cream, which is open daily. The hours for PYO are Wednesday through Sunday from 10 a.m. to 4 p.m.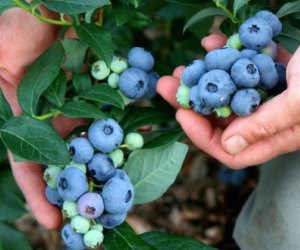 Enjoy a day of picking at Solebury Orchards in New Hope.
Open rain or shine, blueberry season kicks off June 23 and continues through August 17. Blueberry picking might be limited until the season hits its stride in July. This farm also offers a lovely little market that is well-stocked with fruits and berries grown in the surrounding fields and orchards of the farm. The orchards are open Thursday through Sunday from 9 a.m. to 6 p.m. Note: As with many other PYO locations, Dogs are not allowed.
Despite offering a short blueberry picking season, Tabora Farm is definitely worth the visit. The bakery is amazing, offering a selection of fresh items made daily such as pies, breads, and cookies. It is also home to a winery and deli.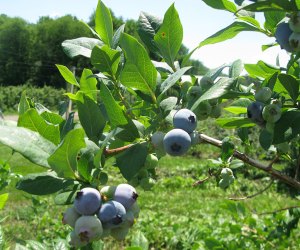 Terhune Orchards has a variety of pick-your-own!
More than 40 different crops are grown in the fields at Terhune Orchards. Multiple varieties of apples, peaches, and pears in addition to sweet blueberries are available. It is important to note that there is no PYO on Tuesday. It's recommended that you call in advance to find out about the current conditions before paying a visit.
This farm has a wide selection of fruits, including blueberries. Check the website for tips on making the most of your picking experience. While you are at the orchard, check out the farm market for produce as well as bakery items and ice cream, take a tour, or check out the Read 'n' Pick Storytime (for an additional cost), Mondays and Wednesdays at 9 a.m., 10 a.m., and 11 a.m. The hours for PYO are Monday through Thursday, 8 a.m. to 3:30 p.m.; Friday 8 a.m. to 5:30 p.m.; and Saturday 8 a.m. to 3:30 p.m.
This post was originally published in 2016. Writer Alyce Wilson contributed to this 2022 update.
Unless noted, photos courtesy of the orchards
Sign up for the Mommy Poppins Newsletter today!
i