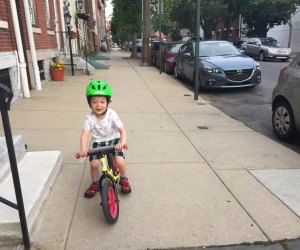 Philly by Bike: 12 Parks, Paths, and Trails for City Kids to Ride Safely
Riding a bike, that quintessential childhood experience that somehow harkens both innocence and adventure. For so many kids, bikes mean freedom! But while riding a bike brings joy, it is also something that city parents sometimes think can't be done for their kids. Sure, Philly has bike lanes, but even for an experienced rider, those can be a hazard. But if you know the right trails, parks, and open spaces, there are plenty of places you can go together for regular rides! To that end, we've gathered up some of the best spots in the city for kids to safely bike.
Bartrams Mile—Kingsessing
If you are familiar with Bartram's Garden, you may already be aware of this trail. It is a short segment of the Schuylkill River Trail and a great space for views of the city while biking on kid-safe paths.
Clark Park—University City
This large urban park has a number of small pedestrian pathways that are ideal for a young biker to learn on, safely tucked away with plenty of green space surrounding them. Plus, if the kids (or you) need a break, the playground is top notch.
Forbidden Drive—Northwest Philadelphia
Make sure your little one has some practice before tackling this trail, which is made of packed stone and gravel. The trail cuts through the Wissahickon from Kelly Drive to Chestnut Hill. There are also a few small inclines and it's a wonderful spot to get in touch with nature inside the city limits.
Kelly Drive—Art Museum
This segment of the Schuylkill River Trail can get quite packed on warm spring and summer days, so weekdays might be your best bet. The path is wide and has a few hills which can be fun for the little ones.
Locust Walk—University City
This pedestrian path is a great short ride for younger children and early learners. Stretching three blocks, it is fully enclosed and safe from traffic.
John Heinz Refuge Trail—South Philadelphia
Yes, you are still in Philly! This South Philadelphia refuge feels like a quiet oasis, and this 7.7 mile stretch is an excellent spot for biking, as well as nature watching.
Delaware River Trail—Riverwards to South Philly
Starting at Frankford Ave. and Delaware Ave. (with plans to expand further north) and working all the way down to Ellen Street, this long stretch has some great areas for kids. Specifically, the stretch from Frankford Ave. to Penn's Landing is completely removed from the main road (primarily a sidewalk path). Weekdays, this trail is a pretty gentle ride for kids and families. Further south from Washington Street on, you can check out some of the latest pier developments along the main path.
Manayunk Canal Towpath—Manayunk
This path varies between gravel and paved, depending on where you pick it up. Bike along the river and take breaks to explore Manayunk. The trail is long and can take you all the way to Valley Forge if you want to make it a day trip. This trail is also part of the Schuylkill River Trail.
Martin Luther King Drive—Fairmount
From April to October, MLK drive shuts down to cars every weekend leaving you with wide open spaces to explore all that Fairmount Park has to offer! Great for groups, new bikers, or those out trying to catch some speed.
Penn Park—University City
With smooth paths and low grades, this 24-acre open space in University City is perfect for kids that are learning and gaining confidence in their riding skills. The pathways wind around the athletic fields and present a calm space for younger kids.
Pennypack Trail—Northeast Philadelphia
A combination of asphalt and dirt, Pennypack is a great place to commune with nature while working on your biking skills. The trail here is not great for first-timers or new learners, but ideal for a family outing with confident riders.
Wissahickon Valley Park Trail—Northwest Philadelphia
This paved route runs along the creek so you get a real outdoor adventure feeling. Weekdays are best for new cyclists as this is a favorite of novices and pros alike.