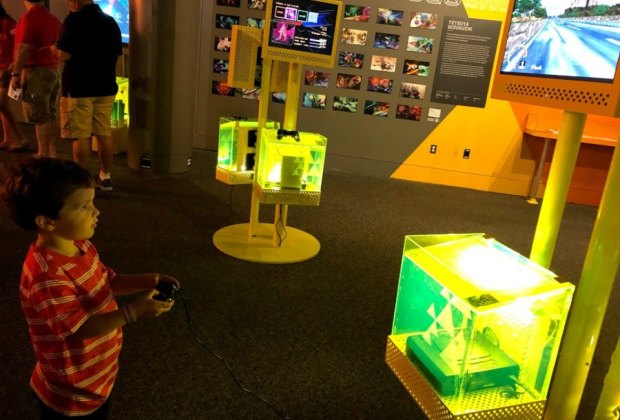 Review: Gaming with the Franklin Institute's Newest Exhibit
For the avid gamer in your family or for the nostalgic parent who wants to show off their Asteroids skills, Franklin Institute's latest exhibit GameMasters, one of the many things new to Philly in 2018, gives gaming savvy families a fun way to spend an hour or two in the city. I recently took my young children to check out the new exhibit and here's what we found.
Through September 3, 2018, Franklin Institute is hosting a tech-friendly exhibit called GameMasters, giving guests a chance to play 100 different video games, from arcade games such as Pac-Man and Space Invaders to hits like Sonic the Hedgehog and some indie favorites that only a true gaming enthusiast would know.
The exhibit space is mostly video games, with some memorabilia scattered throughout and takes guests from classic to high tech.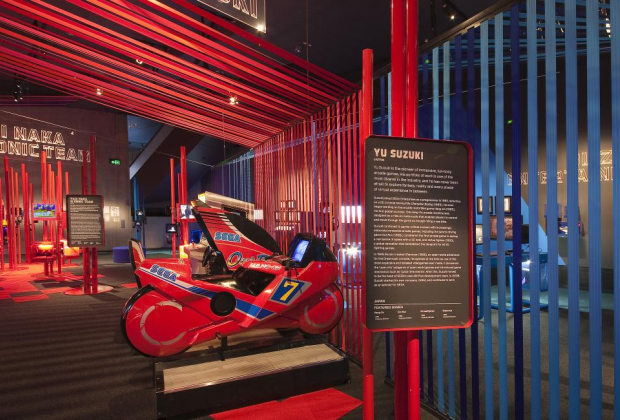 Over 100 games are available to play in the GameMasters exhibit. Photo courtesy of Franklin Institute
Upon entering the exhibit, it looked like we were walking into an old arcade, although most of the games there would've been considered retro even when I was growing up. I thought it would be fun to have my kids play around on those, smashing some buttons and toggling the joy sticks, but the exhibit is definitely geared towards older children as they didn't have any step stools or boxes that they could have climbed up on in order to reach the controls or see the screens.
These classic arcade games seemed to be the most popular part of the exhibit during our visit, so it was hard to get a spot; however, the exhibit times go in waves and we may have simply arrived at a popular time (11am on a Saturday), although the exhibit website noted the busiest times are weekday mornings during the schoolyear.
Moving on, we left the arcade experience and traveled forward in time through the 8- and 16-bit games and getting into gaming consoles, a technology that even my two year old has gotten some play time with at home.
We spent time on a few computers playing some first-gen role playing games, but as with the arcade games, I had to hold up my little ones so they could see the screen and play. We did find a racing game that they enjoyed and spent most of our time there.
The exhibit had many of its games set up with cushy seats so you could get comfortable and play, just like at home, although they did have some more interactive games available, such as Fruit Ninja which requires no hand-held controls and instead just ninja chopping your hands in order to slice fruit in half. Both of my kids really got a kick out of that.
There were some non-computer gaming activities as well on the way out of the exhibit, including storage crates that looked like Tetris blocks and laminated Tetris squares made out of paper that the kids could fit together on a small table, but compared to the screens all around them, my two children didn't have too much interest at that station.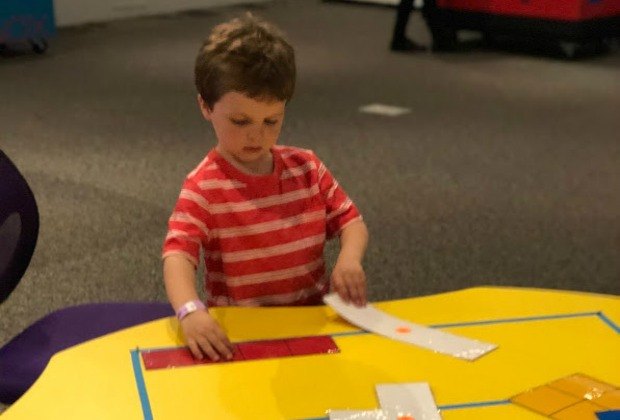 My four-year old working with the paper Tetris squares
Note: You do have to walk through the exhibit's gift shop to leave so be ready to breeze through there if you don't want to purchase anything extra but know your kids will ask you to anyways.
While it was fun to play the games, the most popular ones were hard to get a seat at and my children's abilities just weren't even there to play most of them. The exhibit, as you might expect given the subject matter, is geared towards older children and adults. My four year old has some experience playing Nintendo and XBox at home, but due to the skills required, I would recommend four years as the youngest age you'd want to bring; however, my husband beat an entire Mario Brothers game when he was three so how much your child would enjoy this exhibit would depend on their gaming skill level. Besides our family, the youngest guests I saw were probably six or seven years old.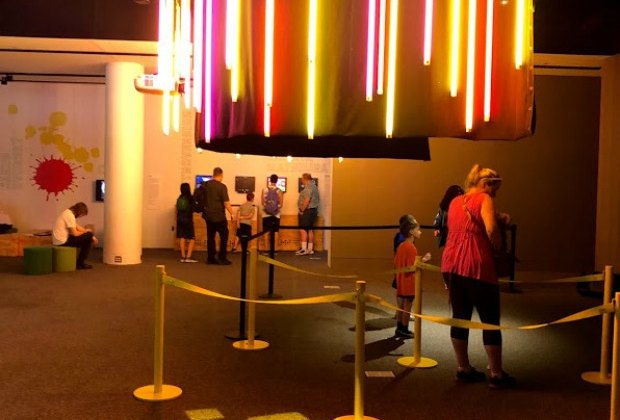 Young guests about to dance with the interactive Dance Central game
The cost of the exhibit is $30 for adults and $26 for children aged 3-11 (kids under 3 are free), but this option does include admittance to most of the Franklin Institute (with the exception of some of the special events). If I wanted my kids to only play video games, then the local arcade would have been a less expensive experience; however, the Franklin Institute is a great museum so of course while we were there, we spent a couple of hours roaming through the giant heart, playing with the trains, and traveling through the human brain and outer space. This made the most out of our visit.
There have been many studies that demonstrate the positive power of gaming so it's cool to see the Franklin Institute acknowledging this and adding a gaming exhibit to their line-up. Take your older kids to check out GameMasters, but younger ones will probably have more fun exploring the rest of the museum. In fact, even after three hours, I had to console my two-year-old who didn't want to leave.
Things to Know Before You Go:
Worried about whether the games are appropriate for your young gamer? You can find the full list of games and their ratings on the exhibit's webpage before you go.
The fee for the exhibit is separate from general Franklin Institute admittance. However, there are discounted exhibit-only tickets available in the evenings, as well as discounted tickets for FI members.
There is a cafe in the Franklin Institute, but if you want to check out some restaurants in the area of FI and need to keep it kid-friendly, check out our list of restaurants near Franklin Institute that are great for families.
GameMasters is just one exhibit of many at Franklin Institute so make sure you leave enough time to explore everything else so you get the most out of your trip.