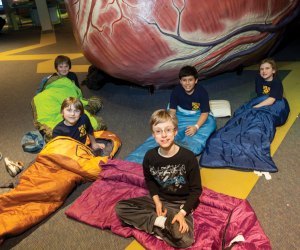 Philadelphia Museum Sleepovers and Overnight Experiences for Families
There is nothing like experiencing everything Philadelphia has to offer with your children, except maybe enjoying some of them after dark. Spending a "night at the museum," sleeping by a shark tank or camping out at the zoo is truly a unique event for kids.
Some of these events are geared towards families, while others are great outings for scout troops or other large groups. Many can sell out ahead of time, so be sure to make reservations well in advance.
Here are some of the top attractions in the Philly area that offer overnights and some tips for parents to make it easier and more fun for everyone.
Adventure Aquarium Shark in the Dark- Camden, NJ
Sleeping underneath the giant shark tank while those predators circle you all night may not sound like the ideal sleepover, but kids love it. The Deep Sleep 2015 is a great way to experience The Adventure Aquarium after hours when, during the day, the throngs of people might inhibit your ability to see everything. For ages 6-12, kids will learn from the Center for Aquatic Sciences while they explore and visit different stations throughout the night learning how creatures of the deep care for their young. The program runs from 6 PM - 9:30 AM the following day and a continental breakfast is provided in the morning.
Franklin Institute Camp-In- Philadelphia, PA
Kids who love science are thrilled to able to sleep beside a giant heart, a 350 ton locomotive, or in one of the many exhibits the Franklin Institute has to offer. There is just something amazing about the exploration of a museum after dark, like your own private Night at the Museum. The Franklin Institute Camp-In is one such experience, providing young minds with fun and learning all rolled into one. Highlights of this sleepover include the exploration after hours and the scavenger hunt that drives it. My family was also wowed by the Live Science Show and the Franklin 3D Movie: Mysteries of the Unseen World. After the overnight, guests can stay until noon the following day. An extra special addition is the commemorative patch each child receives which grants them access to the museum for a full year FREE!
Philadelphia Zoo Family Overnights- Philadelphia, PA
If you are looking for a place to take your little monkeys for an animal adventure, why not try the Philadelphia Zoo? They offer many themed overnights for families. Some include inside sleeping arrangements at the KidZooU and others have opportunities to sleep overnight in the Treehouse indoor playground. Family overnights are for children ages 5-12 and most experiences include animal encounters, a night hike, a behind the scenes tour, and s'mores! A late night snack is also provided. All overnight guests are able to stay at the zoo the following day to explore further.
The Academy of Natural Sciences Safari Overnights- Philadelphia, PA
Can your kids say they have slept underneath a T-Rex or beneath a polar bear or lion? At The Academy of Natural Sciences Safari overnight, they just may get that chance. The night is filled with activities including behind the scenes tours, dinosaur bone digs, and an evening scavenger hunt. Guests can have a late night snack with their fellow campers and end the night with a live animal show. In the morning, campers have a light breakfast and can continue exploring the museum during the day.
Elmwood Park Zoo: Zoo Snooze- Norristown, PA
For parents who would like to give their child an overnight experience without the overwhelming size of some of Philadelphia's attractions, give Elmwood Park Zoo a try with one of their Zoo Snoozes. A perfect size for the younger ones to explore, Elmwood only offers overnights from June to October and does not have any indoor options. All camping equipment must be provided by guests.
Tips for Parents :
Sleeping accommodations inside venues are in exhibits, which means hard floors. Bring a camping pad or inflatable mattress to soften the strain on your back. If inflatables are allowed they cannot be larger than a twin size. Some overnights do not allow inflatable mattresses (such as The Franklin Institute), so plan accordingly.
If you need complete darkness and quiet to fall asleep, bring earplugs and a sleep mask. Most of the lights will be out for the night but not in all areas. Not to mention you will be sleeping around many children who may not fall asleep right away.
Be aware of where you set up your sleeping bag. If the exhibit gurgles during the day, it will do that all night long.
There are no changing rooms available at most venues. Wearing comfortable layers that you can sleep in and shed at bedtime is essential. If you are camping outside, wear one more layer than you think you will need just in case.
Food is not permitted during most overnights in museums. Make sure you know the expectations about snacks and what will be provided to get your children through the night.
Be mindful of which lights will be on late at night. There are some sections of exhibits where lights are on all night long. If you aren't sure, ask a program guide before claiming your area.
Refillable water bottles are a must. In the case of the Philadelphia Zoo, one is provided for you for the safety of the animals. Make sure you check the requirements before packing for the evening so you don't have to carry extra gear.
In all cases, a flashlight is essential for navigating at night for those late night bathroom trips.
Always wear comfortable shoes because you will do a lot of walking and trying to keep up with the kids is hard work!
Photo courtesy of The Franklin Institute.