THE GLOW: A Jack O'Lantern Experience Lights Up Fairmount Park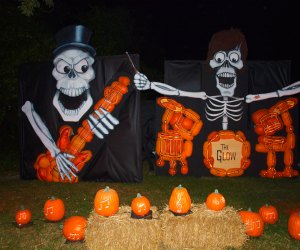 There's nothing that says Halloween like pumpkins- except maybe a carved pumpkin. If you've ever carved your own pumpkin, you know how much work it can be even to follow a simple pattern. Featuring more than 5,000 brightly lit carved pumpkins, THE GLOW certainly doesn't disappoint when it comes to jack-o-lanterns. The larger-than-life pumpkin structures make this event a must-do for Halloween. Read on to find out all you need to know before attending this spectacular event.
You will need to purchase your tickets online ahead of time for this event. THE GLOW offers tickets in timed 30-minute intervals. You will need to wait in line to get in for your timed ticket, so I advise arriving about 15 minutes early if you want to actually get in at your time. That said, there are also a few food trucks and a little shop selling light-up toys and necklaces, so if you'd like to come a bit earlier and eat or snack beforehand, that's also an option. Free nearby parking is another great perk of this event.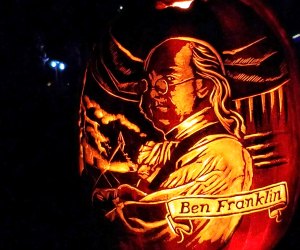 There are lots of pumpkins carved just for the city of brotherly love, like this expertly carved Ben Franklin pumpkin. Photo courtesy of the author
Once you're in, you can walk around, stop, and take photos at your own pace. It took us approximately 45 minutes to walk through the 1/3 mile trail and see everything. It's easy to push a stroller through, but my 3-year-old walked all the way through on his own without a problem. Plan to spend anywhere from 30 minutes to an hour just walking through to see all the pumpkin displays. There is a lot to see at each display, so don't rush!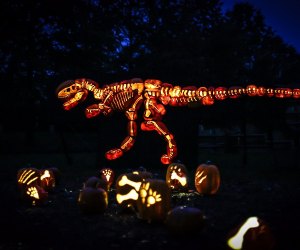 The dinosaur area featured a roaring soundtrack. Photo courtesy of THE GLOW
There are lots of huge themed displays, like an undersea area, a winter wonderland (complete with falling snow!), massive dinosaurs, a garden scene, and dragons. There are also several individual pumpkins with intricate carvings like Jay-Z and Beyonce, Jack Sparrow from Pirates of the Carribean, and some of your favorite Disney characters like Moana and Maui.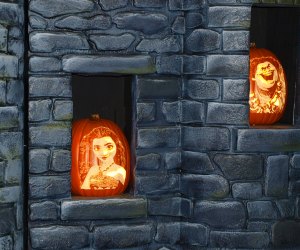 Moana and Maui were a crowd favorite. Photo courtesy of the author
A handful of the larger displays also included sound effects; the dinosaur area included some roaring and the skeletons were revving their engines on their motorcycles. This made everything feel even more epic, but it did make my 3-year-old slightly nervous at the dinosaur area. I reassured him that nothing was real and everything was made out of pumpkins, and he was fine. It was also past his bedtime, so I think if he'd been less tired, it wouldn't have bothered him at all.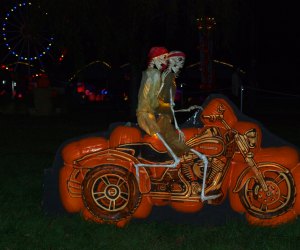 My son loved these skeletons on motorcylces. Photo courtesy of the author
After you've seen all the pumpkins, it's time to walk through the pumpkin patch! I thought this was such a nice touch. They had so many good looking pumpkins to choose from and the price was really great- $3 for small pumpkins and $5 for large (and they even took credit cards). You could also pay to have your pumpkin carved before you left!
This event was so much fun and my son and I were so impressed by the pumpkin displays. I highly recommend adding this to your Halloween calendar.
THE GLOW is located in West Fairmount Park across from the Mann Center (5201 Parkside Avenue). The event runs Thursday-Sunday evenings until October 29. Timed tickets are available online. Tickets prices vary; kids 2 and under are free.
What you need to know:
Tickets need to be purchased ahead of time. They are available online in timed 30-minute intervals and some times are already selling out.
There's no need to arrive early, but you will wait in line. If you want to get in at your time, I suggest arriving 15 minutes early.
Parking is free and easy.
There are food trucks outside if you want to eat dinner or have a snack there.
The pumpkin patch offers some really great looking pumpkins at a very good price and you can even pay to have yours carved before you leave. Credit cards are accepted.
THE GLOW runs Thursday-Sunday until October 29.