Terror Behind The Walls: Is This Haunted House Too Scary for Kids?
Terror Behind the Walls is rated one of the best haunted attractions in the country, in part because of its authentic location, inside the Eastern State Penitentiary, a former prison which is now a historical site. But does the hype live up to the experience, and, more importantly, is this an experience that kids will enjoy? Here's what you need to know to decide if the kids are ready for this attraction.
I have to admit that I didn't know what I was getting myself into when I went to review Terror Behind the Walls. I'm not one to watch horror films (and haven't since I was a teen when they scared the heck out of me). But I know that my sixteen year old niece loves these types of things, and so this was a good opportunity to bond with her. Then I looked at some of the images on the website and saw that the monsters can touch, chase, and kidnap you and my stomach turned a bit. Suffice it to say, I was much more nervous than she was. As she and her friend were rushing to get inside, I and her mother tried to stay as close as possible behind them.
Getting There & Logistics
A shuttle bus takes visitors from the Philadelphia Zoo parking lot at 3500 W. Girard Avenue to Eastern State Penitentiary. Terror Behind the Walls recommends arriving at least 30 minutes before the time on your ticket, so if you're planning to park at the Zoo, I'd recommend trying to get there at least 45 minutes early. The buses were waiting, but they don't leave until they're full, so it might be 5-10 minutes before you leave the parking lot. Once at Eastern State, there are several entrances based on the time on your ticket. The lines get long quick. If you don't mind spending the extra $10, buy a Quick Pass which allows you to bypass the long lines. You'll save at least 20-30 minutes. I was there on Family Night, but was still surprised at the number of smaller kids there, mainly boys around ages 9-13 with parents or adult supervision, and plenty of older teens who tended to be together in big groups.
Once inside, there are a few portable bathrooms, but seemingly not enough for all of the visitors (the one I went into was the scariest part of Terror Behind the Walls, I joked to my sister). There are six different areas included in Terror Behind the Walls, each ending with a little break outside. There, visitors get a little fresh air (the fog machines can make the air inside a little heavy) and can compose themselves before delving back into the show. At the end of the visit, guests end up in a courtyard where they can pick up their photos, buy snacks, visit a gift shop, and view a few displays about the Eastern State Penitentiary and its famous prisoners.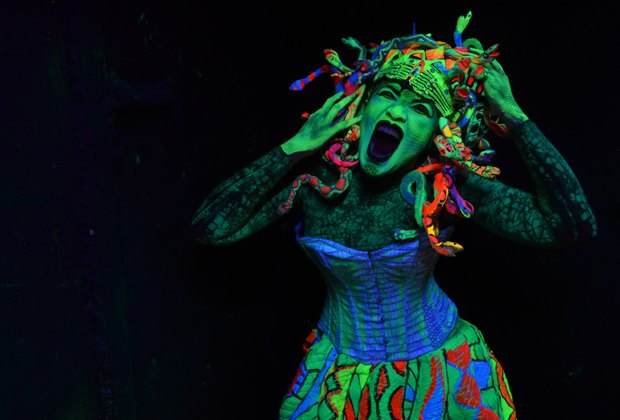 A Medusa-esque monster from the Quarantine attraction. Photo courtesy of J. R. Blackwell via Terror Behind the Walls.
The Experience
When you arrive, you have an important decision to make: do you want to be an observer or would you prefer a more immersive experience? Immersion means that the monsters can touch you, grab you, hold you back and separate you from your group. If you decide to go that route (we didn't), the staff will give you a glow in the dark necklace to mark you as a willing participant. They say that you can take it off at any time, but we didn't see anyone who did. The monsters definitely were more interactive with guests wearing the red neon necklace, grabbing them as they walked by cages, pawing at their clothing, getting up in their faces, dividing them from their group, bringing them into secret passages and alleys. Without the neon indicator, the monsters didn't touch us, but we still had plenty of scares.
There are six separate attractions, each with its own storyline, feel, and different type of scares: Lock Down, Machine Shop, Break Out!, Detritus, Infirmary, and Quarantine 4D. Most of the attractions are bathed in darkness with lighting effects (flashing lights, lasers, and colored light) and sound (there was lots of banging which always made me jump), so my senses were heightened. In the dark, there are plenty of nooks and spaces for the monsters to hide in or behind before they jump out. I found myself constantly trying to see where I was going and scanning for where someone could be, and somehow they always seemed to come from a different direction (they're also great at double teaming visitors, so while your attention is on the person coming loudly toward you, there's another sneaking up quietly behind.) I screamed a few times when someone jumped out; my sister who has attended these before mostly laughed, but was grossed out when one of the monsters blew on her neck. My niece and her friend wouldn't admit they were scared, but were definitely huddled together, holding onto each other through parts of it. The variety of costumes and makeup is incredible -- some monsters are ten feet tall, others are sniveling on the ground, some are zombies, aliens, murder victims, crazy nurses, devils, and much, much more.
The grossest attraction, in terms of disturbing dismemberments and bloody scenes, was the Machine Shop where zombie workers are forced to labor and want visitors to work, too. The Infirmary has the potential to give anyone who is afraid of the doctor or dentist nightmares, with skeletal bodies on gurneys and enthusiastic nurses ready to get new patients. Lock Down featured all sorts of monster inmates and demanding guards in a chaotic labyrinth -- that was probably the least comfortable because guards are telling you to hurry, directing you where to go, and my niece and her friend got significantly ahead of us (they were closely trailing a large guy who was at the front of our small group). Detritus was so dark, it was hard to see anything at all, which made it all the more surprising when something jumped out. Of all of the attractions, the favorite for everyone in our group was a new one: Quarantine. Wearing 3D glasses and entering a maze lit by black lights reflecting off neon paint made the monsters completely invisible, until they moved. Light and sound effects contributed to an otherworldly feel which was way more fun than scary or horrific.
** On Family Nights (Sundays before 7:30 PM), the monsters will immediately back off if a kid says, "Monster be good." Giving smaller children who want to attend this option gives them a little control over the situation and may be the best way to introduce them to this type of experience.
Tickets & Pricing
Terror Behind the Walls isn't cheap, but it's a heck of a lot of fun and not as scary as I thought it would be (granted, we opted for the less interactive experience.) Depending on the date and time, prices range from $19-$45 if you buy online, $25-50 at the door. To make it more affordable, Sundays before 7:30 PM is Family Night. Kids ages 7-12 are half-price. No kids under 7 are admitted.
Header image courtesy of Jeff Fusco via Terror Behind the Walls.