Free And Cheap After-school Programs for Philadelphia Kids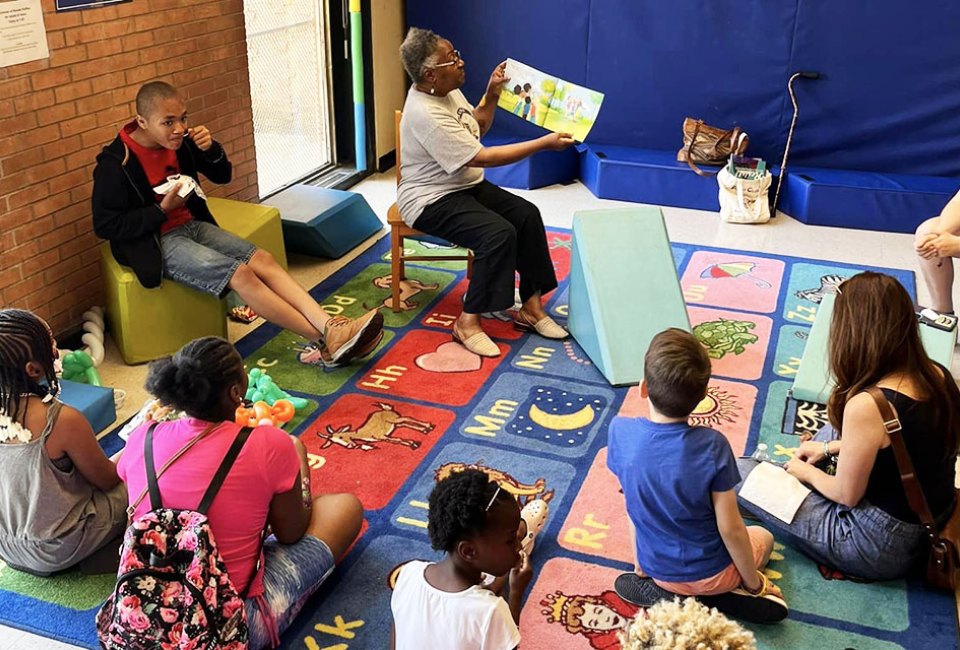 8/20/23
- By
Jennifer Vishnevsky
School doesn't have to end when the bell rings; there are plenty of free and inexpensive options for enrichment in Philadelphia's after-school programs. If you're looking for a fun and educational way for your kids to spend their late afternoons and early evenings, you'll be happy to hear that after-school programs don't have to break the bank. These programs are a great way to help kids stay ahead of their schoolwork, and also hone in on their specific interests.
Looking for more classes for Philly kids? Check out our Classes Guide for more great learning opportunities. If you've got a sports lover, we've rounded up the Best Sports Classes for Kids, too!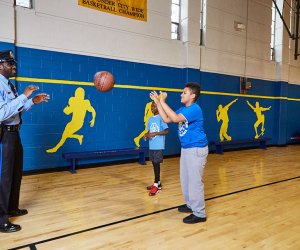 The mission of Cops Helping Kids, a philosophy carried out in PAL Centers for 75 years and counting!
The mission of PAL is "Cops Helping Kids." Since its inception in 1947, PAL has aimed to provide a positive relationship between Philadelphia kids, their communities, and the police department. Tens-of-thousands of children have gone to their neighborhood PAL Center to play organized sports and engage in a variety of educational and cultural activities. All programs are free. Aside from athletics, there are also homework clubs, literacy programs, field trips, and a Positive Image program.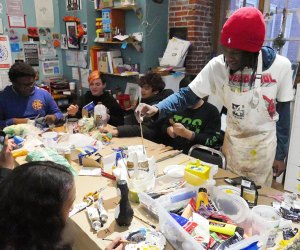 Teens can explore their creativity with the guidance of local artists selected by teens at Fleisher Art Memorial's Teen Lounge. Photo courtesy of the Fleisher Art Memorial
Fleisher Art Memorial's Teen Lounge is a free, drop-in afterschool program for students ages 13-19 who are interested in the visual arts. Teens work with teaching artists to develop a creative program. The projects help foster a group dynamic as teens work on clay, painting, silkscreen, and more. Teens don't have to register, just drop by.
Founded in 2001, SquashSmarts is a free program that combines academics and athletic mentoring for 6th-12th grade students. Its goal is to keep Philadelphia public school students in school, in shape, and on track for graduation. Students are recruited from five partner middle schools (Carver Engineering & Science Middle School, Esperanza Academy Charter, Mary McLeod Bethune Elementary, Overbrook Education Center and Science Leadership Academy Middle School), selected based on commitment, effort, and attitude. Students in the program meet three days a week. SquashSmarts focuses on academic support, Squash instruction, fitness and nutrition, personal achievement, and leadership. Students also participate in community service projects, cultural outings, and special events.
Available to rising 9th grade girls at public and public charter high schools in Philadelphia, the after-school and summer science enrichment program is held at the Academy of Natural Sciences of Drexel University. Since its founding in 1982, WINS has provided science workshops, career, and college exploration and positive youth development opportunities to hundreds of girls. The program has resulted in 100 percent of WINS students graduating high school and more than 96 percent attending college. The nomination period is from January 1 to February 15.
The Literacy Enrichment After-school Program (LEAP) offers homework assistance, computer literacy, and library skills for students in grades K–12. LEAP promotes traditional literacy, science, technology and cultural arts. One of the biggest perks of the program is Homework Help Online, a program that allows students at all levels to engage in live tutoring, specialized test prep, and a writing lab. Afterschool Leaders (ASLs) head the LEAP staff in each Free Library location under the supervision of the librarians and library staff. These are drop-in programs with no pre-registration needed.
The Art Education after-school programs for children and youth at this center focus on Puerto Rican/Latino art, history, and culture. The Cultural Exploration Program is geared towards elementary and middle school students. The Youth Artist Program is for high school students. Program fees are based on a sliding scale and open Monday through Friday.
YMCA —Various Locations throughout Philadelphia and the Suburbs
Local YMCAs offer a variety of after-school programs for both children and teens, like crafts, dance, sports, wellness programs, child development, and child care. The Y's Creative Arts programs help children foster their creative spark, develop imagination, and gain social skills. The Y also offers unique programs to teens, such as mentoring and tutoring. Fees vary depending on the program. However, if you have a 7th grader, the Y will provide a free one-year membership as part of the 7th Grade Membership Initiative.
The free programs are aimed for kids aged 7-17 who are focused on improving their writing skills. Programs include daily after-school academies, themed workshops, mentorships, and scholars program for high-school students. Mighty Writers also offers toddler workshops for kids 2-5 years old.
With several locations in the city, the Boys & Girls Clubs of Philadelphia offers core programs in arts & culture, literacy, character & leadership, education & development, health & life skills, sports & fitness, and STEM. Membership is required, but is generally inexpensive.
The Attic, Philadelphia's only independent LGBTQIA+ youth center, for ages 14 through 23, has a Life Skills Center to provide programs to assist LGBTQ+ youth in building the skills necessary to succeed in school, their jobs or careers, and the community. Additional services include mental health counseling. The Attic also makes available an OST (Out of School Time) program and offers dinner at 5pm Monday-Friday. All programs at the Attic are free of charge. A full list of services and events can be found under the group's event listings on the website.
Many local centers offer free or inexpensive programs. For example, Cecil B. Moore Center offers free education workshops such as coding for kids 6 and up. Free mentoring is available at locations such as the Athletic Recreation Center and Guerin Recreation Center. For a small weekly fee, Columbus Square provides high school readiness sessions for boys and girls ages 10-13.
For grades K through 12, Out-of-School Time (OST) programs support children's academic, social, and personal development. Throughout the city, programs are available in the creative and performing arts, athletics and health, and science, technology, engineering, and math (STEM). To apply, use the website to find a program nearby.
Philadelphia HUNE offers a free after-school and summer program for youth 14 to 21 with disabilities. This program aims to help youth in Philadelphia County to stay on track for graduation as well as transition to productive adult lives.
The Playmakers program from Starfinder is an afterschool leadership program for high school students in grades 9 through 12. Students focus on academic success, building life skills, healthy lifestyles, and honing athletic skills. The program provides soccer and fitness training along with academic support, college guidance, mentoring, and leadership development. There is a small fee to participate, but Starfinder will work with those who need financial help.
Philadelphia City Rowing provides free programs to introduce students in the Philadelphia school system to the sport of rowing. In addition, they'll gain information about nutrition, fitness, and environmental education. Programs run after school at the boatyard adjacent to Lloyd Hall Recreation Center.
An arts and community revitalization organization in North Philadelphia's Fairhill-Hartranft neighborhood, The Village of Arts and Humanities (also called The Village) strives to empower artists and community members of all ages to imagine, design, and build a more just and equitable society. The Village operates free youth programs for ages 10 to 19, including Village Industries. In this paid after-school internship program, teens join creative studios taught by professional teaching artists, including music production, dance, and fashion design.
This article was updated in 2023 by Alyce Wilson.
Sign up for the Mommy Poppins Newsletter today!