12 Places to Host a First Birthday Party Near Philadelphia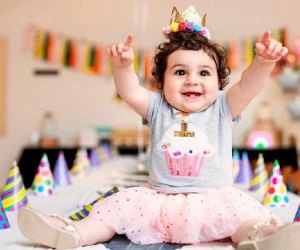 8/27/21
- By
Cait Sumner
The day is here: Your Philly baby is turning 1, and it's time for a kids' birthday party.
Family and friends are excited to celebrate this child who has grown and developed so much over 12 months. Your baby might even be walking by now, and it's a great time to get together, eat cake, and have fun. Celebrate this significant milestone for both parents and their little ones with these extra special kids' birthday party spots in and near Philadelphia.
For more birthday party ideas, be sure to browse through our Birthday Party Guide for Philly kids.
If you are looking to celebrate this first birthday, you can always opt for a great family-friendly dining spot such as those mentioned in our recently updated kid-friendly outdoor dining post. But if you are looking for a traditional birthday experience, we've rounded up some great places in the area to host a first birthday party for your growing little bean.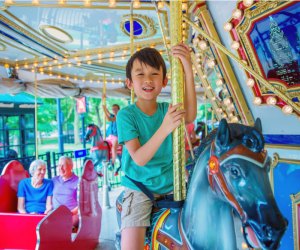 Ride the carousel during a kids' party at Franklin Square. Photo by Jeff Fusco courtesy Visit Philly
200 6th Street
Perfect for spring, summer, or fall birthdays, Franklin Square is a great option for those who may have more adults in attendance. A relaxed, laid-back atmosphere, the party package here allows you to rent the pavilion for two hours (you'll also get an hour for setup and 30 minutes for cleanup). It also includes tables and chairs, mini golf tickets, unlimited rides on the carousel, and playground access.
Route 263
Celebrate turning 1 at Giggleberry Fair. Little ones can ride the carousel and eat hot dogs or pizza. In addition, tots can enjoy Giggles Discovers, a special area for kids younger than 6 to use their imaginations with a pretend fire station, puppet theater, and water play area.
3502 Scotts Lane
Kids delight in birthday parties at Kids At Play. Parties are held every day of the week. Parents should email directly to secure a spot for your little one. The advantage of this venue: It is indoors so no need to worry about the weather forecast.
4200 Wissahickon Ave
If your little is a water baby, you might want to consider a birthday party at the Kroc center which includes a 3-hour party room plus pool access for all your guests. This isn't just any indoor swimming pool. Kroc Center's feature a water play area that is delightful for young and old. Due to a llifeguard shortage, the pool party room is not being rented. However, the facility hopes to accommodate parties soon.

Party outdoors at the farm with a Linvilla Orchards kids' birthday party near Philadelphia.
137 Knowlton Road
A beautiful outdoor option, Linvilla's parties are very low key. Playland is right next door to the party area, corn is provided to feed the animals, and the birthday kid receives a free hayride for a future visit. Your party also includes pizza, drinks, and farm-themed cupcakes. Upgrades such as face painting and train rides are available.
6. Little Gym — Jenkintown, Lansdale, Levittown, Narberth, Spring House
Another great option for a party full of kids, Little Gym has party packages for kids of all ages. Each birthday bash is an hour and a half and includes all the setup and cleanup, paper goods, drinks, invitations, balloons, and T-shirt for the birthday kid. Choose from several different themes, including pirates, princesses, Peppa Pig, and superheroes.
6 Cricket Lane; 109 N. High Street
Fiestas at Lulu's include access to the play area, an hour of playtime, pizza and drinks, a piñata of goodies, and decorations. The only outside food permitted is birthday cake and cupcakes. BYOB adult beverages are also allowed. Both locations are nut-free.
8. My Gym — Lionville, Springfield, Yardley
138 Eagleview Blvd.; 1001 Baltimore Pike; 734 Stony Hill Road
If your kid loves to roll and tumble, My Gym is a great option for a first birthday. Kids will stay active at this fun party, where they'll have access to the whole facility. There are three package options: Grand Celebration, Deluxe Celebration, and Premier Celebration, all including one and a half hours of party time and a free class for 15 kids. The birthday boy or girl gets two free classes.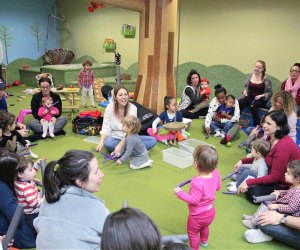 Throw a bash at Nest in Philadelphia, which offers a first birthday party special event.
9. Nest — Philadelphia
1301 Locust Street
If you plan on having a large kids' birthday party, Nest is a great option. Your party will be hosted in Nest's awesome indoor play space. Nest has tons of fun party themes to choose from, including one just for first birthdays. There are three different levels of parties: Nest Classic, Less Stress, and Ultimate Bash. After selecting the party package, guests choose the activity and can customize with party extras.
300 Kenilworth Street
Geared toward kids ages 1-12, these parties are perfect for little ones. Parents can choose from a gymnastics, ninja, or open-play party that all last for 45 minutes. Drop-off parties and adult participation parties are also available. While there are multiple locations, the Queen Village spot is the only one hosting birthday parties.
RELATED: Great Birthday Party Venues for Philly Tweens

Kids will delight in a creative party at Play Arts. Photo courtesy of Play Arts
11. Play Arts — Philadelphia
1241 N. Front Street
Parties are hosted in a private party space, but all guests have access to the indoor play space. Depending on your package, you can incorporate fun, kid-focused sensory activities. Bring your own food or coordinate through Play Arts catering partners, making it totally flexible for what you want for your baby's first big day. The facility is a no-shoe zone so be sure to wear or pack socks. The weekend party packs are reopened for booking.
3500 Reservoir Drive
Smith Memorial is a great place for a kids' birthday party in Philadelphia, especially if you're celebrating in spring or summer as space is available from April through September. The birthday child gets a T-shirt and a crown and you get two hours in a private party room as well as access to Smith's indoor play space and huge outdoor playground. Nature Play Party packages, side porch rentals, and tent rentals are also available. The party room becomes available in October 2021.
This post was originally published in 2017; writer Kristen Sullivan contributed to this 2021 update.
Sign up for the Mommy Poppins Newsletter today!