10 Places to Host a First Birthday Party in the Philly Area
It's here! Your baby is turning 1. This birthday is a huge, bittersweet milestone for you and your babe, and your family and friends will love to celebrate with you. Your baby may even be walking by now and it's a great time to get together, eat cake, and have fun. If you are looking to celebrate your triumph of making it through the first year, you can always opt for a great family-friendly dining spot (especially one with outdoor space in warmer months). But if you are looking for the traditional birthday experience, we've rounded up some great places in the area to host a first birthday party for your growing little bean.
Smith Memorial Playground- Philadelphia
Smith Memorial is a great place for a birthday party- especially if you're celebrating in spring or summer. The birthday child gets a t-shirt and a crown and you get 2 hours in a private party room as well as access to Smith's indoor playspace and huge outdoor playground (when in season)!
Nest—Philadelphia & Chestnut Hill
If you plan on having a lot of kids in attendance, Nest is a great option. Your party will be hosted in Nest's awesome indoor playspace. Nest has tons of fun party themes to choose from, including one just for first birthdays!
Play Arts—Philadelphia
Parties are hosted in a private party space, but all guests have access to the indoor playspace. Depending on your package, you can also incorporate fun kid-focused sensory activities. Bring your own food or coordinate through Play Arts catering partners, making it totally flexible for what you want for your baby's first big day.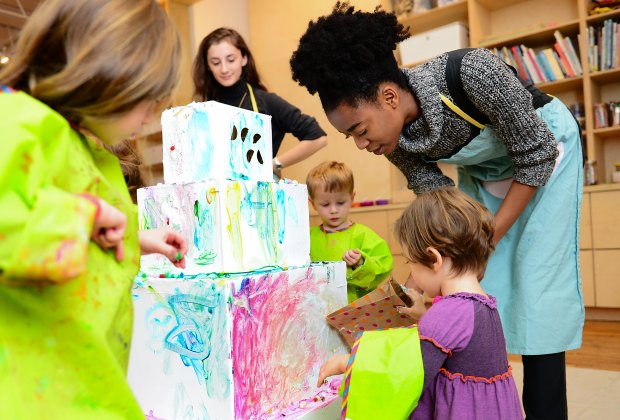 Photo courtesy of Play Arts
Please Touch Museum—Philadelphia
What little one doesn't love PTM? Please Touch offers plenty of options for birthday packages, all of which include unlimited all-day access to the museum for all guests, free parking for the host, a special present for the birthday guest, and one hour in a party room.
Franklin Square—Philadelphia
Perfect for spring or summer birthdays, Franklin Square is a great option for those who may have more adults in attendance. A relaxed, laid-back atmosphere, the party package here will allow you to rent the pavilion for 2 hours (you'll also get an hour for set-up and 30 minutes for clean up). It also includes tables and chairs, mini golf tickets, unlimited rides on the carousel, and playground access. You can even add-on a visit from Mother Goose.
Little Gym—Various
Another great option for a party full of kids, Little Gym has party packages for kids of all ages. Each birthday bash is an hour and a half and includes all the set-up and clean-up, paper goods, drinks, invitations, balloons, and t-shirt for the birthday kid. Choose from several different themes, including pirates, princesses, Dora, Diego, and superheroes!
My Gym—Various
If your kid loves to roll and tumble, My Gym is a great option for their first birthday! Kids will stay active at this fun party where they'll have access to the whole facility.
Linvilla Orchards—Media
A beautiful outdoor option, Linvilla's parties are very low-key. Playland is right next door to the party area, corn is provided to feed the animals, and the birthday kid receives a free hayride for a future visit. Your party also includes pizza and drinks and can be upgraded to include hayrides or indoor mini golf in the winter season.
Lulu's Casita—Ardmore
Fiestas at Lulu's include access to the play area, an hour of playtime, pizza and drinks, a piñata of goodies, and decorations. Plus, they offer BYOB adult beverages.
Kroc Center—Philadelphia and Camden
If your little is a water baby, you might want to consider a birthday party at the Kroc center which includes a 3-hour party room plus pool access for all your guests. This isn't just any indoor swimming pool. Kroc Center's feature a water play area that is delightful for young and old. While membership can cut your cost, it's worth noting that the Camden Kroc Center is significantly cheaper to rent than the Philadelphia location.
Photo courtesy of Nest Center City via Facebook. Originally published 2017.