Our Summer of Play: The Ways We Played & Ideas for a Summer of Play Bash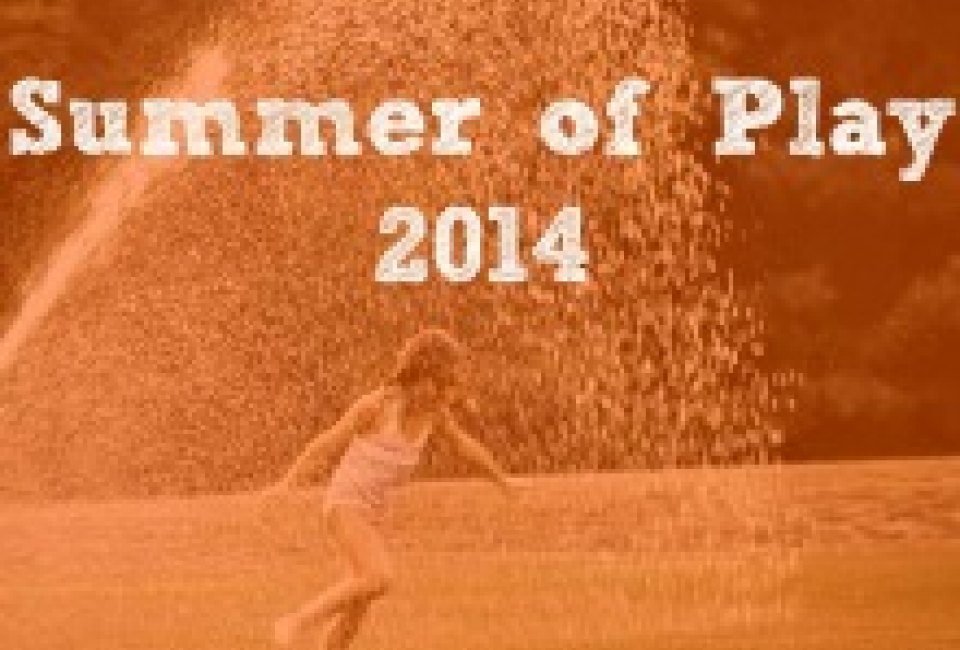 8/18/14
- By
Stephanie Ogozalek
Here at Mommy Poppins, we enjoyed spending quality time with our kids during our SUMMER OF PLAY CHALLENGE, and we're thrilled that it resonated with our readers, too. Hundred of parents from across the country shared photos of their playtime adventures with us on social media. We loved seeing so many pics inspired by the ideas in our SUMMER OF PLAY GUIDE; some folks transformed old cardboard boxes into really nifty playtime items, like the cool plane in our photo gallery. Other families played dress-up, fashioned and flew kites, made a mess and buried each other in the sand. We also saw some ideas we're going to have to try next year, like sticking snowballs in our freezers in the winter and then breaking them out on a hot summer day (our NYC editor Raven thought of that one, but it takes advance planning). Click through the pics above to see some of our favorite SUMMER OF PLAY moments. You can see all of the awesome photos submitted throughout the season on our Facebook page.
Although our SUMMER OF PLAY CHALLENGE is over, there are still a few weeks left to enjoy seasonal fun before fall arrives. That's enough time to cross an item or two off your bucket list, or even add a few new ideas. You can find hundreds of creative ways to play, from water fun and retro backyard games to high-tech ideas and activities inspired by popular children's books, in our SUMMER OF PLAY GUIDE. Bonus: Many of these activities can be enjoyed year-round, especially all of our car games.

Our grand prize SUMMER OF PLAY winner is Karen Victory, so she can wrap up her family's season in style by hosting the Ultimate Summer of Play Bash. You can do the same with these awesome ideas for an end-of-summer soiree:
We are proud to have partnered on this SUMMER OF PLAY initiative with KaBOOM!, the not-for-profit organization that creates playgrounds for kids in inner cities. Together, we became family play advocates by highlighting ways to pack more play into your day. KaBOOM! generously donated the Go Out & Play Essentials Packs that we awarded to lucky families throughout the summer, as well as a gift card in our Ultimate Summer of Play Grand Prize Package for Karen Victory, who will have a ball choosing innovative playthings from the KaBOOM! collection. KaBOOM! also shared tried-and-true tips on how to incorporate play into everyday activities from two of America's Most Playful families. Visit the KaBOOM! website to learn more about the organization and its mission.
The rest of the items in our Ultimate Summer of Play Bash Grand Prize Package were provided by the following companies that believe in the power of play:
Kind, the manufacturer of delicious, protein-packed snack bars, recently launched the savory and bold-flavored Strong & Kind Bar with exciting flavors like roasted jalapeño, Thai sweet chili and honey smoked BBQ.

The snacks and packaging of Ella's Kitchen products are great for adventurous eaters. Choose from Nibbly Fingers, which come in a variety of fruit flavors, or the melt-in-your-mouth Puffits snacks that are perfect for lunch boxes.
The most trusted organic kids brand for 30 years, Earth's Best has many snacks perfect for little lunches, including grab-n-go cups of apple sauce, Earth's Best Snax and Letter of the Day Cookies.
Big Dot of Happiness helps make all of life's occasions fun. With these party supplies, anyone will look like a well-trained host.

Sign up for our free
newsletters.
Mommy Poppins is a family activity website that helps people find things to do with kids.
©
2023
MommyPoppins. All Rights Reserved.
mp-prod4-v4.32.99
We use cookies and other data collection technologies to provide the best experience for our customers.
Learn More