Extreme Sports and More Thrilling Activities for Kids in Orlando: Go-Karts, Axe Throwing, and More!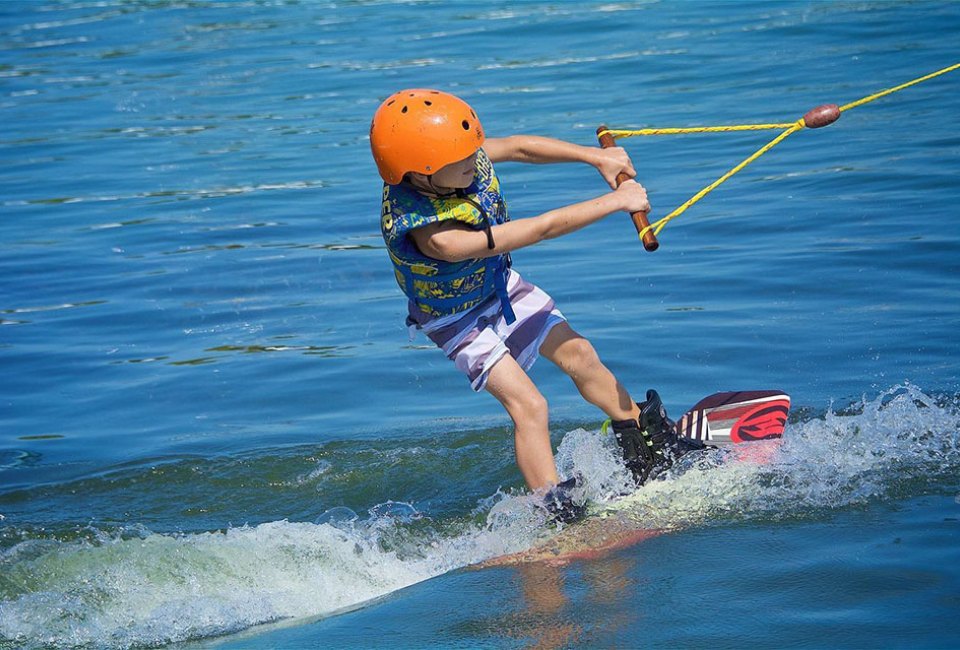 8/18/23
- By
Charlotte B
Extreme sports and activities for older kids and teens provide action-packed fun and avoid screen time! From go-karts and zip lining to axe throwing and paintball, we've gathered exciting options for every type of thrill-seeker in Orlando.
Check out the best extreme sports and activities for kids in Orlando. And just a helpful tip: Much to the dismay of Croc-wearing kiddos the world over, most of these activities require closed-toe shoes, so be prepared to wear sneakers or bring them along.
For more extreme fun in Orlando with kids, check out these Orlando Escape Rooms, Indoor Rock Climbing Gyms, and Ninja Warrior Courses.

Catch the thrill of the chase at Elev8.
Extreme Sports for Orlando Kids: Go-Karts
Race electric go-karts at Andretti Indoor Karting. Mini Mario Races are offered for ages 4-6. Kids at least 7 years old and 48 inches tall can engage in a road-course style junior race, while kids ages 12 and up (and at least 54 inches tall) battle on a fast track complete with elevation changes and banked turns. Adult races are offered as well, so moms and dads can get in on the fun!
Elevate your racing game at Elev8 Sanford, with multi-level racing in electric go-karts on an indoor track. Kids ages 8-13 can partake in Cadet Races (minimum height 54 inches). Ages 14 and up, and at least 62 inches tall, are eligible for Pro Races.
Fun Spot – Orlando & Kissimmee
Both Fun Spot locations offer outdoor multi-level go-kart tracks. The Kissimmee park features two tracks, while the Orlando park boasts four tracks. For a majority of these tracks, drivers must be at least 54 inches tall, and kids 36 inches and taller can ride with an adult in a double-seat go-kart.
K1 Speed features electric go-karting on an indoor track for both adults and juniors 48 inches and taller. A restaurant-style lounge and arcade are also on site for guests to enjoy a meal and some games.
Dezerland Park delivers an exhilarating racing experience at its renovated, state-of-the-art, indoor go-kart park, which offers an adult track for drivers 54 inches and taller, as well as a cadet track for junior races (drivers must be at least 48 inches tall).
Orlando Kart Center boasts outdoor professional race tracks, including a 6/10 mile short track and a 8/10 mile long track with real curbing and bumps. All drivers must be at least 60 inches tall. Go-karts reach speeds up to 45 miles per hour, making this a great option for speed-enthusiasts!

Gather friends for an axe-throwing gathering at Rockstar Axe Throwing.
Extreme Sports for Orlando Kids: Axe Throwing
Kids ages 10 and up can try their hand at axe throwing at this family-friendly facility, which also features classic arcade games, pinball machines, air hockey, foosball, and more.
Axe On Axe Off provides an engaging and interactive axe-throwing experience, with 20 target structures in a 4,000-square-foot facility. Kids ages 10-13 can throw at a reduced price. Knife throwing is also offered.
BATL – Orlando
BATL stands for the Backyard Axe Throwing League and started as just that – from a backyard. Now with multiple locations, including one in the heart of downtown Orlando, BATL offers a distinctive urban axe-throwing adventure for adults and kids ages 12 and up.
Adults and teens ages 13 and up will have an epic time at Epic Axe Throwing, where individuals can unleash their axe-throwing skills in a relaxed and enjoyable environment.
Kids ages 10 and up can unleash their inner lumberjack at Rockstar Axe Throwing. A private party room is also available, with options for axe throwing, knife throwing, and even foam suction-cup axe throwing for younger kids.
The Trap in Winter Park is a 1920s industrial warehouse converted into an axe-throwing facility and restaurant. Guests ages 10 and older can engage in axe throwing in a friendly and welcoming setting at The Trap.

Florida's only true canopy zip line tour is at Canyons Zip Lines.
Extreme Sports for Orlando Kids: Zip Lines
As Florida's only true canopy zip line tour, the Canyons Zip Lines is just over an hour north of Orlando, but well worth the drive. Participants must be at least 70 pounds and 10 years old. Horseback riding and kayaking are also offered.
Orlando Tree Trek boasts aerial obstacle courses for all abilities. There are two courses for kids ages 6-8, three courses plus a giant zip line for ages 9-11, and four courses available for ages 12 and up.

Soar over crocodiles at Screamin' Gator Zipline.
Soar over crocodiles and an alligator breeding marsh at Gatorland's Screamin' Gator Zipline. The course features five zip lines and a swinging bridge. Participants must be at least 36 inches tall.
Located outside the entrance to the Central Florida Zoo, guests can navigate from tree to tree using rope bridges, zip lines, and other obstacles. A kids course is available for ages 5 and up, with height requirements of 36 inches to 60 inches. A larger Upland Course is offered with a minimum height requirement of 54 inches.

Nona Adventure Park has watersports for a full day of family fun.
Extreme Sports for Orlando Kids: Wakeboarding
Freedom Wake Park provides instruction for wakeboarding and wakesurfing for all ages and skill levels. Lessons take place on a private lake with no other boat traffic.
Nona Adventure Park boasts a cable wakeboarding facility known as Wake Nona, with two cable tracks that can accommodate up to 10 riders at a time. A climbing tower and aqua park are also onsite, making for a full day of family fun.
Orlando Watersports Complex is a great destination for water sports enthusiasts, providing both a cable park and boat lake where visitors can indulge in wakeboarding, waterskiing, and other aquatic activities.
Located on Lake Barton in downtown Orlando, O-Town Watersports offers wakeboarding, wakesurfing, and tubing behind a world-class boat with experienced coaches.
Wakesurf Orlando is a mobile wakesurfing and wakeboarding school offering one-on-one private lessons. Services are available to most Orlando area lakes, provided they have an accessible boat ramp and appropriate depth for boating.

Feel the thrill of skydiving without jumping from a plane at iFly.
More Thrilling Activities for Kids and Teens
iFly Orlando offers an indoor skydiving experience that allows participants to enjoy the sensation of freefalling in a safe and controlled environment. Anyone ages 3 and up can fly.
The NASCAR Racing Experience allows racing enthusiasts the opportunity to feel the speed and excitement of driving a real Nascar around the iconic Daytona International Speedway. A ride-along option is available as well. Drivers must have a valid driver's license, while passengers must be at least 5 feet tall and 100 pounds.

Get ready for an epic battle at Orlando Paintball/Battleground Orlando.
Two experiences - paintball and laser tag - offered at one convenient facility! Orlando Paintball and Battleground Orlando offer immersive indoor and outdoor settings where participants can engage in paintball or laser tag battles on eight diverse themed fields.
Warrior Sports Park offers a range of outdoor recreational activities, from paintball and airsoft to gellyball and tactical laser tag. Minimum age for gelly ball is 5 years, laser tag is 6 years, paintball is 8 years, and airsoft is 10 years.
Photos courtesy of the facilities
Sign up for the Mommy Poppins Newsletter today!