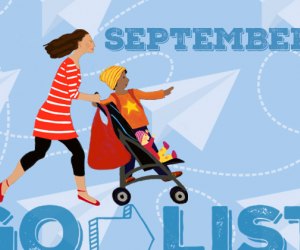 Best Things to Do With NYC Kids: September GoList
Just because the kids are heading back to school doesn't mean the fun has to stop. In fact, September is one of the best months for FREE outdoor fun. There are a slew of alfresco festivals for families, including Brooklyn's biggest street fair, Atlantic Antic, the perfect-for-preschoolers West Side County Fair, and farm fun at the Queens County Fair, including the return of the Amazing Maize Maze, NYC's only corn maze.
Other September highlights include fun on the water with the Great North River Tugboat Race & Competition, Bay Ridge's costume-filled Ragamuffin Parade, and the annual Kids Fest at Madison Square Park. It's also the last chance to take a dip at one of NYC's FREE outdoor public pools and beaches, many of which are staying open through Sunday, September 8.
Plus, tickets go on sale September 3 for the Hudson Valley's best Halloween activity, the Great Jack O'Lantern Blaze. (If you want to see Blaze, it is best to get your tickets now.) Read on for our 12 favorite things to do with kids in September in NYC, many of which are FREE.
If an event piques your interest, click through to our listing for all the details, including addresses, times, and pricing. Keep in mind that the really cool (and free) kids stuff in NYC books up quickly, so buy your tickets ASAP, or in the case of FREE events arrive early to beat the crowds.
Be sure to sign up for our FREE newsletters so you can get all our NYC picks delivered to your inbox.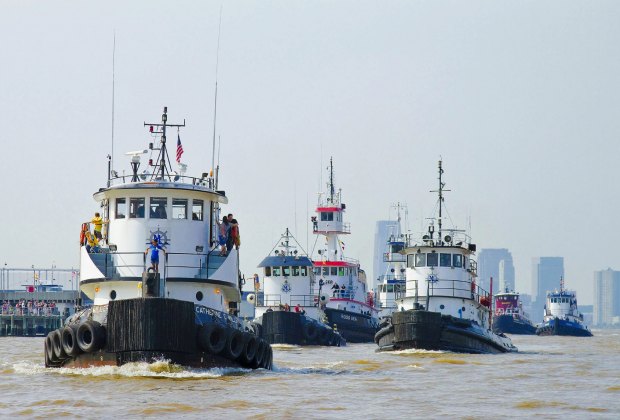 Watch as tugboats race down the Hudson at the annual tugboat competition. Photo by Mitch Waxman.
Great North River Tugboat Race & Competition — Midtown West
Sunday, September 1
Watch tugboats race from Pier 1 in Riverside Park South down to Pier 84 in Hudson River Park, where there will be line-toss and spinach-eating contests, live music, and other nautical-themed fun. The race and competitions take place in the Hudson River and can be viewed at no cost between West 44th and West 70th Streets on the waterfront. Pier 84 is where most of the action is, however. For an up-close view, families can buy tickets for the Circle Line spectator boat that follows the tugs. FREE from the shore.
West Side County Fair — Upper West Side
Sunday, September 8
This is the closest you'll get to a county fair in the middle of Manhattan! Perfect for preschoolers, this annual favorite features small carnival rides and games, live music, sideshow performers, and a smattering of country vendors. It gets crowded fast, so arrive early to avoid lines. Afterward, grab a bite at the Pier I Cafe or head a few blocks north to romp in Elephant Playground. FREE
RELATED: Best Apple Picking Spots Near NYC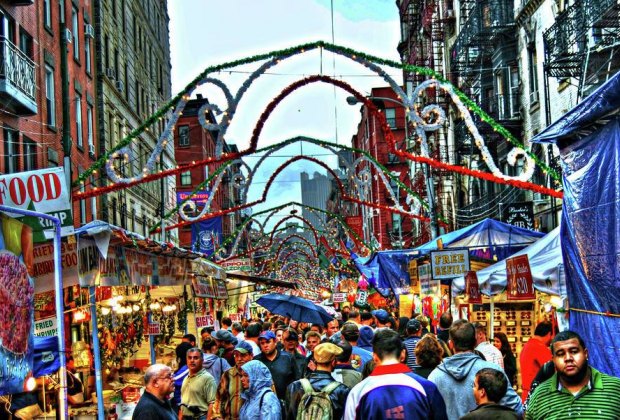 Wander around The Feast of San Gennaro in Little Italy for delicious food, games, and rides. Photo by Joe Buglewicz for the festival
Feast of San Gennaro — Little Italy
Thursday, September 12 through Sunday, September 22
Yes, this annual fest has a reputation for being rowdy. But during daytime hours, the Feast of San Gennaro (while still mobbed) is much more kid-friendly. It's officially a Catholic religious celebration with masses, processions, and other liturgical events. Still, the main draw for many families is the food and the carnival atmosphere. A slew of Little Italy's restaurants dish out amazing sausage sandwiches, fried Oreos, and Italian pastries right from the street. Plus, there are live music performances, eating competitions, and games and rides, including a Ferris wheel. FREE admission but there are fees for activities.
The big scene in Little Italy not your thing? The Bronx and Staten Island both host Italian community festivals this month that are a lot less crowded, and just as fun: Ferragosto on Arthur Avenue on Sunday, September 8, and the Festa d'Italia at Casa Belvedere on September 21 and 22.

Watch a magical processional of handmade lanterns at Morningside Lights. Photo courtesy of the festival.
Morningside Lights — Morningside Heights
Workshops: Saturday, September 14 through Friday, September 20; Procession: Saturday, September 21
Morningside Lights is the brainchild of Alex Kahn and Sophia Michahelles of Processional Arts Workshop, the group behind those incredible giant puppets at the annual Village Halloween Parade. Though geared toward adults, kids ages 10 and older are welcome to attend FREE workshops where you'll craft massive lanterns out of wire, papier mâché, cheesecloth, and tissue paper. The creations then are shown off during a music-filled parade. Not artsy? Watch the procession from the sidelines. Signing up in advance for the workshops at the Miller Theatre at Columbia University, or to march in the procession, is a must. Read our post about Morningside Lights for more info and important tips for participating with kids. FREE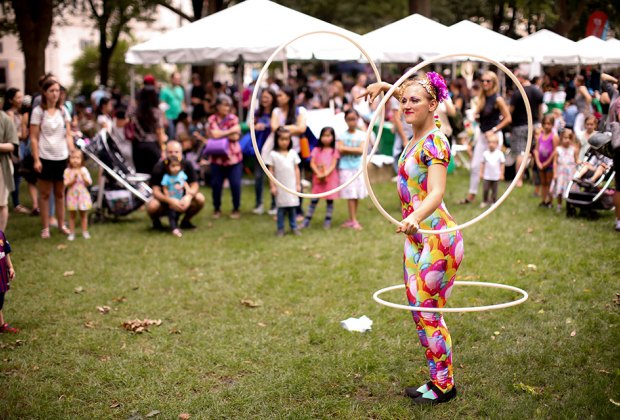 Performances and entertainers take over Madison Square Park at Kids Fest. Photo courtesy of Madison Square Park
Kids Fest — Madison Square Park
Saturday, September 14
At this annual day-long festival in Madison Square Park, kids from baby to tween can rock out to live music, play games, see dancers and puppeteers, and watch as circus performers and storytellers wow the crowds. With four stages' worth of live shows, plus magic, face painting, and surprise performances around the park, your family can easily make a day of it at the festival, but there are plenty of things to do in the Madison Square Park neighborhood, possibly one of the kid-friendliest zones in Manhattan, with the Museum of Math, CAMP, the Lego Store, and Books of Wonder all close by.
Boogie on the Boulevard — Grand Concourse, the Bronx
Sunday, September 15
Celebrate the rich culture of the Boogie Down borough...and boogie down, while you're at it. The center lanes of the Grand Concourse are closed to traffic and open for all kinds of activities, from dancing to fitness classes to kid-friendly fun. Just like the Bronx itself, there's something for everyone. FREE
One Crown Heights Neighborhood Festival — Crown Heights, Brooklyn
Sunday, September 15
Explore Crown Heights and its cultural treasures at the One Crown Heights Neighborhood Festival. In addition to the FREE family-friendly street fest, the Brooklyn Children's Museum will offer FREE admission all day on Sunday, September 15.
RELATED: 30 Things We Can't Wait to Do This Fall in NYC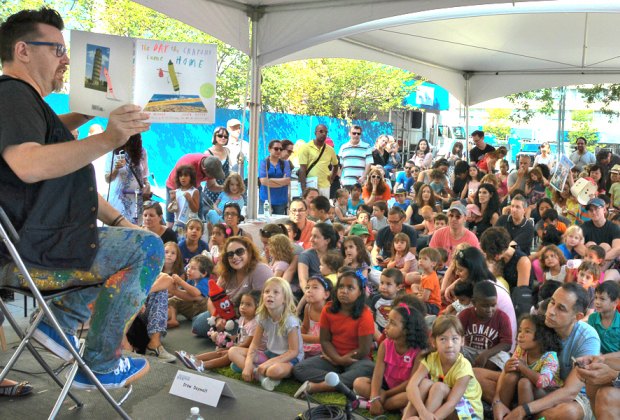 Drew Daywalt reads from The Day the Crayons Came Home during a past Brooklyn Book Festival. Photo by Lisa Hannus.
Brooklyn Book Festival Children's Day — Brooklyn Heights
Saturday, September 21
Organizers of the Brooklyn Book Festival are again hosting a Children's Day the Saturday before Sunday's main event. Held in MetroTech Commons and aimed at kids ages 2 to 11, Children's Day features readings and performances by big names in little-kid lit. Past fests have included book signings, STEM workshops, Star Wars trivia, illustrator draw-offs and plenty of children's books for sale. FREE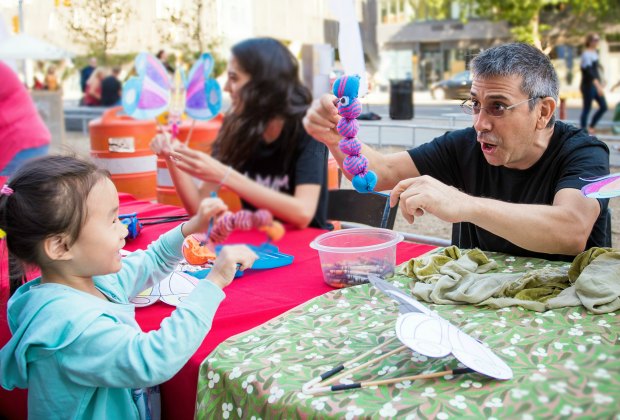 Puppet making together at the Astor Alive Festival. Photo courtesy of event
Astor Alive Festival — East Village
Saturday, September 21
Returning for its fourth year, the Astor Alive Festival celebrates the talent and culture of the East Village. In addition to live performances, expect participatory workshops for festival goers of all ages. FREE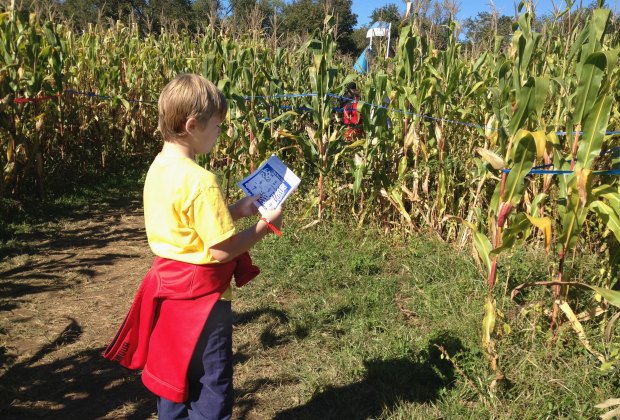 Enjoy the maize maze, petting zoo, carnival rides and games, hayrides, and more at the Queens County Fair. Photo by Stephanie Ogozalek for Mommy Poppins
Queens County Fair — Glen Oaks, Queens
Saturday, September 21-Sunday, September 22
This old-fashioned affair takes place on the grounds of the Queens County Farm Museum, NYC's only historic working farm. Enjoy blue-ribbon competitions in livestock, produce, home crafts, arts and crafts, and more; pie-eating and corn-husking contests; pig races, hayrides, a petting zoo, and a midway with tons of carnival rides. It's the fun of country farm life without having to leave the city. This is also the weekend the farm opens its Amazing Maize Maze, the city's only corn maze.
Ragamuffin Parade — Bay Ridge, Brooklyn
Saturday, September 28
Put on those Halloween getups a few weeks early for this colorful Brooklyn procession, which celebrates its 53nd anniversary this year. Costumed kids parade down Third Avenue between 76th and 92nd Streets in Bay Ridge alongside bands, cheerleaders, and modest floats. All participants who make it to the end snag a complimentary gift, and prizes are given to the children with the most creative costumes. If you live in the neighborhood, registration forms allowing kids to march are distributed in local schools and day cares, but you can also download one from the organizer's site or fill one out the day of. FREE but registration required.
Atlantic Antic — Boerum Hill, Brooklyn
Sunday, September 29
The biggest street fair in Brooklyn boasts more than a dozen stages of live music (R&B, jazz, rock, country, kids' bands, you name it) and literally hundreds of vendors. There's a whole block dedicated to kids' activities. Past fun has included pony rides, face painting, balloon sculptures, a petting zoo, and more. Grown-ups will appreciate the eclectic selection of international eats, including pulled pork, baklava, and carnival favorites. FREE admission to the street fair, but there are fees for some activities.
Honorable Mentions
NYC has so many incredible things going on, it's difficult to choose. So here are 10 more cool (mostly FREE) events worth considering for your September calendar:
Go apple picking—September is peak season—at one of the tri-state area's pick-your-own farms.
Little fairies-in-training will love making wings, wands, and fairy houses in an enchanted wood at the Fairy Workshop on Randall's Island Saturday, September 7. FREE
Make mooncakes, shadow puppets, and magic potions at the Museum of Chinese in America's Mid-Autumn Family Moon Festival Saturday, September 7.
Take a final dip at one of NYC's FREE outdoor public pools and beaches, some of which stay open through Sunday, September 8. FREE
Catch Hercules in Central Park through Sunday, September 8, a reinvention of Disney's beloved animated movie with a brand-new script and fresh songs. FREE
Watch totally original, punk-rock live theater as the Parade of the Moles creeps through Greenwich Village on Saturday, September 14. The informal parade is FREE, followed by a $20 family-friendly performance at 3pm at NYU's Skirball Center.
Get a sweet taste of fall at the annual New York City Honey Festival on Rockaway Beach on Saturday, September 14. FREE
Visit many of NYC's top museums at no cost courtesy of Smithsonian Magazine Museum Day on Saturday, September 21. FREE
Learn how kids (and grown-ups) can help protect NYC's waterways at the day-long marine science festival SUBMERGE, presented by Hudson River Park and their super-cool Estuary Lab at Pier 84 on Saturday, September 28. FREE
Thought you had another month to come up with your kids' Halloween costumes? Think again. Luna Park's annual Halloween Harvest Festival kicks off on September 28, and runs weekends through October 31.