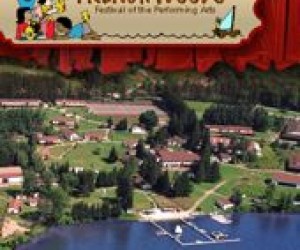 French Woods Performing Arts Camp
French Woods is located on a private lake in the western Catskill mountains of New York State near the Delaware river and the Pennsylvania Border, approximately two and a half hours from New York City between Monticello and Binghamton.
We offer summer camp programs in dance, theater, music, circus, magic, visual arts, sports, and horseback riding. Each child, works with our staff to design his or her own unique summer experience. Campers are able to focus on one particular area of interest, or they may choose to select a variety of activities. We are at the same time, a theater camp, an art camp, a dance camp, a circus camp, a horseback riding camp, a sports camp, a magic camp, and a traditional camp, with world class programs that each child can choose a-la-cart.
For more great camp ideas, check out our Summer Camp Guide!