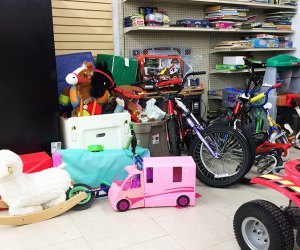 Where to Donate Gently Used Toys and Baby Gear on LI
If your kids are anything like most, their holiday wish lists are filled with requests for new toys. But once your house is happily full of new toys what do you do with all of the old ones? Or all of the baby equipment that the kids have outgrown?
Before you put those toys out on the curb, consider these Long Island organizations that accept preowned toys and baby items provided they are clean, undamaged, and in working order.
For safety reasons, most charities do not accept cribs or car seats. However, many will accept strollers, bouncers, and even baby care items such as diapers. At this busy time of year, however, contact these charities to make sure they haven't reached their donation limits. One other tip: Ask your preschool child's school director, local library, or church. Often, those institutions are willing to accept used toys and books from someone they know and trust.
Looking for more ways to help your community? There are plenty of holiday volunteer opportunities for kids and families. And for other seasonal activities, check out our Long Island holiday fun guide or these 30 things to do over holiday break with Long Island kids.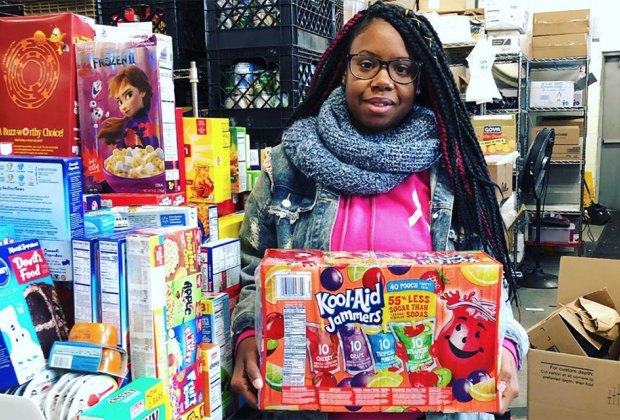 With dnoations The INN provides a broad variety of essential services to assist those challenged by hunger, homelessness and profound poverty. Photo courtesy of The INN
Nassau
Anna's House at The Belmont Racetrack — Elmont​
2050 Hempstead Tnpk, Elmont​
Anna's house will accept new and gently toys and baby gear every Wednesday and Friday after 1pm. Strollers and car seats will be accepted if they are new and in the box. Anna's House provides affordable help for local families.
Interfaith Nutrition Network — Hempstead
211 Fulton Avenue
Unopened packages of baby wipes, diapers, and formula are gladly accepted all year round. You can drop canned goods, new toys, or weather-appropriate clothes off from 9:00-11:00 am, or from 2:00 to 4:30 pm every Monday through Friday during the holiday season. After the new year, gently used clothes and toys are accepted.
The LICC says it is seeing an increase in children in need. Baby care items such as diapers and wipes are appreciated, as are unopened packages of formula. Packaged toys, or those opened but in like-new condition, are accepted Monday through Thursday from 9am until 3pm. The council is in particular need of food items like soup, oatmeal, pasta, and sauce.
205 Rockaway Ave, Valley Stream
New and gently used clothes and gear are happily accepted at this consignment shop that provides affordable items for local kids. They are open from Monday through Saturday from 10am until 1pm, and on Sundays from 12pm to 5pm.
Mother and Child Ministry
—
Seaford
2197 Jackson Avenue
St. Michael's & All Angels Episcopal Church's food shelf program now includes services for mothers with young children. Donations can be dropped off in Seaford on Wednesdays between 4 and 8pm and on Sundays between 1 and 4pm. You can also drop off at their Wantagh location at the Church of St. Jude from 8am until 12 noon on Sunday, and on Monday through Thursday from 9:30 am until 12:30 pm. Accepted donations include baby care items, gently used toys, baby equipment, children's clothing, and personal care items mothers can use.
1510 De Paul St., Elmont
Clothes, baby gear and non-perishable goods can be dropped off here on Saturday mornings. Calling ahead is appreciated.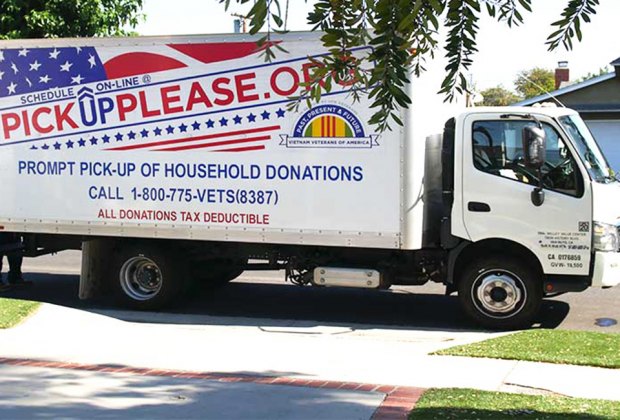 Schedule a pickup and support Vietnam Veterans of America charities. Photo courtesy of Vietnam Veterans of America
Suffolk
1900 East Jericho Turnpike, East Northport
585 Portion Road, Lake Ronkonkoma
Drop off those gently used toys, bikes, clothes, and baby items, or check online for your nearest donation bin. Donated items are sold in stores and on an online auction site. The revenue funds valuable employment tracking and job placement services for those in need. More than 2,000 items are placed on Goodwill sales floors each day.
7001 West Sunrise Highway, Holbrook
700 East Patchogue-Yaphank Road, Medford
Drop off donations at any Savers store. Accepted items include toys, sports equipment, books, stuffed animals, puzzles, games, housewares, and clothes. The Suffolk stores are open from 9am until 9pm each day, and you can ring the doorbell at the front to drop something off. For every donation that is made, Big Brothers and Sisters of Long Island gets a share of the profit. Savers also supports recycling, donating unsellable items to less affluent countries, where they can be used or sold.
Vietnam Veterans of America
—
Central Islip
2 Wilson Boulevard
This nonprofit makes it easy to give. Schedule a pickup online, label, and leave on your porch or curb gently used toys, baby equipment, clothing, and household items. The organization also takes small furniture and electronics that are no more than five years old.
Islandwide
98 Austin Street
Call LI Head Start's central administration for your closest drop-off location and for a list of items accepted. There are more than 25 centers throughout Suffolk County alone. Most locations take used clothing, baby equipment, and toys. Head Start serves families below the poverty line, so donations of toiletries, mittens, hats, and coats are greatly appreciated.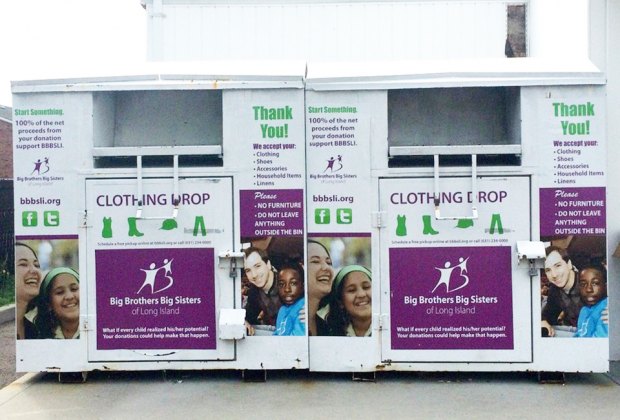 Big Brothers Big Sisters accepts books, and small and stuffed toys. Photo courtesy of Big Brothers Big Sisters of Long Island
Big Brothers Big Sisters of Long Island — Levittown, Islandia
70 Acorn Lane, Levittown
145 Sycamore Lane, Islandia
Find your nearest donation bin online or schedule a pickup. Either way, BBBS accepts stuffed toys, small toys, and books.
888-574-2587
Drop-off locations include:
66 Church Street, Freeport
65 Atlantic Avenue, Hempstead
992 Prospect Avenue, Westbury
211 Blue Point Avenue, Blue Point
110 Bellerose Avenue, East Northport
414 East Main Street, Patchogue
319 East Main Street, Riverhead
227 Little Neck Road, West Babylon
Salvation Army Thrift Stores accept a variety of items, including toys, stuffed animals, books, and large baby items. Drop off your donations at one of the organization's many locations or schedule a pickup online. The Salvation Army also takes car donations. You can check with individual centers about donating small furniture items and appliances
This article was originally posted in 2014 and was updated by writer Rebekah Yahoves in December 2018 and 2019.​