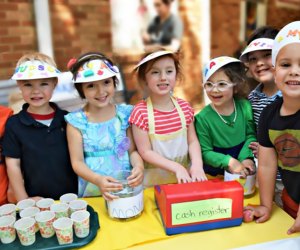 Holiday Volunteer Opportunities for Long Island Kids, 2019
No matter their ages, most kids (and adults) can't help but get caught up in the gift-getting, list-making, shop-till-you-drop frenzy of the holidays. In 2019, why not show your children how rewarding it can be to donate to needy families or to help make a sick child's holiday a little brighter simply by volunteering time?
From fundraising to food drives to helping make wishes come true, we've put together a list of Long Island organizations looking for volunteers this holiday season as well as throughout the year. You can also check out the Long Island Volunteer Center, which is a great resource of nonprofits in your area. And don't forget to check with your local houses of worship, which often need help with food pantries and soup kitchens, your child's school or Scouting group, and your local library.
The importance of giving back to those in need is a wonderful lesson to teach your children, especially at this time of year.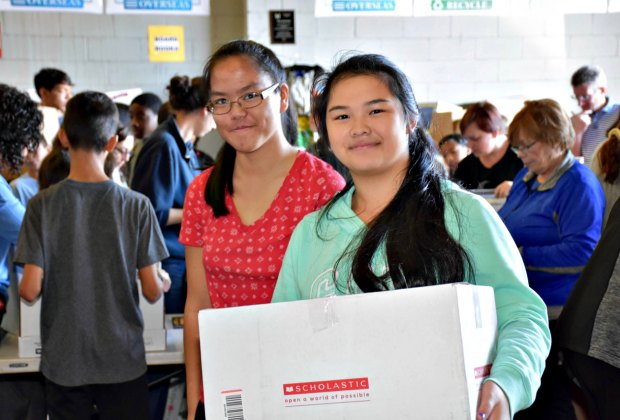 Help sort through books at The Book Fairies organization, based in Freeport. Photo courtesy of The Book Fairies
The Book Fairies — Freeport
This nonprofit collects and distributes books for children and adults throughout the metro New York area. On the second Sunday of each month, volunteers (older children, preferably middle-school age and older, and their parents) are needed to help in their warehouse, refilling boxes with books for teachers. The organization often needs help sorting books, and has other volunteer positions that need to be filled.
Golden Paw Society — Huntington
A great opportunity for cat lovers, The Golden Paw Society often needs help taking care of and socializing cats at their satellite locations in Petco and PetSmart. It also holds fundraising events throughout the year, which are in need of donations and volunteers. They also provide the adoptable cats for The Shabby Tabby Cat Cafe, with locations in Sayville and Huntington. Children younger than 18 must be accompanied by an adult to volunteer. Email volunteergps@gmail.com for more information on junior volunteering. Animal-loving families should also check out local shelters and rescue organizations that may be looking for donations or help with events.
RELATED: 13 great things to do with LI kids this holiday season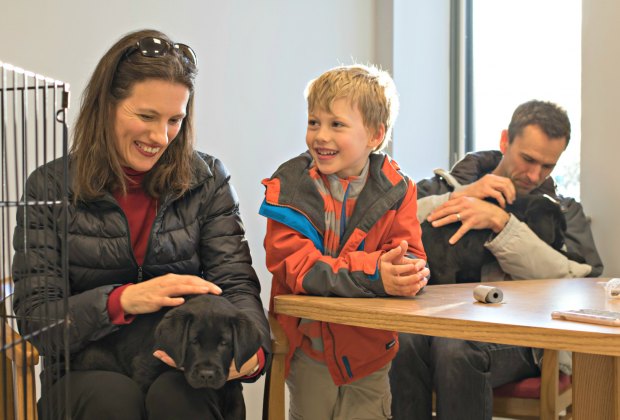 Care for a Guide Dog Foundation puppy and aid people with visual impairments. Photo by Rebecca Eden for the Guide Dog Foundation
Guide Dog Foundation — Smithtown
A host of opportunities exist for families to volunteer at this nonprofit that provides guide and service dogs and training (at no charge) to people who are blind or visually impaired. These include puppy raising. Kids 16 and younger can help out by hanging puppy raising recruitment flyers and organizing fundraisers and toy/towel drives. Kids also can take a tour of the Smithtown campus and learn more about what the Guide Dog Foundation does and what kids can do to help.
Habitat for Humanity of Suffolk — Middle Island
Families can help out Habitat for Humanity of Suffolk in a number of ways. For its Thanksgiving Baskets program, donate individual items and/or gift cards, or all the fixings for a delicious holiday meal. In the Adopt-A-Family program, your family can fulfill all or part of the wish lists of children and families, helping to make their holiday season brighter.
Long Island Cares—The Harry Chapin Food Bank — Hauppauge
Have your kids end the year fighting hunger on Long Island. Long Island Cares, Inc.—The Harry Chapin Food Bank has two year-round volunteer programs for youths, one for children ages 7-12 and another for those 13-19. There are also plenty of events throughout the holiday season at which kids can volunteer. Check its website for the most updated information.

Kids of all ages can help make wishes come true by organizing a fundraiser for the Make-A-Wish Foundation.
Make-A-Wish Foundation — Nassau and Suffolk
Kids of all ages can help make wishes come true by organizing a fundraiser for children who are facing serious illnesses. Make-A-Wish Foundation's educational program, Kids for Wish Kids, helps children organize and manage fundraising campaigns at their schools, youth groups, etc., under the guidance of parents and teachers. Check out the organization's websites for Nassau and Suffolk counties for tips, advice, and additional information.
Ronald McDonald House of Long Island — New Hyde Park
The mission of the Ronald McDonald House of Long Island is to provide a home away from home for families so they can be near their seriously ill children who are receiving treatment. Volunteers are always welcome and needed. Little Hands Helping Little Hands is a volunteer program specifically for children between ages 6 and 16, who come to the facility as a school group or organization and bake goodies for families staying at the house.
Sunrise Senior Living - Across Long Island
Volunteers are always needed for senior centers across Long Island. Younger kids can read books, put on holiday shows and concerts, and even just play some board games with the elderly. Older kids and teenagers can lend their skills to host classes, such as arts and crafts. This is especially important for seniors who may not have family living nearby to keep them company. To spread some cheer, check out the website for volunteer opportunities.
This post is updated annually.
Writer Gina Massaro contributed to this post.