Holiday Volunteer Opportunities for Long Island Kids in 2020
No matter their ages, most kids (and adults) can't help but get caught up in the gift-getting, list-making, shop-till-you-drop frenzy of the holidays. This year—an especially tough one for so many—provides a perfect opportunity to show your children how rewarding it can be to donate to needy families or to help make a sick child's holiday a little brighter, simply giving a little of your time.
From virtual fundraising to contact-free turkey and book drives and helping make wishes come true, we've pulled together this list of seven Long Island organizations looking for volunteers this holiday season. Most welcome help at other times, too.
If you'd like to give back, but want to stay closer to home, consider these kid-friendly ways to give back during COVID.
Editor's note: No matter where your volunteering activities take you, please keep your family and others safe by always wearing a mask and maintaining an appropriate distance.
While most of our volunteer options last all season long (and beyond), this one is date specific: On Friday, November 20, load your frozen turkey, non-perishable food, and monetary donations into your truck for a drive-by, contact-free, drop-off at Bethpage Federal Credit Union. Volunteers greet you curbside and unload the goodies, and you're on your way. If you miss the drive-by day or can't make it, you can give a monetary donation online, too.
This nonprofit collects and distributes books for children and adults throughout the New York metro area and has distributed more than 250,000 books since COVID hit. Although families cannot volunteer in its warehouse right now, the organization asks people to do contactless, drop-off book drives at their homes. You can sort the books (if you wish) at your home, and then, The Book Fairies come to pick them up. It just asks that all books are placed in boxes that close or have lids.
Families can help Habitat for Humanity of Suffolk in several ways. For its Thanksgiving Baskets program, choose to donate individual items or gift cards or purchase all the fixings for a delicious holiday meal. In its Adopt-A-Family program, your family can fulfill all or part of the wish lists for another child or family, helping to make their holiday season brighter.
Have your kids end the year fighting hunger on Long Island by volunteering at Long Island Cares/The Harry Chapin Food Bank. Although youth volunteer programs and events are currently closed, students can participate in food drives and the adopt-a-family program. Kids can also hold a food drive or stage a virtual drive. If students need service hours, they can be earned by hosting the food drive, provided a detailed log is kept.
RELATED: How to Find Free Toys This Christmas and Holiday Season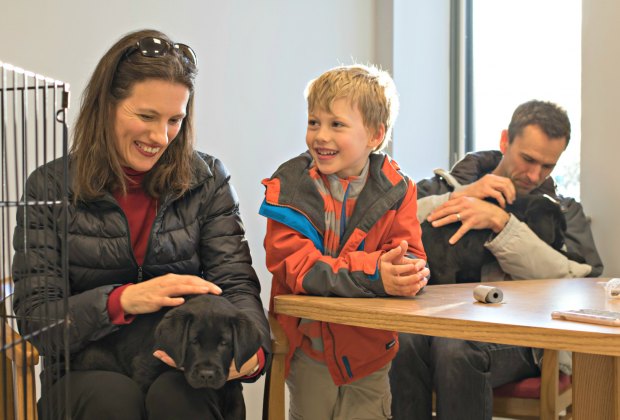 Care for a Guide Dog Foundation puppy and aid people with visual impairments. Photo by Rebecca Eden for the Guide Dog Foundation
A host of opportunities exists for families to volunteer at this nonprofit that provides guide and service dogs and training at no charge to blind or visually impaired individuals. Volunteer opportunities include puppy raising. Kids 16 and younger can help out by hanging puppy raising recruitment flyers, organizing fundraisers, toy/towel drives, and other projects. Families can attend an online orientation to learn more about what the Guide Dog Foundation does and how kids can help. Another way to support its mission is to shop at its online store: GDF Shop, which carries everything from holiday cards to stuffed animals, pet toys, and more.
Kids of all ages can help make wishes come true by organizing a fundraiser for children who are facing serious illnesses. Make-A-Wish Foundation's educational program, Kids for Wish Kids, helps children organize and manage fundraising campaigns at their schools, youth groups, etc., under the guidance of parents and teachers. Check out the organization's websites for Nassau and Suffolk counties for tips, advice, and additional information.
Ronald McDonald House Charities New York Metro's mission is to build a community of compassionate care by creating and supporting programs that directly improve the health and well-being of sick children and their families. There is currently a pause on on-site volunteer activity. However, you can still help fulfill the organization's most urgent needs, including stocking its pantry and sponsoring meals for families. You can also help by making a monetary donation, starting a Facebook Fundraiser, or participating in its toy drive this holiday season.
For more ways to give back this holiday season, you can also check out the Long Island Volunteer Center, which is a great resource of sortable local nonprofits in your area. And don't forget to check with your local houses of worship, which often need help with food pantries and soup kitchens, your child's school or Scouting group, and your local library.
This post is updated annually.
Writer Gina Massaro contributed to this post.