Rainbow City at the High Line: Interactive Art for Kids and Parents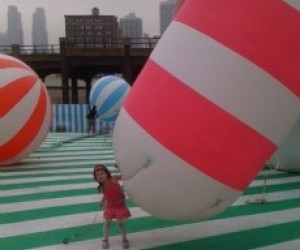 How many times have you waited on a long line with your kids for a bouncy house and thought, I wish there were something in this for me. Well, make your way to the northern end of the recently opened Section 2 of the High Line, and you shall be rewarded.

Although it looks like a mash up of a carnival, Candy Land and Kid Robot, the brand-new installation Rainbow City isn't specifically aimed at children—the nearby beer garden and high-end food trucks kind of give that away. Still, visitors of all ages are welcome to explore this colorful, pop-art environment, which features 40 inflatable structures to push, pull, jump on and roam within. Yes, parents are allowed to bop around the bouncy houses, too, and the entire experience is totally free.

Located in a lot on 30th Street and Tenth Avenue, Rainbow City isn't actually on the High Line, so you can access it from the street. But it's worth approaching the place from the elevated park. The view of all of the whimsical inflatables swaying about is spectacular.

Not since Ernesto Neto's anthropodino at the Park Avenue Armory has an adult art installation so captured my kid's imagination and attention, and I felt the same way. One look at the photos of her running around, and you'll see why.


It was rainy and windy the day we visited Rainbow City, which was created by two-person art team FriendsWithYou. The upside: No lines and lots of action from the suspended orbs, which kids are allowed to poke and prod without reprimand. The downside: Some of the inflatables weren't on display, or had limited access. A large, white blob (which, according to a staff member, was meant to recall childbirth as you emerged from a thin hole) wasn't letting people in due to the breeze. Frankly I'm kind of glad we didn't go there.


My daughter had a blast manipulating the oversize beach balls alongside other gleeful kids. Even when the wind sent the objects flying into their faces, they giggled.




Two of the structures, a mushroom and an onion, are actually bouncy houses. My daughter and I ventured inside the latter together.




Unlike most bouncy houses that have mesh walls so you can keep an eye on your children from the outside, the onion zips shut. Once the kids are in, you can't see them, just hear them. From the sounds my daughter and the other kids were making, they were having an awesome time. A staff member at the entrance made sure no more than five people went in simultaneously. Adults are allowed to enter and are in fact encouraged to do so. I joined my daughter on her third visit. Inside, it's almost impossible to stand. The floor is so unstable you instantly topple over, so be prepared to bounce.


The juxtaposition of the playful, colorful attractions against the industrial urban landscape is quite striking. (I also love the contrast between the happy striped snowman and the pouty model on the billboard behind him.)

The artists have said that the installation was inspired by the Hindu festival of Holi—in which revelers cover each other in brightly colored dyes—and children's toys. Certainly, it's like a slightly creepy playroom come to life. I kept wondering when Pee-Wee Herman was going to show up.


There are Port-a-Potties, and food trucks on the day I visited included Rickshaw Dumplings, Coolhaus Artisanal Ice Cream Sandwiches and Kelvin All-Natural Slushy Truck. Rumor is there will be a series of free art classes for kids, although details are still up in the air. There's also a very overpriced souvenir stand. Tiny weeble-wobble toys will set you back 10 bucks—and you don't even get to pick the one you want. You find out what you've got once you open the package (again, shades of Kid Robot).

The overall goal of the exhibit is to make people happy. I know that my daughter and I left with big smiles on our faces.

Rainbow City is on view at 30th Street and Tenth Avenues through July 5. Mon-Wed 11am-10pm; Thu-Fri 11am-11pm; Sat 8am-11pm; Sun 8am-11pm. Apparently it is quite a sight when it's lit up at night. FREE