Music Classes for Babies, Toddlers and Kids in Brooklyn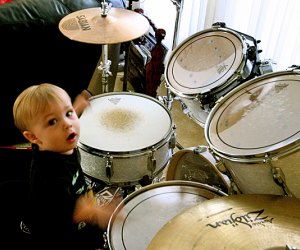 Tiny Brooklynites who are into tunes take note: There are certainly a lot of children's music classes in the borough from Brooklyn Heights to DUMBO, Cobble Hill, Carroll Gardens, Boerum Hill and beyond. Read on for our top eight picks for budding musicians.
Find more NYC classes in our Classes Guide and Directory Listings.
Music Together – Multiple Locations
Visit the website to find a class near you.
This nationwide program is a powerhouse in early childhood music. Its mission is to get all children to be rhythmical and sing in tune. To that end, classes come with CDs of music specifically designed by Music Together (plus a songbook and parent's guide) and caregivers are encouraged to play the CDs at home and sing along.
Music for Aardvarks – Multiple Locations
Visit the website to find a class near you.
Music for Aardvarks and Other Mammals was started in Brooklyn by David Weinstone and has since gone national. The philosophy of Music for Aardvarks is less music-theory based and places more emphasis on songs small children and their grown-ups will enjoy. The infectious songs are New York City-based with titles like "Avenue A," "Traffic Jam," "Taxi" and "Staten Island Ferry."
Artscetera Cobble Hill
Aikido of South Brooklyn, 205 Columbia Street at Sackett
This neighborhood institution has been offering arts and music classes in Cobble Hill for more than 10 years. Artscetera offers its own Music Adventures program which focuses solely on musical play as well as Arfie's Art & Play, which offers a varied curriculum of music, art and story time all inspired by a fictional dog named Arfie.
Jitterbugs Music Classes – Carroll Gardens
Mission Martial Arts Academy, 517 Henry Street between Union and Sackett
You can nurture your budding musicologist with this program, which focuses on music from the 1920s through the '70s as well as other classic children's songs. One side benefit: You'll find yourself happily belting out the Sesame Street and John Denver classics of your youth.
AudraRox – Multiple Locations
Visit the website to find a class near you.
Started by Audra Tsanos, AudraRox was one of the first Music for Aardvarks franchises. While AudraRox still teaches Aardvarks classes, it also sponsors its own musical theater classes as well. In the past, the AudraRox band has appeared on Nickelodeon and Sesame Street.
Music with Brian – Dumbo
Recess Dumbo, 81 Washington Street
This beautiful, new-to-the-scene Brooklyn playspace offers a full slate of classes including this music program. Teacher Brian Ajjan bring his experience as a neighborhood dad and trained musician to teach "kids songs with a twist," while introducing children to basic musical concepts.
Preschool of Rock – Dumbo & Fort Greene
Abundant Learning, 68 Jay Street
Move with Grace, 469 Myrtle Avenue
True to its name, these music classes include live guitar and drumming and get kids and parents alike on their feet and bopping to the beat. Each class also includes a "mystery instrument" for youngsters to discover and experiment with. All kids receive their very own Preschool of Rock T-shirt and CD.
Bumblebee Jamboree – Bay Ridge
Play Dates and Parties, 6632 Third Avenue between 67th Street and Wakeman Place
Bay Ridge's kiddie hot spot offers a music class of its own, which is one of the most affordable deals out there at $12 per class. Kids, aka busy bees, will bop along to the beat in a relaxed, fun environment.
For more enriching activities to entertain your wee ones, visit our Classes Guide.
Top photo: You're never to young to try your hand at music. Photo by Breezy Baldwin via Flickr.
This post originally published in January 2010.