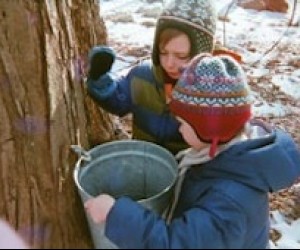 Maple Sugaring in Fairfield County, Connecticut with the Kids
There is nothing as delicate and exquisite as the way in which maple sugar candy melts on your tongue. Happily, maple sugar season is upon us! So get those pancake recipes out, and hit these local spots where you can participate in the making of the syrup...before you participate in the eating of the syrup.
Warrups Farm, West Redding, CT
During the first 3 weekends in March, you can visit West Redding's Warrup Farm for demonstrations in syrup making from noon until 5 pm. While there, amble through the beautiful farmlands, visit the barnyard animals, and purchase some of the farm's organic products from their market.
John Read Road, West Redding, CT 06896 203.938.9403
Stamford Museum and Nature Center, Stamford, CT
Also offering demonstrations in sugar making is the Stamford Nature Museum. Call to make weekend reservations through March 16th; in addition to the maple sugaring demonstrations, kids will enjoy visiting with the animals (never have I seen bigger pigs), exploring the nature trails, and creating some arts and crafts.
39 Scofieldtown Road, Stamford, CT 06903 203. 322.1646
New Canaan Nature Center, New Canaan, CT
On Saturday, March 19th, visit the New Canaan Nature Center for their annual Syrup Saturday and Pancake Breakfast from 11-2:30. See a demonstration of historic sugaring techniques, walk through the trails with a naturalist, gather around a campfire, and feast on maple syrup topped pancakes. Member admission for the event is $8, non-member admissions is $12, and children under 3 are free.
144 Oenoke Ridge, New Canaan, CT 06840 203. 966.9577, x 21
For the truly ambitious out there, check out http://tapmytrees.com/ for instructions on how to tap your own tree and make your own syrup. I remember doing this as a child (great school science project!) and it was really fun. And messy. But more fun that messy! Read our post on Elliott Davis, a dad in Litchfield County, and how he makes syrup on his property.
Now that you've got your syrup, you need something to go with it. Try these protein pancakes from one of my favorite recipes blogs, Full Plate Blog.
A weekend of pancakes and maple sugar...what could be better? Enjoy!