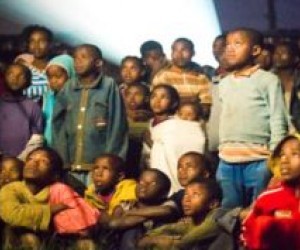 Two International Film Series for Kids Set to Debut in Harlem
When we wrote about our favorite things to do and places to go in Harlem, we skipped the Maysles Cinema. Even though we love this independent theater—which was founded by legendary documentary maker Albert "Grey Gardens" Maysles and shows films from around the world— it never screened movies for kids. But that's about to change.

Beginning Sunday, September 30, Maysles Cinema is debuting a pair of film clubs for kids: a drop-in one for children ages 3 to 7 and their caregivers, and a drop-off semester-long class for ages 7 to 11. For children weaned on Disney and Pixar flicks, these movies should be an eye-opening and mind-broadening experience, akin to the New York International Children's Film Festival or BAMkids Film Fest.
Younger kids can become Film Voyagers by watching age-appropriate shorts from Nigeria, Germany, France, the Congo, Japan and other countries. The majority of the films are animated, and those not in English will be subtitled. Don't worry if your kid can't read yet: Professional actors will read the translations out loud. These drop-in screenings last a little over an hour. Advance tickets cost $$9.27 per person including a service fee, however, if there are still seats available at the box office the day of, admission is suggested donation of $8. Organic popcorn is provided at no extra cost.

More mature cinephiles can join the World Cinema Club: Film, Philosophy and Fun, which requires more of a commitment. For $250, participants get ten weeks of international selections from Morocco, Senegal, Israel and even right here in NYC. Afterward, educator Ben Raikes will encourage lively discussions about the films, and also lead kids in interpretive activities—he says there will be "moving, acting, imagining and drawing."

Both Film Voyagers and World Cinema Club: Film, Philosophy and Fun begin on Sunday, September 30 at 10am and run through Sunday, December 16 with no screenings on October 7 or November 25.

Maysles Cinema is located at the Maysles Institute, 343 Malcolm X Boulevard between 127th and 128th Streets. Become a Maysles Cinema Family Member for significant discounts. A few scholarships for World Cinema Club: Film, Philosophy and Fun are available, and all drop-in screenings are suggested donation. Email kidsfilms@mayslesinstitute.org for more information or to register.

Find out about other cool things to do with kids in Harlem or read our other posts about film series for families.
Places featured in this article:
---
The Maysles Cinema and Maysles Institute