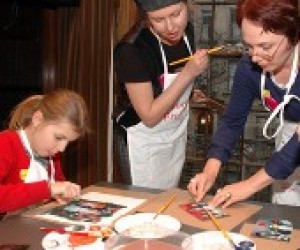 Family Fun Workshops at The Whitney Museum in New York City
As a family we really like going to The Whitney Museum of American Art. For a museum packed with world class contemporary art it is totally manageable to visit with a child. Unlike other museums in town, the kids don't tire out before they ever get to the main exhibit, making for a fun hour or two excursion versus a day long trek. And being contemporary in nature, the installations are usually a lot more interesting for kids to look at than simply a gallery filled with paintings.

What I like the most about The Whitney though is the great programming they have for kids and families. You may recall last year we told you all about seeing the 2010 Biennial by registering for a fantastic Whitney Wees program. Well, my husband's favorite artist is Edward Hopper and we all wanted to see the exhibit: Modern Life – Edward Hopper and His Times, so we were due for a trip back to the museum. My son has since aged out of Whitney Wees so we registered for a Family Fun Art Workshop and it was a great experience! Not to mention a perfect indoor activity for NYC families for just ten bucks!
My family and I enrolled for the program Family Fun Art Workshop – Cityscapes and Landscapes which was offered in conjunction with the current exhibit Modern Life: Edward Hopper and His Times on a Saturday morning in the dead of winter. First of all, many of the family programs start before the museum is open, which in itself is kind of cool, but more importantly allows the group to focus on what they are looking it as well as linger, discuss and create, without worrying about being in the way of other patrons.

Family Fun is for kids aged 6 years to 10 years old, so it is longer than Whitney Wees, by an hour, and began with a tour of various highlights in the exhibit. We spent about an hour and a half in the galleries and at least 30 minutes afterward engaged in creating our own art. Although the exhibit features Edward Hopper and his contemporaries our tour consisted of only Edward Hopper pieces.

The Hopper exhibit is composed of pieces that are already part of the museums permanent collection brought together in one place. The work of Edward Hopper is considered to be American Realism and I feel that this style is a good place to get kids started in a dialogue about art. Being realistic, his paintings are things kids can relate to and replicate: street scenes, household chores, daily urban and rural life, vehicles and trains. Programs like this get them talking and thinking, during our tour we were encouraged to sketch and come up with words and feelings to describe the work we were looking at.

Once the tour was over we moved into a separate room for a painting workshop. Kids were free to explore watercolors and pastels to create their own Hopper influenced art. Since we had only done Whitney Wees before which doesn't include a real workshop component, we didn't know what to expect and were impressed by the array of tools provided for us to use (and I do mean us -parents painted too- which was really fun) colored pencils, watercolor paper, palettes for blending, putty erasers - anything you could possibly need. My son came home with his own water color version of the famous, Early Sunday Morning, as well as a pencil sketch of the Queensborough Bridge inspired by Hopper's painting of the same name.

The program is a whopping $10 bucks per family which is really a bargain! With this great price, small groups and limited programs the family programs fill up fast. I booked mine a month and half in advance.


Both Family Fun Art Workshops and Whitney Wee programs are offered every month themed around different exhibits. Modern Life – Edward Hopper and His Time closes April 10, 2011 with the last family programs, these on city and landscapes, offered next weekend, but at this point they are only taking names for a wait list. But there are Whitney Wees, Family Fun and Stroller Tours that will be just as enriching and engaging surrounding the recently opened Legacy: The Emily Fisher Landau Collection. Click here to find out when and how to register.
945 Madison Avenue
Admission is $18 for adults and children are free
Family programs are $10 per family and include admission
Photo Credit: Sean Carrol/Whitney Museum