6 NJ Parks Where Families Can See Great Fall Foliage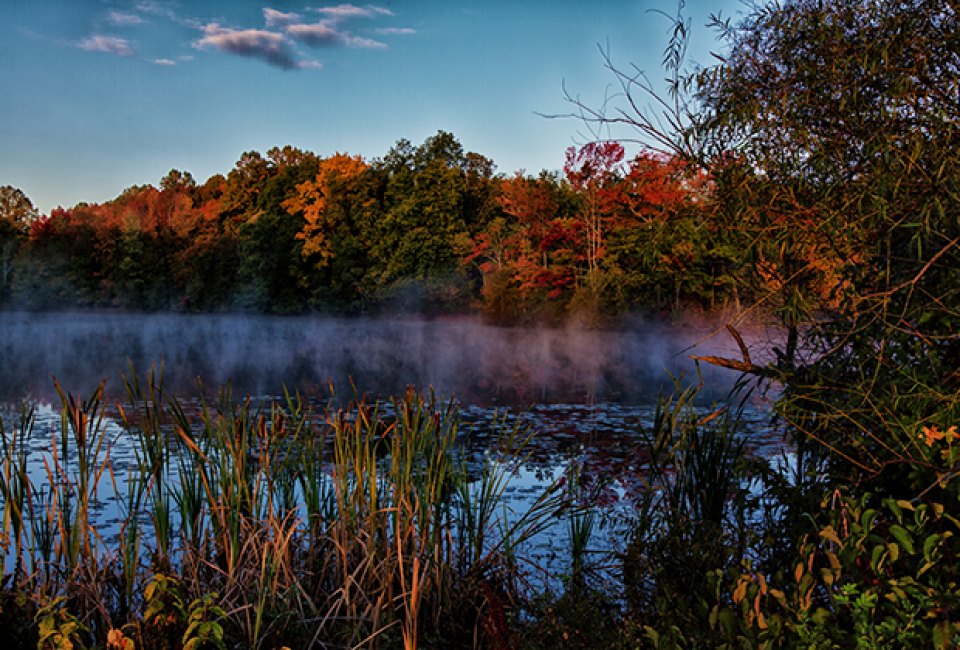 9/2/15
- By
Sasha Muzzarelli
Summer is touted as the best season to enjoy the great outdoors, with its barbecues, pool parties and sunshine. But I personally think autumn is the perfect time to venture outside - the air is crisp and the leaves are changing to vibrant hues of yellow, red and orange. We're at that sweet spot of the year where the heat has subsided but temperatures aren't cold enough to keep us indoors. You can pick pumpkins, stargaze, or head to an NJ park to look at the brilliant fall foliage.
Our friends Sheila and Amy at NJ Playgrounds have once again given us their awesome recommendations for the best places to play while also checking out fall leaves.
Grover Cleveland Park (Caldwell, NJ)
If you're looking to spend a wonderful autumn day outdoors, Grover Cleveland Park pretty much has it all: paved walkways lined with gorgeous trees, a pond with a foundation and a babbling brook meandering through the green space. If the kids need somewhere to burn off energy after a stroll on one of the impeccably manicured paths, head to the fenced-in playground. Climbing equipment (including ladders and a fireman's poll) and tons of slides will please the older kids and younger tots will love the two tire swings. And parents will appreciate the benches surrounding the playground area, a good place to keep a watchful eye while taking a few minutes to enjoy the changing leaves.

Dahnerts Lake County Park (Garfield, NJ)
A weekend family outing to this laid-back Bergen County park is even better come fall. A thick area of scenic trees opens up into a huge field complete with a lake, fountain, playground and plenty of picnic benches and gazebos to take a lunch break. Dahnerts Lake playground is great for all ages - the 'big kids' structure is very tall, with steep slides and bridges and the 'little kids' area is a smaller version of the bigger kids play space with the addition of mushroom caps to jump on and smaller bridges and slides. After the kids have had their fill of playtime, take a stroll on the paved path that runs by the lake - a perfect spot to get your fill of autumn foliage.

Mobus Park (Watchung, NJ)
A trip to Mobus Park makes for a relaxing afternoon when Watchung residents need a little break from the day-to-day hustle. Start your afternoon off by parking on Sterling Road and taking the nearby walking path that runs around the serene Watchung Lake. Join power walkers, joggers and other parents pushing strollers as you take in the fall foliage. Kids might want to venture down to the shoreline to check out fish and other small wildlife - or try their hand at skipping stones across the water. The walkway meanders right past a nice playground area, with two climbing structures. Highlights include a playhouse for the toddler set and a steep climbing wall for big guys, as well as parallel bars and infant swings. For more information, please call 908-756-0080.

Colonial Park (Franklin, NJ)
Colonial Park's playground was completely torn down and redesigned about two years ago and its new look doesn't disappoint. Cool looking play structures with names like "Sway Fun" and "Lunar Burst" let kids know upon arriving that this is not your average swing and slide play space. And if the bigger climbing structures are intimidating to smaller children, the "Cozy Dome" and "Weevos" areas have smaller scale slides and hideouts just their size. If you can pull the kiddos away from the awesome play area, you'll find an entire day of fall fun at this huge Somerset County park – rent a paddle boat on the lake, explore the fragrance and sensory garden or hike under a canopy of gorgeous fall leaves at the Lois Howe nature trail.
Round Valley (Lebanon, NJ)
Although Round Valley Recreation Area is popular in the summer for its sparkling lake and soft beaches, autumn is actually a great time to visit. Two playgrounds adjacent to the water make this a serene spot to enjoy all year round. Take in amazing views of the surrounding trees and forest that dot the huge lake while the kids climb to their heart's content! You'll find the usual playground apparatus, with six slides, a set of swings and multiple stairs leading up and down the structures but the real draw here is the beach, which acts as a giant, natural sandbox for the kids! Enjoy a bit of playtime and then wander down the sand, take a seat and observe the changing seasons. Round Valley also has some great hiking trails such as the 'Hike and Bike Family Trail' and the "Pine Tree Trail' for those families looking for some additional adventure.
Hamilton Park (Jersey City, NJ)
A favorite of Jersey City residents, Hamilton Park is both a picturesque green space and community meeting area. Beautiful trees shade two dog runs, a statuesque gazebo, basketball courts and a great playground. A separate gated area for younger kids includes a mini climbing apparatus with a slide and fire truck and two huge sections for big kids offer plenty of high-up climbing and sliding. After getting some energy out at the playground, take a walk around the square and admire the surrounding brownstones or spread a blanket out on the grass and let the kids jump in the red and gold blanket of leaves covering the ground.

This article first published in October 2012.
Top image: Davidson's Mill Pond Park, South Brunswick, NJ . Photo by Jim Lukach via Flickr.

Sign up for the Mommy Poppins Newsletter today!