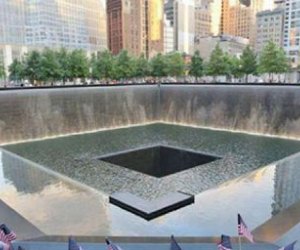 Commemorating 9/11: Things to do With NJ Kids on September 11
It can be difficult to explain the events of September 11, 2001 to our children; they're still hard for us to fully grasp. As we near the 14th anniversary of the day that changed our country forever, here are some helpful ways to commemorate with your family. Visit a memorial site or exhibit, volunteer together, read a book to younger kids to help them understand or visit the 9/11 Memorial in downtown NYC. There are many ways to mark the day together.
Memorials:
Visiting a memorial site or taking part in a tribute is a simple way to quietly participate in remembering and commemorating. The Tribute in Light is one of the most famous, enduring and visual memorials, and one that can be seen from up to 60 miles away. Click here to listen to the history of this memorial and how it is produced each year. Some of the best spots to see it in New Jersey include Liberty State Park, Owen Grundy Pier in Jersey City, Castle Point in Hoboken -- click here for a listing of all the best spots to see it. Empty Sky is a memorial, dedicated in 2011, in Jersey City's Liberty State Park that is directly across the Hudson River from Ground Zero. Two reflective walls hold the names of the 747 from NJ that perished on September 11, 2001. You can walk through the walls and view downtown Manhattan from between them. The 9/11 memorial at Mount Mitchill in Atlantic Highlands features a time line walk way, a stone based carved with the names of 147 county residents that lost their lives in the attacks and an eagle structure holding a beam from the World Trade Center.
Exhibits:
Liberty Science Center's continuing exhibit Skyscrapers has an enormous steel beam from the World Trade Center that is literally bent in half from the 9/11 events. Also, the NJ State Museum has a display of artifacts from the NJ residents who lost their lives on 9/11, accompanied by reflections and memories of NJ families, survivors, rescue workers and volunteers.
For Discussion:
If you are searching for the right way to talk to your kids about the events that happened on September 11, 2001, try one of these books that help little ones understand certain aspects of the tragedy. The Little Chapel That Stood by A.B. Curtiss tells the story of St. Paul's Chapel and how it stood after the attacks. September Roses by Jeanette Winter is a story about two sisters from Africa that get stuck in NYC in the aftermath of September 11. For older kids, With Their Eyes: September 11 – The View From a High School at Ground Zero is a book of monologues and poems from ten Stuyvesant High School students and their perspective of that day. If you feel that visuals will be too disturbing for your kids and you'd rather just discuss the event, there are guides that can help you choose your words. The Voices of September 11 website has an article on Talking to Kids about Terrorism and the 9/11 Memorial website posted this helpful information. Also, take a look at this article written by the president of the Child Mind Institute, which discusses how children of different ages may react to the anniversary of the 9/11 attacks.
Day of Service:
Some parents may prefer remembering 9/11 by giving back to their communities in a day of service. The wonderful website, I Will has a virtual "tribute quilt" where participants enter their chosen act of service and to whom they wish to dedicate it.
Day of Family:
If you would like to spend the day quietly with your family, try commemorating it in your own way by using the tools on the 9/11 Memorial website including a planning guide, educational tools and fundraising ideas.
National September 11 Memorial:
A visit to the 9/11 Memorial at the World Trade Center site in downtown Manhattan is a great way for kids to learn about the day and what it meant for NYC and the country. Before your visit check out this page to prepare you and keep you up to date on security screenings and rules. Also, keep in mind there are no bathrooms available at the Memorial site, so plan accordingly. It's easy to access the 9/11 Memorial and Museum from NJ. Hop on the PATH and go directly to the World Trade Center stop or take the ferry. Statue Cruises in Liberty State Park will take you there – you can even buy tickets for the Memorial and ferry together.
Image courtesy of 9/11 Memorial website.