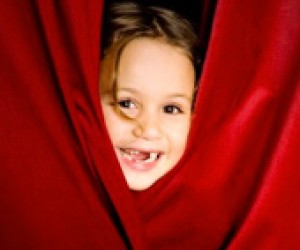 Theater and Drama Classes on Long Island for Kids
Whether a natural ham, or a kid with a great imagination who feels a little shy, theater classes are a fun way for kids to build confidence. Experience in the performing arts improves verbal skills, a valuable skill when kids present oral reports in school. When it's time for college entrance and job interviews later on in life, kids with performing arts experience have an edge. While kids are having fun performing and building friendships, they find themselves drawing on the skills they developed in all kinds of ways.
Here on Long Island, we are lucky to have a number of theaters and programs that host acting classes for children. Read on for our picks for budding thespians.
For additional class suggestions, see our Classes and Activities Guide for Long Island Kids.
Sid Jacobson JCC — East Hills
Little actors and actresses love the class offerings at the Sid Jacobson JCC. The programs for kids are available from grades kindergarten through 6. A one-week Broadway Boot Camp for ages 7-18 teaches budding actors on-camera acting techniques, musical theater skills and audition strategies.
Broad Hollow Theatre Company — East Islip and Elmont
The Broad Hollow Theatre Company runs the Bay Way Arts Center in East Islip, and the Broad Hollow Theatre at Elmont, offering classes and performances that inspire kids to take the stage. Classes for younger children incorporates games and exercises. For the older children, the curriculum is more performance based. This program is for children 4 years of age and up.
CM Performing Arts Center — Oakdale
Classes, which are divided by age, start as young as four years and go up to eighth grade. CM Little Kids focuses on theatrical play, CM Kids provides an introduction to musical theater, and CM Juniors offers in-depth training in acting, dance and music.
Drama Kids International
One of the interesting things about this school is its curriculum; enrollment is ongoing, and lessons are planned in such a way that each one is unique, regardless of when the student starts the program. Drama Kids International helps outspoken children focus and develop confidence. Drama Kids International offers a wide range of classes at each location. Classes are for children 3 years of age and up.
From Stage to Screen — Huntington
This studio offers classes for kids 7 years of age and up. Classes are taught by theater professionals. Teen classes culminate with a performance on a NYC stage. Class offerings include dance and acting for television and film. The annual red carpet night in February gives television and film students the opportunity to feel like a star at the Oscars. Students watch their performances on the big screen at the Shore 8 movie theater in Huntington, where they walk down the red carpet.
John W. Engeman Theater — Northport
This popular theater offers musical theater classes are available in four levels of study, each culminating in studio and main stage performances. Level I Discovery teaches the basics in theatrical game play, while Level II Development explores acting, singing and dancing, and introduces students to solo work. Level III Performance focuses on partner and small-group scene work, and Level IV Masters is aimed at the child who wishes to pursue acting as a full-time career 12-week sessions are available for children 4 years of age and up. Classes taught by theater professionals seek to educate as well as entertain and are offered to children of varying abilities.
Not Just Art — Oyster Bay
Lively classes are available for children up to 12 years of age.
Southampton Youth Bureau's Act Two — Hampton Bays
Act Two is a teen theater troupe in which teens perform short plays about issues they confront on a daily basis. Group performances are designed to teach audiences about social awareness, mental and physical health, positive relationships, and how to deal with difficult situations. The program fosters self esteem in the actors, as well as the audience, by encouraging everyone to troubleshoot problems. Act Two teaches respect and understanding, and heightens children's awareness of local theater. This program is for children in grades 8 through 12.
Smithtown Center for the Performing Arts — Smithtown
Smithtown Center for the Performing Arts Council offers classes in acting and voice, and a musical theater workshop that combines both voice and acting. The classes are round robin style, and children can take them consecutively. Parents can rest easy, as they don't have to shuttle kids back and forth to classes. Classes are offered for children ages 7-18.
Studio Theatre — Lindenhurst
Studio Theatre operates the Academy of Musical Theater, which gives students experience in performing. Students rehearse for a show and then perform it.
The Gateway Playhouse — Bellport
Available for eighth graders through high school-aged students, this class offers budding actors the opportunity to concentrate on select audition pieces. Solo work focuses on expression and lyric interpretation.
The Cultural Arts Playhouse — Syosset and Wantagh
Founded in 1995, The Cultural Arts Playhouse offers musical theater and acting classes for children, teens, and young adults. The Cultural Arts Playhouse's approach to acting lessons is centered around encouraging and praising students for who they are, which fosters their confidence in acting, and in life.
Roslyn Theater Company — Rosyln
Aged-graded classes are structured as actual Broadway musicals, from the first audition-style class to a fully staged theater performance. Students learn stage craft, theater etiquette, dialogue, songs, staging, choreography and characterization.
Wendy Taubman's Stars of Tomorrow — Syosset
Classes are divided by abilities, with each offering two performances per year that incorporate group numbers, solos and duets. Students learn how to sing, dance and act as they work on their strengths and weaknesses.
A version of this article published in 2013, but it has since been updated.