Brooklyn Book Festival: Free and Fun Things to Do with Kids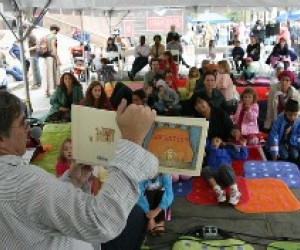 As an avid reader and writer, I'm very excited that my two-year-old is finally big enough to enjoy some of the free offerings at the annual Brooklyn Book Festival. I've gone every year since it debuted in 2005 to see my favorite authors read, and to buy way too many books from the vendors that set up shop. I even read there when my own novel came out, which was quite a dream come true.

Although the Brooklyn Book Festival isn't aimed at kids, there are events and activities for bookworms (and aspiring readers) of all ages. In fact, there are two specific areas specifically for kids: the Target Children's Area, a cute tent featuring craft projects and excellent readings by top kid-lit authors, and the more mature Youth Stoop with lots of workshops and readings for tweens and teens,
While there are random "bookend" events taking place around the borough during the days leading up to the festival, the main event happens on Sunday, September 18 around Brooklyn Borough Hall. There's so much going on, it really pays to plan. We've highlighted the family-friendly events we're most looking forward to (including a reading by Mo Willems), and we've got tips on how to make the most of your day at the Brooklyn Book Festival.
Target Children's Area
Joralemon and Adams Streets
All events are FREE

Dinosaur Draw-Off at 10:30am
As a big dino fan, my daughter's really looking forward to this one. Authors/artists Roxie Munro, Bob Shea and Matthew Myers, all well known for their dinosaur illustrations, will battle it out with pencils and paper.

Mo Willems at 11am
This reading by the insanely popular children's author is sure to be mobbed by young children in "Pigeon" T-shirts, so arrive early! We believe he's reading from his signature Pigeon series, but we hope he'll get some time to share his Knuffle Bunny books, too.

Sam McBratney at noon
The author's sweet Guess How Much I Love You? is a new bedtime classic. I'm hoping it will inspire my kids to take an afternoon nap.

Sophie Blackall at 2pm
The amazing Brooklyn-based illustrator will share The Crows of Pearblossom, the only children's book written by Aldous Huxley (!) back in 1944, to which she added new pictures.

Visit the website for the complete Target Children's Area schedule.

Youth Stoop
Borough Hall Plaza/Columbus Park
All events are FREE
The offerings at the Youth Stoop are aimed at kids ages 10 to 18. Since my oldest is two, I'm not quite there yet. But these are the events that sound the most interesting to me.

Laugh Your Head Off at 10am
Authors Jon Scieszka, Printz Libba Bray, Paul Acampora and Tommy Greenwald lead the audience in a wacky game of Mad Libs!, inspired by their books.

Comics Quick-Draw! at 11am
A trio of illustrators, Raina Telgemeier, Dave Roman and Laura Lee, will have a cartoon showdown. Best of all: Lucky audiences members will get to take home their art work.

There will also be panels throughout the day explore topics such as "Reimagining History," "Making Difficult Choices" and "Epic Adventures."

Visit the website for the complete Youth Stoop schedule.

Other Events of Interest to Families

The Phantom Tollbooth at 50 at noon
St. Francis Auditorium, 180 Remsen Street between Court and Clinton Streets
FREE but tickets required. Tickets are distributed one hour in advance at the Information Booths at Borough Hall Plaza.
I've loved this fanciful book since I was a kid, and it hits the half century mark this year. This is a rare chance to see author Norton Juster and illustrator Jules Feiffer together talking about the tome.

You Say You Want a Revolution? at 2pm
St. Francis Volple Library, 180 Remsen Street between Court and Clinton Streets
FREE
Although not specifically aimed at teens, I know my adolescent self would have loved to check out this panel, during which writers Mark Yarm, Marisa Meltzer, Marcus Reeves and Will Hermes will discuss how music can serve as the voice of a generation.

Politically Incorrect Parenting at 2pm
St. Francis Screening Room, 180 Remsen Street between Court and Clinton Streets
FREE
As you can tell from the title, this one's just for moms and dads. But if one of you can get away, you'll get a chance to hear from Adam Mansbach, author of the runaway hit Go the F**k to Sleep, as well as Alice Bradley, a.k.a. Finslippy, and Jennifer Senior, the mom behind All Joy No Fun: Why Parents Hate Parenting.


Bookend Events

Bookend events take place Thursday, September 15-Saturday, September 17 at various Brooklyn venues. A few will be of interest to kids.

Books to Film for Children
Saturday, September 17 at 10:30am
BAM Rose Cinemas, 30 Lafayette Avenue between Ashland Place and St. Felix Street
$12 for adults, $9 for children
Catch a series of shorts based on popular children's books, followed by a Q&A with author Doreen Cronin, who wrote one of my family's favorites: Click, Clack, Moo: Cows That Type.

Stranger Danger
Saturday, September 17 at 11am
Boulevard Books & Café, 7518 13th Avenue between 76th Street and Bay Ridge Parkway
$5 (includes the book)
This Dyker Heights bookstore will hold a safety class for kids led by Sensei Adami from Brooklyn Brazilian Jiu Jitsu, which includes a reading of The Berenstain Bears Learn About Strangers and a brief practice exercise.

Collages with Nina Crews
Saturday, September 17 at 12:30 pm
Brooklyn Public Library, 10 Grand Army Plaza between Eastern Pkwy and Flatbush Avenue
FREE but space is limited
The author-illustrator of The Neighborhood Sing-Along leads an art workshop in which kids create their own collages based on nursery rhymes.

Visit the website for a complete schedule of Bookend Events.


Things to Know Before You Go
Many events takes place outdoors in tents, so let's hope it doesn't pour like last year.

Bring cash as some vendors don't accept credit cards.

Tote your own bag—it's more environmentally friends, and not all sellers have them.

Books are sold at a discount. Many children's book presses and shops will have booths, including Active Spud Press, Veronica Lane Books, Hartlyn Books, Blue Apple Books and Bank Street Bookstore.


The Brooklyn Book Festival takes place on Sunday, September 18 10am-6pm around Brooklyn Borough Hall. Visit the website for a complete schedule of events.
Photo by Kathryn Kirk courtesy of the Brooklyn Book Festival