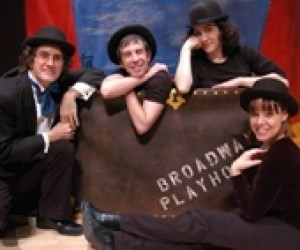 Broadway Playhouse: Introduce Your Kids to Broadways Best Musicals
Although I don't think we have stepped foot in a theater on the Great White Way since our son was born almost six years ago, both my husband and I adore musicals. In fact, the very first bit of media we introduced our son to was The Sound of Music movie and I look forward to the day that we can bring him to see a musical on Broadway. He is nearly six so I think we are almost there, but until that day comes, there is Broadway Playhouse; a fantastic three concert series introducing time-honored musicals to kids. If you have a family that loves musicals (or even just likes them a lot), this is a series you won't want to miss.
This past weekend, we went to the first Broadway Playhouse concert for the season, celebrating the music of the incomparable Rodgers & Hammerstein. As a family we go to a lot of shows and live music performances and this one was really outstanding. The series is part of the Family Matinees programming at Kaufman Center, geared toward ages 4 through 11. I totally recommend it – enriching, educational and enjoyable for the whole family.

The stage is basically bare except for a piano, some music stands and a stool or two. Most of the action takes place in front of a small theater style curtain that hides the costumes and stuff. The troupe is made up of 4 performers: the host, Sean Hartley, the two extremely talented performers Kathryn Markey and Jason Robinson, and the pianist Jihwan Kim. The one hour concert included sing-a-longs, games plus lessons on the genre of musical theater.

We sang along to Oklahoma's "Oh, What a Beautiful Mornin" (just try not to smile while belting that tune out), The Sound of Music's "Edelweiss" and "Do Re Mi" as well as other show tune faves. Kids who had put their name in a basket to be called up on stage got to participate in a guess-who game, name that tune and do some square dancing Oklahoma-style.

The fun and accessible show taught, too. We learned all about what a musical is, and how, thanks to Rodgers & Hammerstein, it evolved into what we have today. To illustrate the changes the duo made to musicals, we watched as they performed key scenes from Oklahoma, the first musical to use songs and dance numbers to tell the story. When it was all over the cast aptly said good bye with the beloved "So Long Farewell" from The Sound of Music.

Broadway Playhouse is a great way to introduce your child to some of your favorite musicals, but in my experience the prior knowledge my son had for The Sound of Music went a long way to enhancing the experience for him. I found he enjoyed and was more engaged in the parts of the concert that featured The Sound of Music versus songs and activities surrounding the other musicals. So it could be helpful to watch or listen to some of the musicals with your children that you expect to be featured in the concert before you go.

Next up is Andrew Lloyd Webber (Phantom of the Opera) on February 13, 2011 and Tom Jones & Harvey Schmidt (The Fantasticks) on March 6, 2011.

Single tickets cost $20 each and 3 concert subscriptions are available for $48 each.

Alas, in NYC when programs are this great - tickets go fast and unfortunately, the two remaining concerts are almost sold out. If you want to a ticket, click here (now!) and get them before they are all gone. You will have better luck getting a ticket to the March show highlighting Jones & Schmidt than you will with next months Andrew Lloyd Weber.

Be on the look out for sales to open up for 2011-2012 season in June 2011.

Broadway Playhouse
Merkin Concert Hall at Kaufman Center
129 West 67th Street


Also check out 6 Places To Hear Classical Music With Your Kids in New York City this Winter.

More music posts here.