Places to go Boating off of the Long Island Sound (Fairfield County)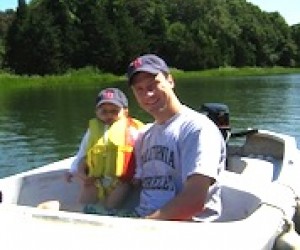 Where has the summer gone? School starts next week, and the kids and I have only conquered about half our summer plans. With just a few days of summer left, we will be taking an afternoon to enjoy the shore – from the water, this time! Given I don't know my port from my starboard, or my fore from my aft, I'm sure I'll be a sight to behold on the high seas.
Lots of Fairfield County establishments offer cruises, boat rentals, or sailing lessons:
Soundwaters, Stamford, CT
The Soundwaters offers 2-hour educational afternoon sails, or 2-hour evening sails out of Stamford. Opt for the afternoon sail if you'd like to learn more about the marine life and eco-system, as well as partake in some of the sailing. Choose the evening sail if you prefer to bring a picnic and relax whilst others take care of the sailing. The Soundwaters is an 80-foot schooner. Afternoon sails are $20/person, evening sails are $30/person – children must be 6 or older. Cove Island Park, 1281 Cove Road, Stamford, CT 06902, 203.323.1978
Maritime Aquarium, Norwalk, CT
If marine education is of interest to you and your kids, check out the Marine Life Study Cruise offered by the Maritime Aquarium of Norwalk. The two plus hour cruise is conducted aboard the Oceana, a 40-foot research vessel, and tickets are $20.50/person. Cruises are offered at 1 pm daily in August, and 1pm on Saturdays and Sundays in September and October. Participants must be 42" tall. 10 North Water Street, Norwalk, CT 06854, 203.852.0700
Fairfield Kayak Company
If you're looking for something smaller than a schooner, try sea kayaking. Single kayaks rent for $35/half day. Fairfield Kayak offers several different kayak and paddleboard options, as well as delivery and pick up services. Check out their website for suggestions as to where to launch your kayak, and what sort of kayak might best suit you and your family.
Bridgeport/Port Jefferson Ferry, Bridgeport, CT
If your family suffers from seasickness, you may want to experience the Long Island Sound from the relative stability of a large ferry. For $18/adult (kids under 12 go for free!) you can take the 1 hour and 15 minute ride from Bridgeport to Port Jefferson, Long Island. 330 Water Street Dock, Bridgeport CT 06604, 1.888.44FERRY
Norwalk Sailing School, Norwalk, CT
Starting at $30/hour, you and/or your child can rent a 12' sailboat (provided you're a qualified sailor) or take sailing lessons from an instructor. Windsurfing and kayaking lessons and equipment are also available. Calf Pasture Beach, East Norwalk, CT, 06855, 203.852.1857
Long Shore Sailing School, Westport, CT
Also offering boat rentals and sailing instruction is Long Shore Sailing School in Westport. Boat rentals start around $25/hour. 260 Compo Road South, Westport, CT 06880, 203.226.4646
Good luck on the high seas!